Several changes were made, but the underlying appropriations remained the same as the House voted 87-42 to pass the $107 million Outdoor Heritage Fund appropriations bill Monday.
Sponsored by Rep. Dean Urdahl (R-Grove City), HF3829 would provide $107.78 million for several dozen projects. The appropriations by subdivision are:
Wetlands              $31.06 million
Prairies                $31 million
Habitat                 $29.14 million
Forests                 $16.31 million    
Admin                  $275,000
The Lessard-Sams Outdoor Heritage Council recommended 40 programs for funding, totaling $115.75 million, at its December 2015 meeting. However, lower revenue projections in the state's February Forecast and changes made during the bill's committee stops resulted in the reduced funding total. 
Before debate on the bill, the House voted to adopt an amendment offered by Urdahl that substituted the House language for the Senate's language in SF2527 and put the bill "in the proper order."
Urdahl said HF3829, which now heads back to the Senate, where Sen. Tom Saxhaug (DFL-Grand Rapids) is the sponsor, contains most of the recommendations made by LSOHC, but he also offered an amendment, which was adopted, to address the ongoing issue of "supplement vs. supplant" that often crops up in discussions about Legacy appropriations.
The Outdoor Heritage Fund is one of four funds created by the Clean Water, Land and Legacy Amendment. It requires OHF money "only be spent to restore, protect, and enhance wetlands, prairies, forest and habitat for fish, game, and wildlife" and the constitution requires the money to supplement rather than supplant existing expenditures.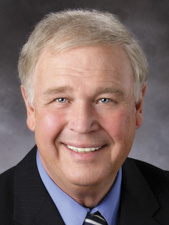 Rep. Dean Urdahl
Urdahl's amendment requires a state agency requesting direct appropriations from the Parks and Trails or Arts and Cultural Heritage funds to inform the Legislature when a request is made for a project that has previously been funded by the state. Urdahl said this would help inform the Legislature and was not intended to discourage applications.
"We've struggled with this issue frequently," Urdahl said. "Frankly, I'm not sure if we'll ever solve it."
That was one of several amendments successfully offered on the Floor. The others include: