The Department of Transportation would be unable to regulate who is mowing ditches in the right-of-way of rural trunk highways it maintains under legislation approved Wednesday by a House committee.
MnDOT had planned to move ahead with a plan this year to require permits of farmers and other rural landowners who routinely mow ditches along highways adjacent to their land, often to make hay or livestock feed.
But that plan ran into resistance from farmers who, for years, have been mowing ditches to the benefit of their farm operations, with little or no interference from MnDOT.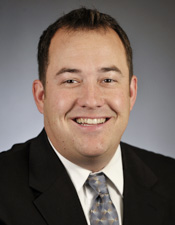 Rep. Chris Swedzinski
Sponsored by Rep. Chris Swedzinski (R-Ghent), HF124 would prohibit MnDOT from establishing a permit process or other requirements on those who perform mowing or haying within a road's right-of-way, and would limit when the road authority could mow an entire right-of-way.
"This bill turns back some of the onerous requests of the department," Swedzinski said.
The House Transportation and Regional Governance Policy Committee approved the bill, as amended, and referred it to the House Agriculture Policy Committee. A companion, SF218, sponsored by Sen. Gary Dahms (R-Redwood Falls), has been referred to the Senate Transportation Finance and Policy Committee.
MnDOT disagrees with potential limits on the agency's ability to manage land it owns adjacent to highways, said Scott Peterson, the department's director of government affairs.
He told the committee that farmers who mow and hay in MnDOT rights-of-way for commercial purposes are no different than someone digging plants out of the ground at a state park and then selling them for economic gain. Since MnDOT has purchased the right-of-way, the department has a right to manage and protect its investments, he said.
The department, he said, has a "responsibility to manage [its rights-of-way] to maximum benefit for the people of Minnesota."
Environmental advocates who testified before the committee argued that growth in highway rights-of-way isn't always noxious weeds that need to be controlled, but can be important habitat for wildlife and struggling pollinator populations.