Incorporating language from more than 80 bills, the omnibus health and human services finance bill, HF945, as amended, calls for a $622.88 million cut from current spending, for a total of $13.73 billion during the 2018-19 biennium.
The bill includes the elimination of MNsure, Minnesota's state insurance marketplace, and audits of Department of Human Services programs to make sure all benefit recipients are eligible.
The bill, sponsored by Rep. Matt Dean (R-Dellwood), was released Monday morning. The House Health and Human Services Finance Committee, which Dean chairs, took testimony Tuesday and is scheduled to walk through parts of the bill Wednesday and take action moving the bill. If approved, it would go to the House Ways and Means Committee.
The Senate health and human services omnibus bill, SF800, as amended, is sponsored by Sen. Michelle Benson (R-Ham Lake) and contains a more modest $333.03 million cut in spending while Gov. Mark Dayton's original budget calls for a $338.27 million increase for the biennium.
Testifiers criticized the bill for not going far enough or excluding legislation altogether, including measures to increase cash assistance for low-income families in crisis, improve access to childcare and raise 'spenddown' limits for people who are blind, disabled, or seniors.
Among the funding provisions are:
$4.16 million to provide school-linked mental health grants, allowing students to receive early intervention and care at their schools;
$3.52 million to reduce service fees to the parents of children who are disabled;
$3.25 million to provide long-term homelessness support services, housing for mentally ill adults, transitional housing and emergency shelter;
$2.64 million to modernize the state's Deaf and Hard of Hearing Services Act, strengthen the Deaf and Hard of Hearing Services Division, and provide grants to support people who are deaf, deafblind, or hard of hearing;
$1.5 million to provide early treatment and support to people with schizophrenia during their first psychotic episodes;
$669,000 to expand services for sex-trafficked youth;
$450,000 to prevent youth sports concussions through a grant program and 30-member working group;
$400,000 to provide support programs to the caregivers of people with dementia;
$188,000 to expand services provided by the Office of Ombudsperson for Families, which addresses racial disparities in child protection cases and out-of-home placement proceedings;
$177,000 to conduct a study on consolidating the four disability home and community-based services waivers; and
$81,000 to allow foster children who are not wards of the state to re-enter foster care, if needed, after they turn 18.
Human Services Commissioner Emily Piper and Health Commissioner Ed Ehlinger expressed concern over the bill's lack of an operating adjustment, necessary to continue providing services at their current level.
For DHS, that would mean 300 fewer full-time employees, most of whom work in direct care and treatment. The reductions would also make it difficult or impossible for the department to implement programs and initiatives included in the bill, Piper said.
She also expressed doubt that savings projected in the bill could actually be realized. Audits intended to cut $170 million over the biennium by eliminating the abuse of DHS programs may not find as many ineligible benefit recipients as projected, she said. An additional $204.91 million in savings — expected from competitive bidding reform, health care delivery pilot projects and outcome tracking changes — depends on initiatives that largely duplicate work the department is already doing and could incur unforeseen costs.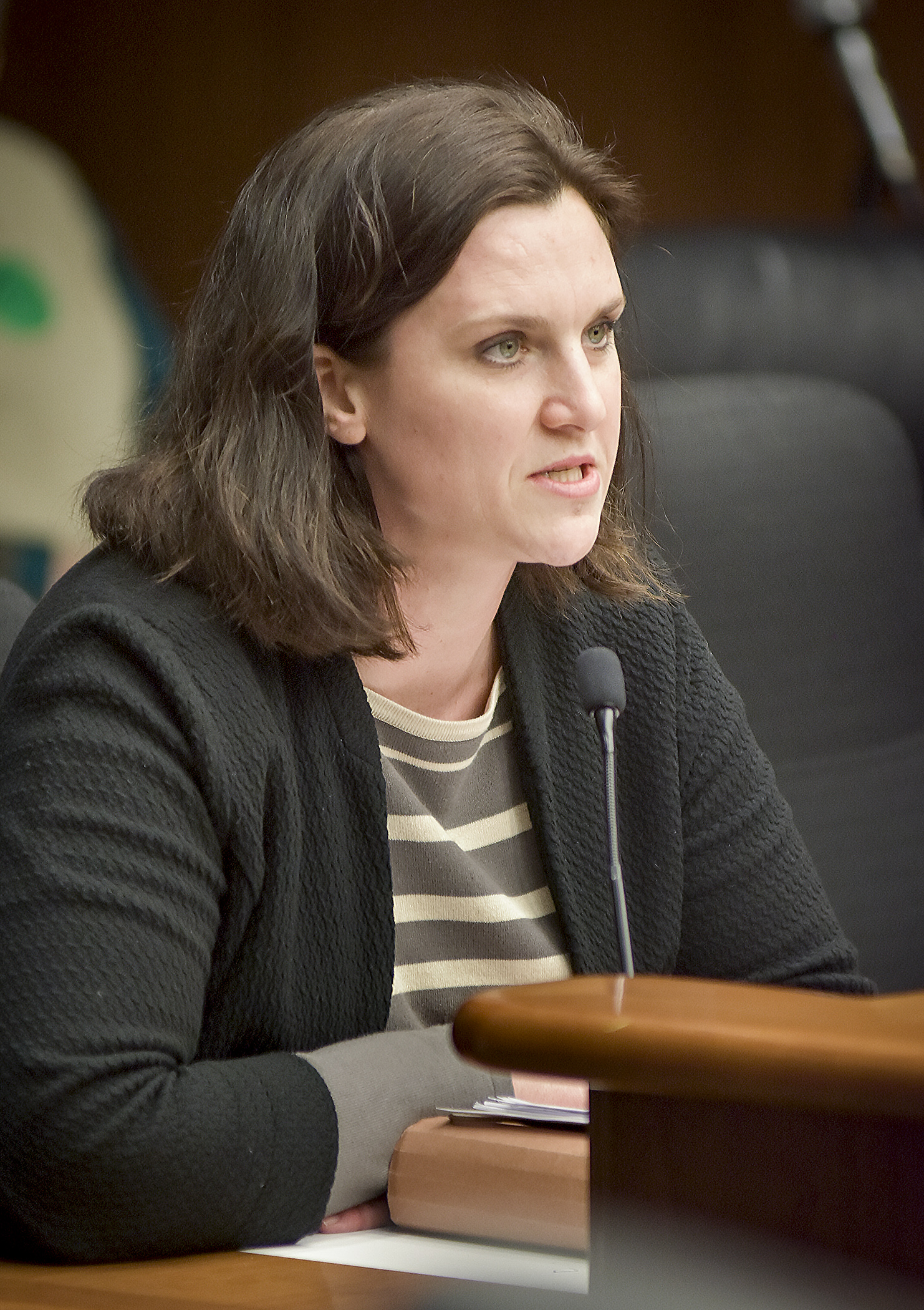 Human Services Commissioner Emily Piper speaks to the House Health and Human Services Finance Committee during public testimony on the committee's omnibus bill March 28. Photo by Andrew VonBank
Piper also highlighted concern over a provision that would require DHS to reduce Medical Assistance provider rates to make up for any savings that aren't realized through the latter three programs as expected.
Other proposed changes would:
eliminate MNsure and opt into the federal marketplace;
end more than $40 million in appropriations to MNsure that fund technology platforms shared by DHS and related operating costs and supports;
repeal the Minnesota Radon Licensing Act, which was passed in 2015 and allows the Health Department to write rules and enforce laws related to the radon industry; and
increase MinnesotaCare premiums from between $4 and $50, based on income, to between $5 and $85.
What's in the bill?
The following are among the bills that have been, at least partially, incorporated into the omnibus health and human services finance bill: