Calling for a tougher penalty for freeway-blocking protesters, containing provisions for a potential western Minnesota prison, and seeking increased funding in many areas, the omnibus public safety bill received strong House support Monday after more than six hours of discussion.
Sponsored by Rep. Tony Cornish (R-Vernon Center), HF896/SF803*, as amended by the House Ways and Means Committee to include House language and further amended on the House Floor, contains nearly $2.28 billion in spending during the 2018-19 biennium, a $111.5 million increase over current base.
"It's got a lot of good policy in it and is spending money in the right places," Cornish said at a pre-session news conference.
Following the 94-37 vote, the bill returns to the Senate for concurrence. A conference committee is expected to work out the differences. Sen. Warren Limmer (R-Maple Grove) is the Senate sponsor.
The $2.22 billion Senate proposal — passed 52-15 March 28 — contains just over $59 million in new spending and is largely policy-free. Sen. Warren Limmer (R-Maple Grove) is its sponsor.
A plan proffered by Gov. Mark Dayton calls for a $256 million increase over forecast base.
WATCH House Floor debate and vote on the omnibus public safety bill 
"This bill has something for everyone to be for or against," said Rep. Debra Hilstrom (DFL-Brooklyn Center). She is the DFL lead on the House Public Safety and Security Policy and Finance Committee.
"The question is, can we work together so that the governor can actually sign it?" she continued. "There are good things in this bill, and I commit to you today that I will work with you every day if you will work with me to make this a bill that the governor can ultimately sign."
Monetary mentions
A little under half of the additional spending in this bill is for salary increases (1 percent each year) and covering employee health insurance cost increases.
Other General Fund changes include:
$9.2 million in Fiscal Year 2017 to cover a deficiency — current funding is to be depleted in April 2017 — in the base budget for the Corrections Department health care contract;
$4.1 million for the Bureau of Criminal Apprehension to build a predatory offender registration system to replace the current aging one;
$2.01 million to comply with requirements of the federal Prison Rape Elimination Act, including lowering staff-to-offender ratios at the juvenile facility in Red Wing;
$1.7 million for two new District Court units, which includes a judge, court reporter and law clerk;
$360,000 to combat sex trafficking;
$300,000 to add an additional scientist to the BCA's drug chemistry lab to reduce the current processing time of 75-80 days, which is more than double that deemed acceptable by judges and prosecutors;
$250,000 in Fiscal Year 2018 to combat terrorism recruitment; and
$150,000 to create a nonprofit security grant program to supplement current federal dollars to nonprofit organizations deemed to be at high risk of a terrorist attack.
An amendment from Rep. Jack Considine Jr. (DFL-Mankato), and an amendment to the amendment offered by Cornish, was added that would ultimately move $500,000 from the railroad and public safety account — funded through an assessment on railroad and pipeline companies — to the Department of Transportation for safety improvements at railroad grade crossings. The change would also move a sunset date of the assessment by two years to July 1, 2019, and only require an assessment if the balance in the account dips below $1 million. Cornish said the current balance is about $6 million.
Hilstrom successfully added an amendment, that Cornish successfully amended, that would use assessment money to fund emergency response teams and hazmat and chemical assessment teams. An ERT is currently funded from the fire safety account, whose money comes from a surcharge on homeowner insurance policies and certain commercial insurance policies.
Protestor provision
Criminal provisions would increase the penalty from a misdemeanor to a gross misdemeanor for someone who intentionally obstructs traffic "that is entering, exiting, or on a trunk highway or that is entering or exiting an airport." It would also add restricting passenger access to the statute regarding unlawful interference with transit.
"Everybody believes in free speech, but you can't go into a theater and yell, 'Fire,'" Cornish said. "You shouldn't be able to block railways or airports or freeways. … We're trying to get it into a reasonable bill to allow people the freedom of speech, yet ensure there is public safety."
Rep. Jamie Becker-Finn speaks on her amendment to remove increased protestor penalty language from the omnibus public safety bill during April 3 floor debate. Photo by Paul Battaglia
Rep. Jamie Becker-Finn (DFL-Roseville) said protests are being held to draw attention to injustices. Her amendment to remove the language was defeated 75-56 after more than three hours of debate.
"The ability to use direct action as a tool to draw attention to that injustice is at the core of what it means to be American," she said. "… The message you are sending the people of Minnesota is that is more important for you to be free than it is for others. That is privilege and that is injustice."
Rep. Peggy Flanagan (DFL-St. Louis Park) called the provision a "trampling of the First Amendment," yet supporters said more than once the change would not stop a legal, lawful protest, only toughen the penalty for what is already illegal. Civil penalties would not be affected.
"The First Amendment allows the right to peacefully assemble," said Rep. Eric Lucero (R-Dayton). "Going onto a freeway, blocking people from getting to the airport, blocking people from getting to medical appointments, etc. is not peacefully assembling."
Rep. Nick Zerwas (R-Elk River) was blunter.
"If you're blocking a train you deserve to go to jail," he said. "It's just that simple."
Prison, criminal provisions
The bill would also allow the Corrections Department to house offenders in non-publicly owned facilities. It would require the department to enter into a contract to purchase and operate, or lease-to-own and operate, a 1,600-bed prison in Appleton when the department determines it has an insufficient number of prison beds to house the current or projected prison population and needs to expand an existing facility or build a new facility.
Despite being a low-incarceration, high probation state, Cornish said department projections show more prison beds will be needed in the future.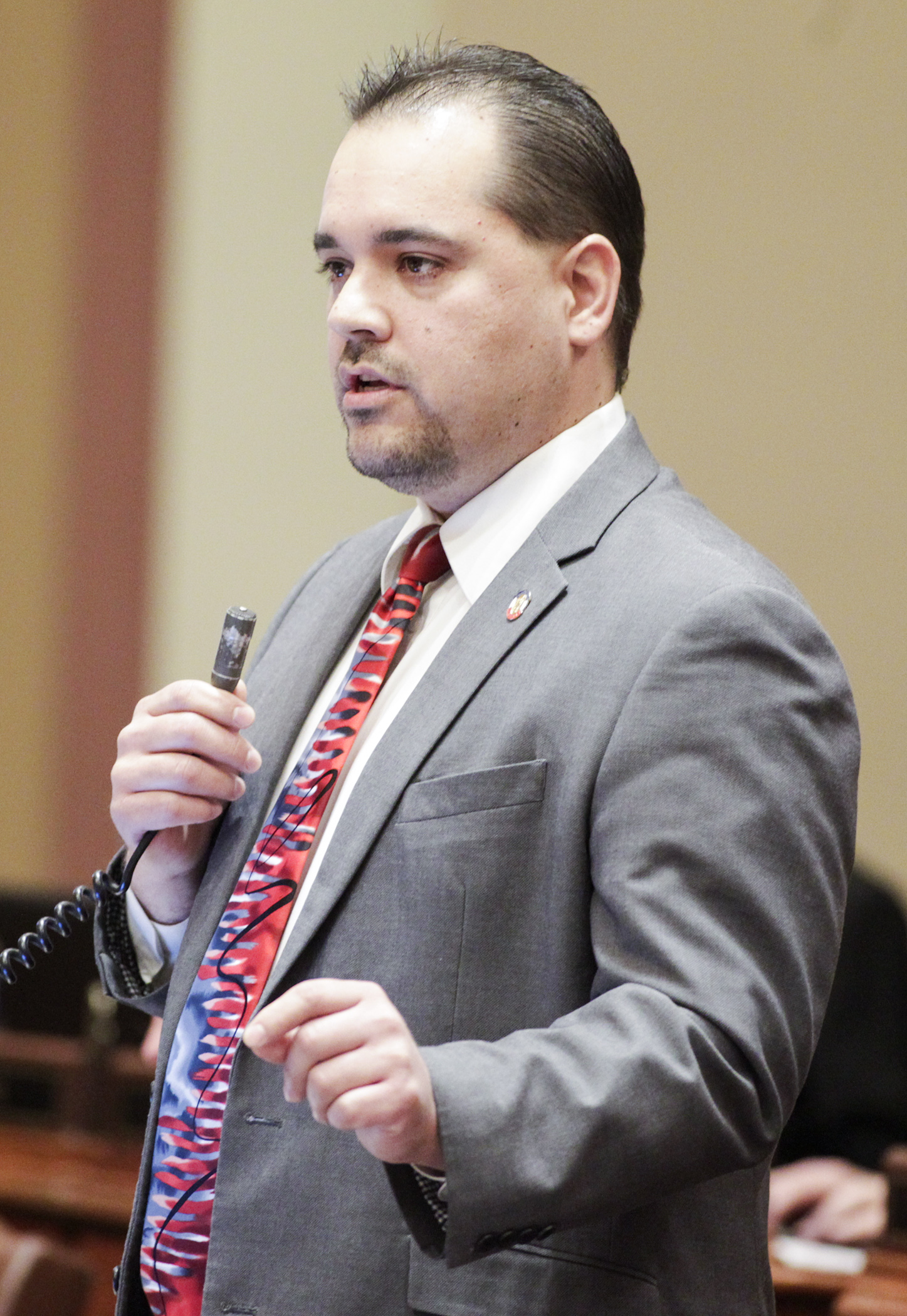 Rep. Eric Lucero speaks on an amendment to the omnibus public safety bill during the April 3 Floor debate. Photo by Paul Battaglia
"All we're asking is that when they go to get more beds they use the Appleton prison," said Rep. Tim Miller (R-Prinsburg).
An amendment by Hilstrom to strip this provision from the bill failed 74-57. A second amendment to ban state inmates from being placed in a private prison was defeated 71-60.
Among pro-amendment arguments is a projected $52 million in biennial operation costs in addition to acquisition costs. Hilstrom said that CoreCivic sought approximately $100 million for the facility last year, when its assessed value was $14 million.
She also spoke of the state's previous experience with the facility owner, CoreCivic. Formerly the Corrections Corporation of America, she said they did a poor job of providing services the state requires, had poor staffing levels, and that people who served time there had higher recidivism rates.
Former Gov. Tim Pawlenty made the decision to stop renting beds at the facility in 2010.
"There are ways to curb the prison population in the future," added Rep. Raymond Dehn (DFL-Mpls). "It's not time to be opening a new prison. It's time to be thinking what we do in our criminal justice system."
A provision to give the Department of Administration $208,000 in Fiscal Year 2018 to perform assessments and an appraisal of the Appleton prison has been deemed unnecessary. Therefore, the money would be divided between the state's tax court for its new case management system and treatment grants under the alternative incarceration pilot program for non-violent substance abuse offenders who receive technical violations.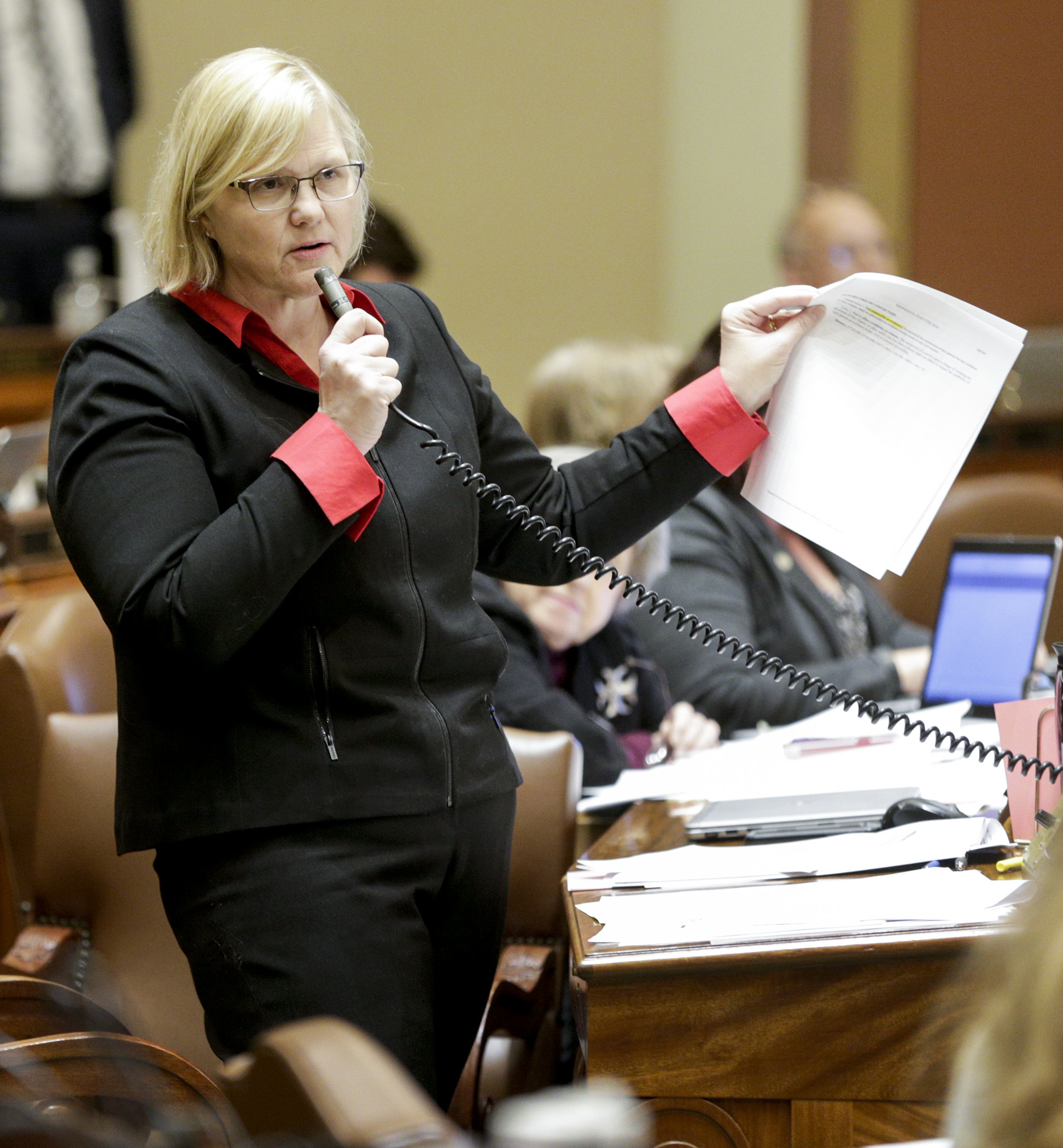 Rep. Debra Hilstrom speaks on an amendment to SF803, the omnibus public safety bill, during House Floor debate April 3. Photo by Paul Battaglia
Based off HF742, sponsored by Zerwas, the bill would establish grounds the Corrections Department can use to place someone in segregation, specify privileges for the inmate, require reviews of an inmate's segregation status, provide graduated disciplinary sanctions and prohibit the release of an inmate directly from segregation into the community.
Guns
Two high-profile weapons items — expansion of the so-called "Stand Your Ground" law and permit-free carry — are not in the bill, leaving only one clarifying provision.
The bill would clarify statute so that off-duty peace officers have the right to carry firearms in — and cannot be prohibited from entering — private establishments.
"It was the original intention of the (law) until the language got clouded up in the courts," Cornish said.
Other bill provisions include: