Gov. Mark Dayton's 2017 State of the State address was cut short Monday evening when he collapsed and was treated on the House Floor for several minutes while legislators looked on in silence.
Dayton was able to stand and eventually walk, with assistance, to a nearby room.
"He quickly recovered, walked out of the Capitol, and returned home," his chief of staff, Jaime Tincher, said in a statement about 75 minutes after the governor collapsed. "EMTs joined the governor there, and performed a routine check. He is now spending time with his son and grandson."
The joint meeting of the House and Senate quickly adjourned.
House Speaker Kurt Daudt (R-Crown) said he observed the governor "up and about" following the incident, and said he wished Dayton a speedy recovery.
House Minority Leader Melissa Hortman (DFL-Brooklyn Park) said the governor, a former hockey goalie, has "suffered hits before" and predicted he'd bounce back once he rehydrated. She speculated that Dayton might be short on sleep after working late nights to prepare his budget and his State of the State speech.
"Our prayers are with him," said Rep. Peggy Scott (R-Andover).
The state of the state
Dayton, who turns 70 years old on Thursday, had been speaking for more than 30 minutes and was nearing the end of his address before the incident.
The governor began by referencing promises he'd made six years ago during his inaugural speech that proclaimed new jobs and a balanced budget as two of his top priorities. Dayton touted progress toward those goals, but also outlined persistent challenges, and his vision to overcome them.
The governor said Minnesotans would judge him on how well he'd kept his 2010 campaign promise of a "Better Minnesota" and throughout the speech he built his case for that improvement. He noted that when he took office six years ago, 202,000 Minnesotans were unemployed, but that the state has since added 255,000 jobs and unemployment is now below 4 percent.
Dayton said he'd also kept a promise made during his inaugural address to clean up the state's "financial mess" by turning a $6 billion projected budget deficit in 2011 into projected surpluses of a $1.4 billion each of the next two biennia.
Vision for the future
While Dayton was bullish on the state's achievements over the last six years, he also cautioned that many Minnesotans continue to struggle, and that economic disparity foreshadowed a "very uncertain future" for many.
"The budget I will propose tomorrow will continue our state's financial prudence," Dayton said. "I am determined that, when I leave office in two years, Minnesota's finances will be in sound condition and ready to support an even brighter future."
WATCH Full video of the governor's State of the State address on YouTube
While the speech offered few specifics about his forthcoming budgetary recommendations, Dayton, who has said he will not run for reelection, did provide some hints as to his legislative priorities over the next two years.
Education
When he took office in 2011, Dayton promised his administration would annually increase investment in E-12 education. The governor said he would not "abandon" that promise now, and his budget proposal will include 2 percent increases in the per-pupil aid formula each of the next two years, a measure he said will cost $371 million.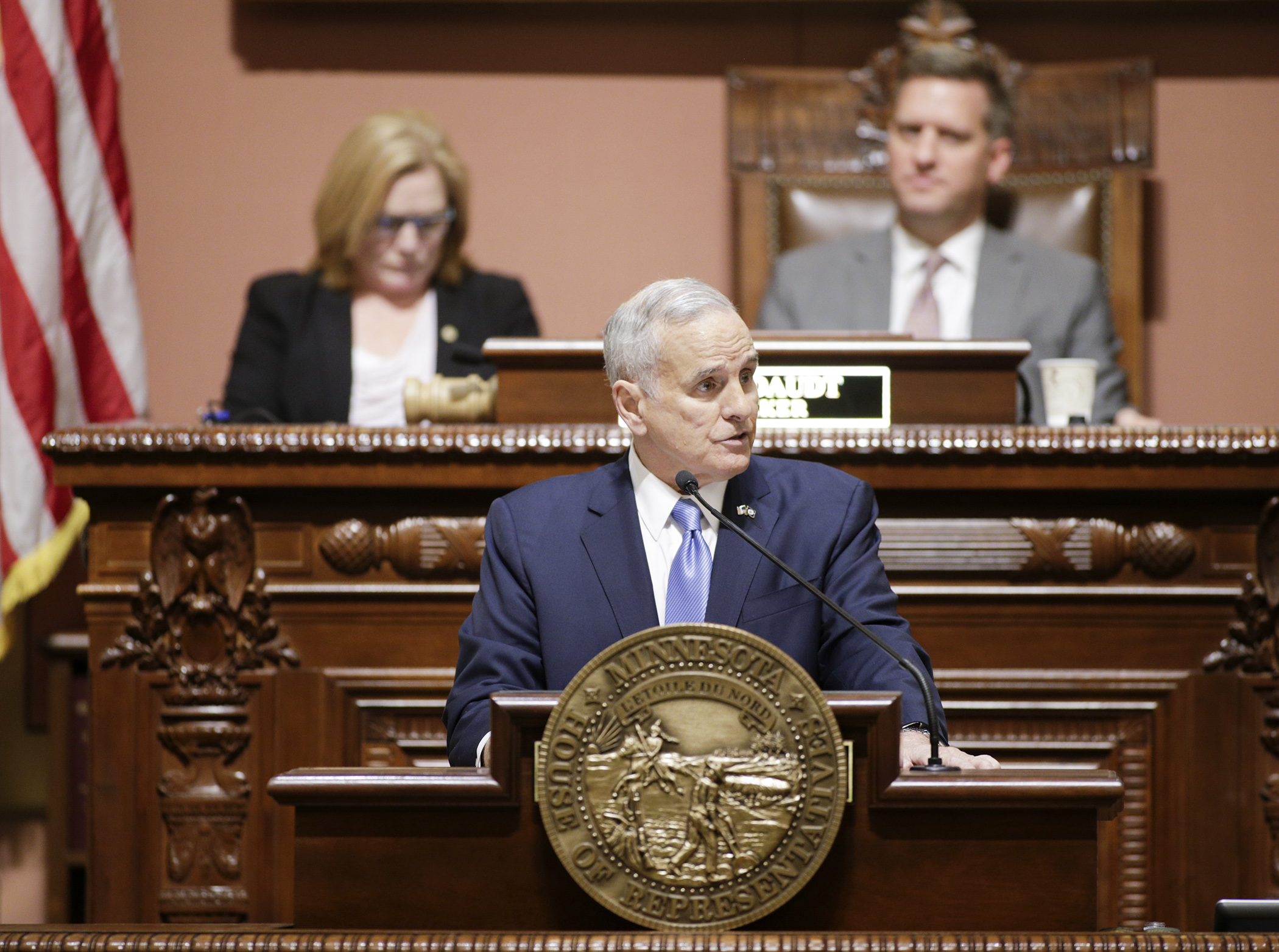 Gov. Mark Dayton delivers his State of the State address to a joint convention of the Legislature in the House Chamber Jan. 23. Photo by Paul Battaglia
"Some people will say we can't afford to make those investments," Dayton said. "I say, we can't afford not to. Frankly, I wish we could afford to do more."
The governor said his budget would also propose further increases in state funding for child care, pre-kindergarten and "other early childhood enhancements." And he called for increased investments in higher education to meet the future workforce needs of Minnesota businesses.
Dayton said state funding for the Minnesota's colleges and universities dropped by 48 percent from Fiscal Years 2000-13 and that, while funding levels increased 20 percent from Fiscal Years 2013-15, more General Fund support was needed.
Transportation
Labeling Minnesota's transportation deficiencies as "urgent," Dayton said his transportation funding proposal, would generate $6 billion of additional revenue for state highway projects and $2.8 billion over the next decade for road and bridge improvements. He said he was willing to work with legislators to find a "real" solution that "most of us" can accept.
Dayton said doing those projects would be costly, but it would be far more costly not to do them.
"We fall farther behind at our peril," Dayton said.
Clean Water
Dayton has made clean water a marquee issue of his second term. He renewed his pitch for improving water quality during Monday's address, calling out proposed tax provisions to help local governments and farmers with the buffers protections he got through the Legislature in 2015. He also hinted that projects including water-treatment projects in Greater Minnesota would be part of the budget proposal he will unveil on Tuesday. Dayton predicted further ideas would come out of the second State Water Summit scheduled Friday in Morris.
Health care
The governor's collapse meant he only got through part of the topic to which he planned to devote the greatest part of his speech: health care.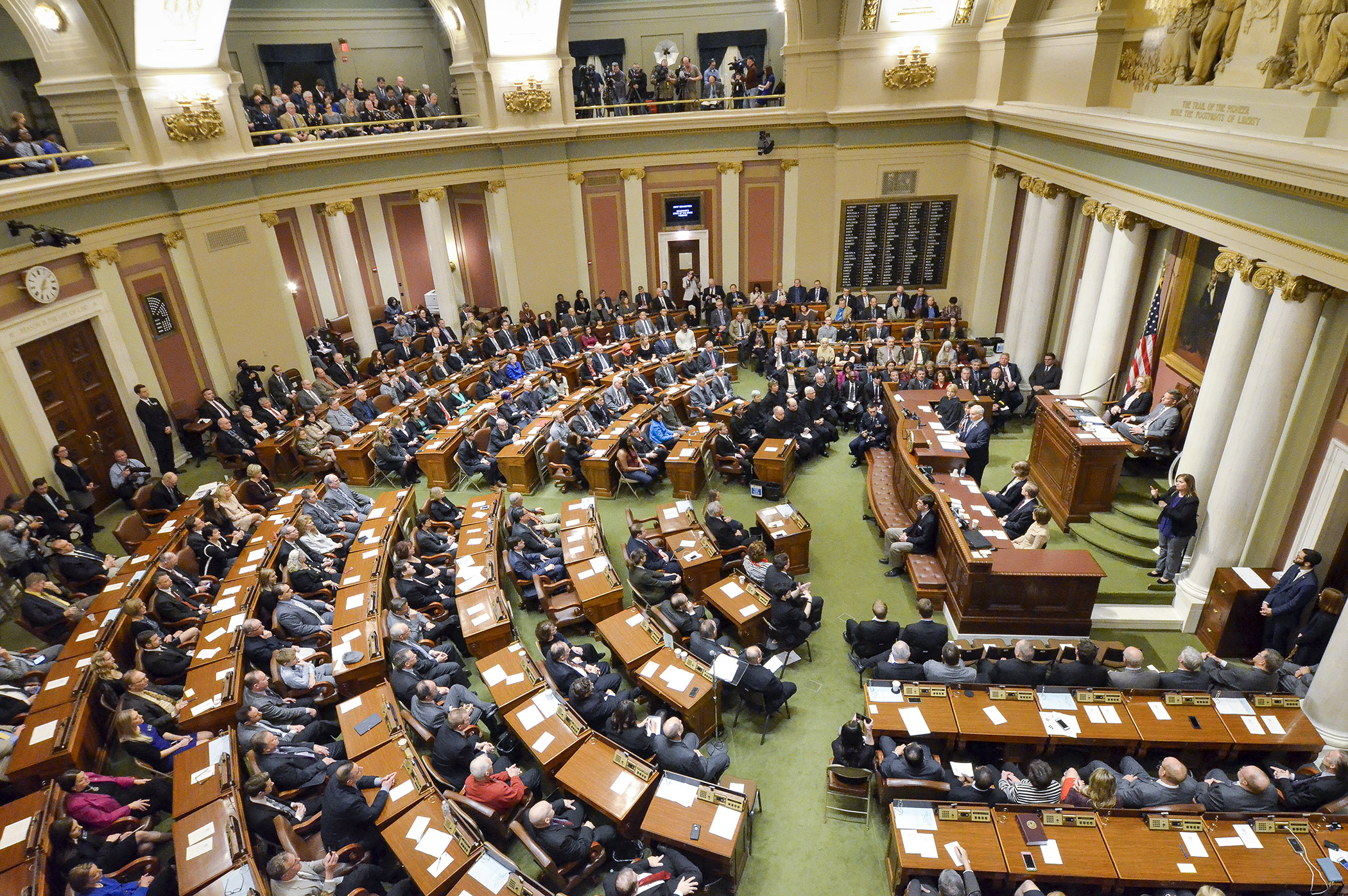 A view of the House Chamber while Gov. Mark Dayton delivers his State of the State address Jan. 23 to the Legislature. Photo by Andrew VonBank
He first advocated for preserving at least parts of the Affordable Care Act, such as requiring insurers to accept people with pre-existing conditions and to let parents cover adult children up to age 26.
Dayton lauded the quality of health care and comprehensiveness of coverage under the act and said they justify its higher costs. The state's exchange, MNsure, has seen "dramatic improvement," Dayton said, but "has more work to do." A chief flaw in Minnesota's health care insurance system, Dayton said, are the "drastic increases" in premiums for people on the individual insurance market who don't qualify for federal tax credits.
His prepared remarks indicate Dayton had intended to continue by expressing support for providing emergency relief "immediately" while also vowing to support other reforms to prevent future such increases and to foster more competition and choice in separate legislation. He planned to signal a willingness to support opening Minnesota's health care market to for-profit insurance companies.
He saved his own health care insurance proposal for nearly last: "a so-called 'Public Option,'" a new program modeled on MinnesotaCare that would be made available through MNsure to everyone seeking coverage on the individual market. 
Session Daily writer Chris Steller contributed to this story.