Minnesota's 18 ski facilities could look forward to something they badly need, and it's not snow.
Sponsored by Rep. Barb Haley (R-Red Wing), HF2367 would create a $4 million competitive grant program to help ski area operators pay for expansions, technological improvements, safety enhancements, replacement or upgrades of aging infrastructure, maintenance or other improvements.
One possible use, Haley said, would be turning ski facilities into year-round attractions.
Luci Botzek, executive director of the Minnesota Ski Areas Association, said costs range from $18,000 for a snowmaking gun to $1.2 million to replace ski lifts.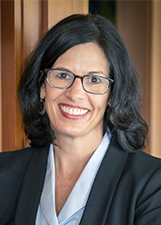 Rep. Barb Haley
The House Job Growth and Energy Affordability Policy and Finance Committee held the bill over Friday for possible omnibus bill inclusion. The companion, SF2111, sponsored by Sen. Michael Goggin (R-Red Wing), awaits action by the Senate Jobs and Economic Growth Finance and Policy Committee.
To be awarded grant funds, a project would also have to include some non-state money. At least 70 percent of the $4 million in grant funds would target businesses outside the 11-county metropolitan area. The Department of Employment and Economic Development would favor projects that demonstrate the greatest regional economic impact and the greatest portion of non-state and in-kind contributions.
"This isn't fluff," Haley said. "This is a serious bill [that would] allow Minnesota to stand out as a place for skiing, a place for tourism."
Already, Botzek said, Minnesota ranks eighth among states for the number of ski-related visits.
A similar bill that would have appropriated $6 million died in House and Senate committees last year.
Bryan Sanders, executive director of the American Ski Jumping Hall of Fame and Museum in Red Wing, said a feasibility plan for a new ski jumping facility in Red Wing was the genesis of the idea behind the so-called "Snow Angel" grant program.
Ahvo Taipale, owner of the Finn Sisu ski store in Lauderdale, said 30 metro-area high schools with ski programs have found local facilities unreliable in present conditions, resulting in canceled events or long bus trips to distant facilities.
Several speakers said Minnesota could attain international status as a skiing destination, despite a string of recent winters with less than ideal weather conditions for the sport. Ski area operators are the "snow farmers of the state," Botzek said, with "weather contingency issues" like other farmers.