The House voted 131-0 to pass more than $500 million in Legacy appropriations Tuesday although concerns persist that funding for water quality projects falls short in some areas and is misplaced in another.
Sponsored by Rep. Bob Gunther (R-Fairmont), HF707 would appropriate money from the four funds established by the Clean Water, Land and Legacy Amendment in 2008 to benefit the state's natural and cultural resources.
The bill now moves to the Senate where Sen. Carrie Ruud (R-Breezy Point) is the sponsor.
The appropriations in the bill for the upcoming biennium would be:
Clean Water Fund – $211 million
Arts and Cultural Heritage Fund – $123 million
Outdoor Heritage Fund – $103 million
Parks and Trails Fund – $89 million
Rep. Dean Urdahl (R-Grove City), a past sponsor of omnibus Legacy bills, congratulated Gunther on the bill and the people of Minnesota for voting to raise their own taxes in 2008 to dedicate money for the good of the state.
"This is a fine bill, and it addresses a lot of the needs the people of Minnesota and our members have," Urdahl said.
Rep. Rick Hansen (DFL-South St. Paul) said he'd expected to vote against the bill but some of the amendments adopted during the floor debate had given him cause for optimism, and "should serve as a model" for how the House should operate during the rest of the session.
However, he also said the bill "needs work" and mentioned a few provisions related to water quality that could be improved.
One involves Clean Water Fund appropriations, which include $22 million for grants the state's 90 soil and water conservation districts would use to help landowners implement buffer regulations passed as part of the 2015 law meant to improve water quality.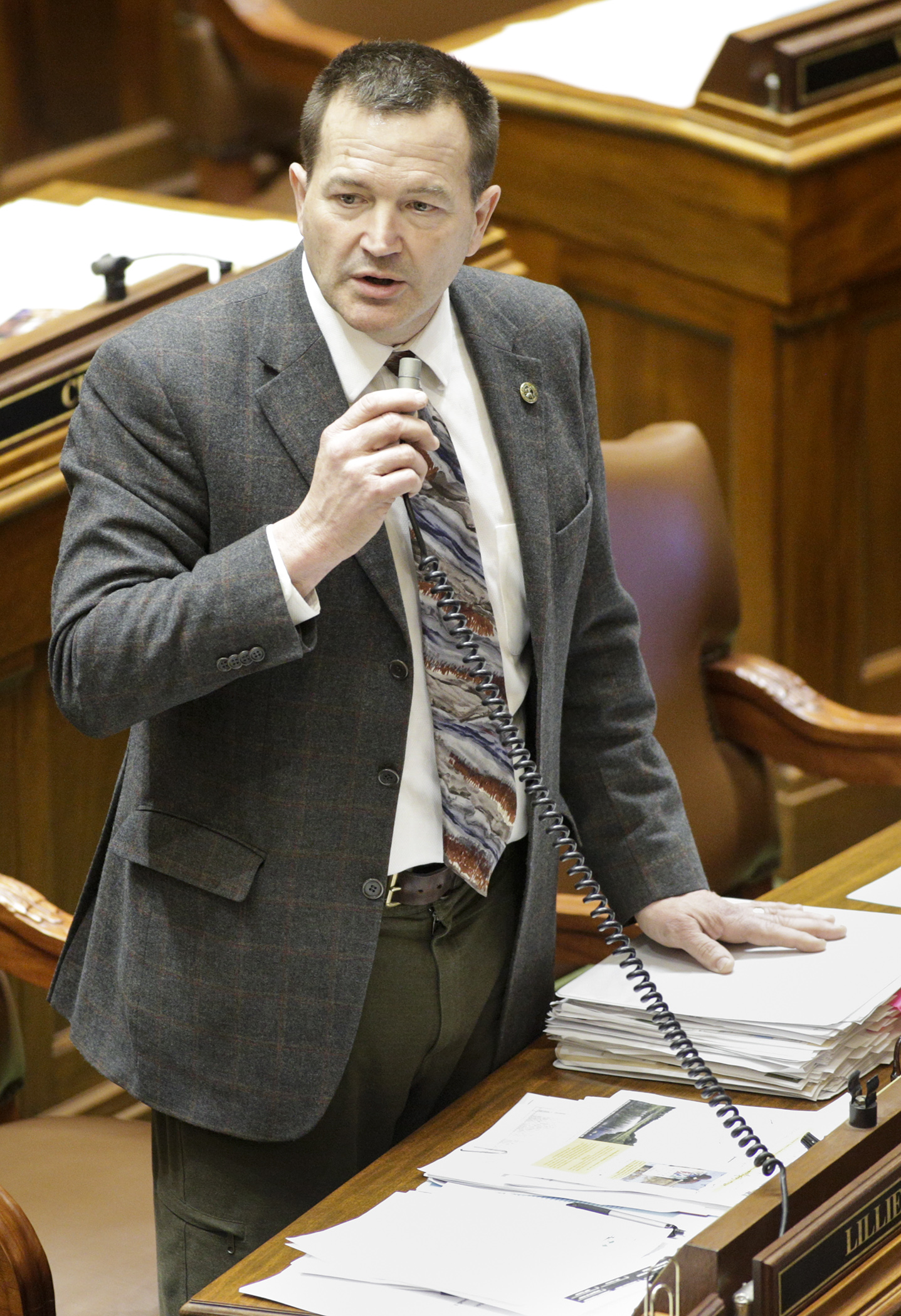 Rep. Leon Lillie describes provisions of the omnibus legacy funding bill during the April 4 House Floor debate. The bill passed 131-0. Photo by Paul Battaglia
When that law was enacted, buffer work done by conservation districts was to be paid for by the Clean Water Fund for the first two years, and the General Fund thereafter.
However, the amended bill again relies on the Clean Water Fund for appropriations to the Board of Water and Soil Resources, which distributes the money as grants.
BWSR officials say the funding shift would significantly reduce the work that can be done on other conservation projects, and assistance available to landowners. Hansen said using money from the fund may not be constitutional because conservation districts spend it on administrative costs rather than direct work to preserve, protect and enhance water quality as the Legacy amendment requires.
"Even the [SWCD's} say they don't want the Clean Water Fund money," Hansen said. "They want the General Fund dollars."
Water quality certification
The bill would also appropriate $3 million to the Department of Agriculture to implement the Agricultural Water Quality Certification Program statewide – $2.5 million less than Gov. Mark Dayton recommended in his proposed budget. The program was developed as a strategy to support those who implement approved farm management practices to improve water quality.
The department has testified it needs at least $5 million in Clean Water Funds over the next biennium to leverage an additional $5.2 million in federal funds – anything less and none of that money will be available. More than 365 farms have already been certified by the program, and officials say 350 more are awaiting certification.
Several amendments adopted
The House adopted several amendments, including one that would allow counties to file no-net-gain policies with the Department of Natural Resources that require the agency – when acquiring private land in that county – to sell an equal amount of land in the same county to a private individual or entity.
Rep. Steve Green (R-Fosston) said he offered the amendment because people in several northern Minnesota counties had expressed concern about the impact state land ownership has on their property tax revenues, and he said poorer counties can't afford to lose additional tax base.
WATCH Omnibus Legacy finance bill introduced on the House Floor
However, several members cautioned the amendment would limit acquisitions in other areas, especially southern counties where public land access is more difficult to find.
Another amendment from Green that was adopted would prohibit recipients of Outdoor Heritage Fund appropriations from using that money to pay for overhead expenses unless they can document the costs specifically increased as a direct result of administering a program, project or activity paid for with money from the fund.
Hansen offered two amendments that were adopted.
The first would provide $500,000 for the Department of Agriculture to respond to the emerald ash borer threat facing the state's ash trees, which he called "a slow-moving crisis." The second would appropriate $500,000 for grants or loans for local inflow and infiltration reduction programs in the Twin Cities metropolitan area. This money would provide help to homeowners facing groundwater contamination when public water pipes leak as they transfer water into homes.
An amendment offered by Rep. Jean Wagenius (DFL-Mpls) that would appropriate an additional $257,000 to the Department of Health to help several small communities develop protection plans for their drinking water, was also adopted.
What else would HF707 do?
Other appropriations made in the bill for the upcoming biennium include:
$44.3 million for grants to support Minnesota artists and arts organizations for high-quality arts activities, overcoming barriers to access arts activities and instilling the arts in community and public life;
$24.5 to BWSR for grants that protect, restore and enhance drinking water, surface water and groundwater and to keep water on the land;
$19 million to develop watershed restoration and protection strategies;
$17.7 million for grants for parks and trails of regional significance outside the seven-county metropolitan area;
$8 million to the Minnesota Public Television Association for production and acquisition grants;
$6.8 million to enhance county-level delivery systems for subsurface sewage treatment activities:
$3.9 million to the DNR for stream flow monitoring;
$3.3 million for Minnesota Public Radio to create programming and expand news on the state's cultural heritage and history; and
$2.9 million to Como Park Zoo for program development.