A bipartisan group of House members and anti-hunger advocates announced the birth of the Child Hunger Caucus.
Unveiled at a Thursday news conference, the group plans to work with activists to find solutions to child hunger. They plan to seek private sector input and pair it with possible new legislation, in hopes of getting more food to the right places.
One of the caucus' organizers, Rep. Erin Maye Quade (DFL-Apple Valley), said the reason she ran for the House was because child hunger in her community had gone up 384 percent in the decade since she had graduated high school.
"I wanted to make sure that someone in this Legislature was doing something about it," she said.
The first day Maye Quade was in office, she approached Rep. Rod Hamilton, (R-Mountain Lake) and asked if he wanted to help. Hamilton replied he was "all in," Maye Quade said.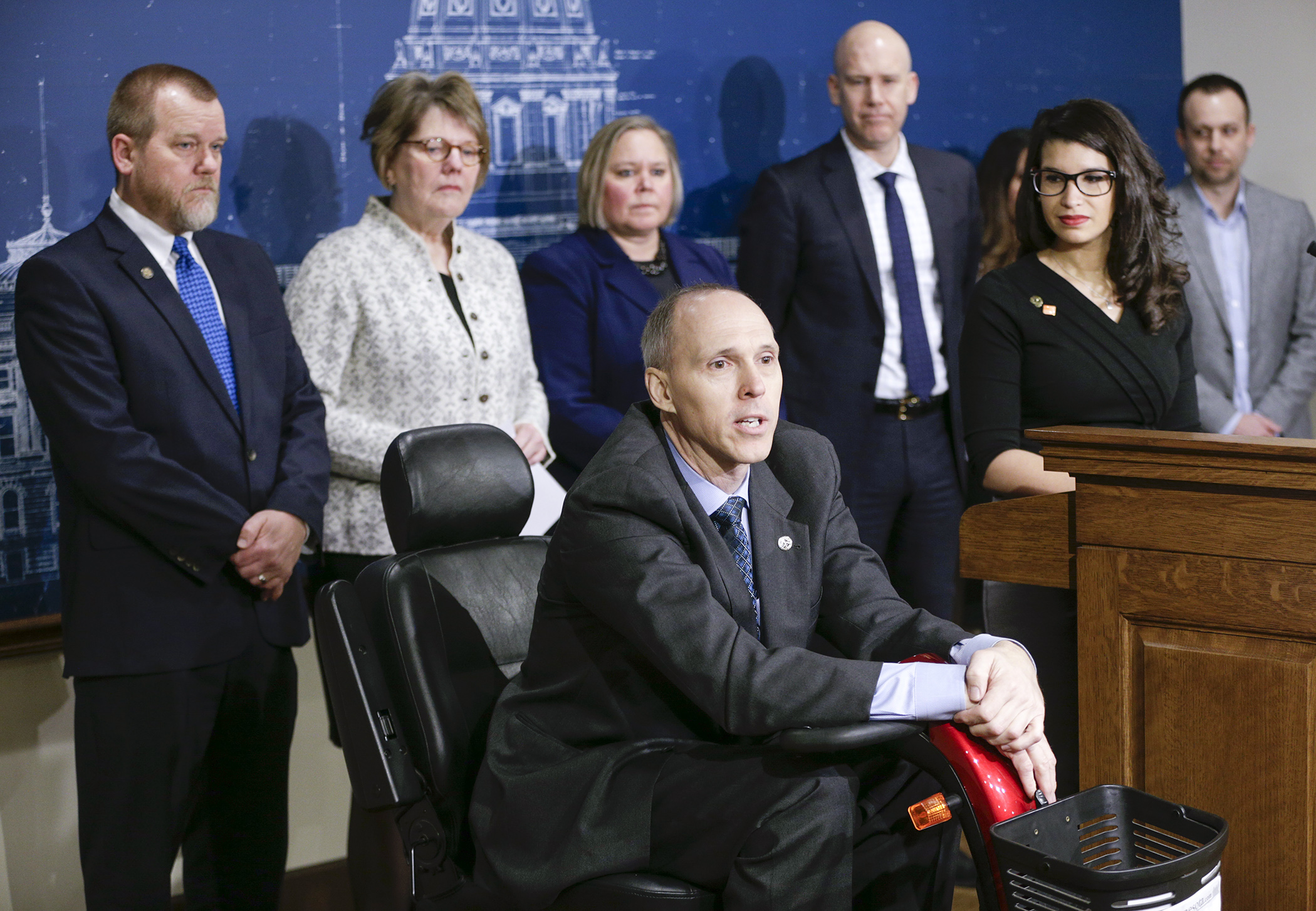 Rep. Rod Hamilton comments during a press conference with Rep. Erin Maye Quade, at the podium, and Rep. Tony Jurgens, far left, announcing the formation of the Child Hunger Caucus. Photo by Paul Battaglia
Hamilton, chair of the House Agriculture Finance Committee, said last year's omnibus law included measures to provide food access. He added that children shouldn't have to worry about where to find their next meal.
"Let the adults, let the experts worry about that," he said Thursday. "That way, kids can simply focus on being kids."
A hungry child can't learn as well as one with adequate food, Maye Quade said.
One in 10 Minnesotans experiences food insecurity and one in six children in Minnesota are unsure day-to-day if they will have enough food, supporters said.
Rob Zeaske, CEO of Second Harvest Heartland, called child hunger Minnesota's "largest solvable problem." He said the issue was a $1 billion dig on the state's economy.
WATCH House members, advocates address the media 
Colleen Moriarty, executive director of Hunger Solutions Minnesota, said the formation of the caucus made her feel sanguine in the face of large proposed cuts to the SNAP program at the federal level.
Asked what solutions she already had in mind for Minnesota, Maye Quade said the state could help needy families and schools take advantage of programs and funding that already exist. 
One potential avenue, she said, might be encouraging schools to serve breakfast after the bell starts the school day, in order to accommodate students with a long trip time to get to school.
Hamilton said there were a number of initiatives that could be built upon, including the 2017 omnibus law that helps route crops that would otherwise be discarded to organizations such as Second Harvest.