An effort to close the gender and racial wage gaps in Minnesota was met with an hour-long discussion during the House Job Growth and Energy Affordability Policy and Finance Committee on Tuesday.
And in the end, the committee tabled HF2913, as amended.
Sponsored by Rep. Paul Thissen (DFL-Mpls), the bill would prohibit employers from asking how much money potential employees made at their previous job. It would, however, allow employers to ask questions regarding measures of productivity, such as revenue someone generated for an employer or their sales history.
The bill would require employers who violate this to pay a civil penalty and allow employees or potential employees to bring a lawsuit against an employer in district court, which could result in compensatory damages.
It'll 'help the wage gap'
Women, on average, make 83-85 cents to every dollar a man makes, and women of color make even less — a little more than half of what a man makes, on average, said Lisa Stratton, co-founder and senior counsel at Gender Justice.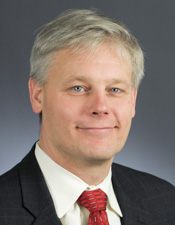 Rep. Paul Thissen
So when an employer asks one of these women about their previous salary, that's likely what they'll get paid, which perpetuates the existing wage gap, Thissen explained.
"This bill would help — but it's not going to solve — the wage gap," Stratton said. "But it's an important step that can be taken, and it would, more than anything, encourage employers to de-bias their hiring processes. It will ensure people are paid for their new job, not their old one."
And it's not just women who are affected by the past wages question. This bill would help older people who try to get a lower-paying job at the end of their career and are often screened out of consideration because they made too much, Thissen said.
Bill met with opposition
Cam Winton, the director of energy and labor-management policy at the Minnesota Chamber of Commerce, said his organization opposes the bill.
Winton said it would make it illegal to ask a question — a question that has legitimate business purposes to determine if the employer and employee "are in the same ballpark when it comes to pay."
"This bill would throw sand in the gears of those legitimate business purposes where employees and employers are having free-flowing conversations with each other," said Winton.
Thissen argued that sharing compensation rates ahead of time would help avoid any chance of a long salary negotiation process with a potential employer.
Winton wasn't the only one to raise concerns with the bill. Rep. Dan Fabian (R-Roseau) and Rep. Peggy Scott (R-Andover) both expressed their concerns, with Scott saying the bill was "vague."
The companion, SF2716, sponsored by Sen. Sandra Pappas (DFL-St. Paul), awaits action by the Senate Jobs and Economic Growth Finance and Policy Committee.