Gov. Mark Dayton mixed his legacy and final goals with some self-deprecating humor during his final State of the State address Wednesday.
The governor famously collapsed part way through the delivery of his 2017 speech, and Dayton joked about the incident at the start of this year's address.
"Some people have suggested I conclude my speech now, to make certain I can walk out by myself," he said. "However, this is my final State of the State address, and there is more I want to say. So, cross your fingers Hugo, because here we go."
Hugo is his nearly 5-year-old grandson, who was watching from the House Gallery with many members of the governor's family.
Dayton kept on trucking through his 30-minute address. After one round of applause he playfully joked, "It's helpful when you clap. It gives me a chance to hydrate."
Dayton will not run for a third term, and this election year will see a feverish race to replace him. He thanked the people who had helped him get to this point, and looked back on his achievements over the course of his tenure.
WATCH Full video of the governor's speech
The governor cited a number of reports that ranked Minnesota highly among all states, and paired them with a quintessentially Minnesotan observation.
"We're not perfect, but, compared to everyone else, we're pretty good," he said.
He also acknowledged a future Minnesota: one where not everybody looks the same. There are simply not enough native-born Minnesotans to make the state's economy function, he said — so the entire state would need to work together with new arrivals. About 19 percent of Minnesotans are people of color, he noted.
"Adjusting to this new reality is hard for some Minnesotans," he said. "But trying to push Minnesota back 50 years is neither a realistic option nor a good idea."
Other parts of the speech were classic Dayton: he pushed for clean water, more education funding and expanded health insurance coverage — all familiar notes to anyone following his eight-year tenure as the state's chief executive.
The 2018 session is considered a "bonding year" when the Legislature puts together a public works spending package funded by new state debt in the form of bonds, which are gradually paid off. Dayton noted that in his bonding proposal, he had given more money for infrastructure improvements to Minnesota State system and University of Minnesota than either requested.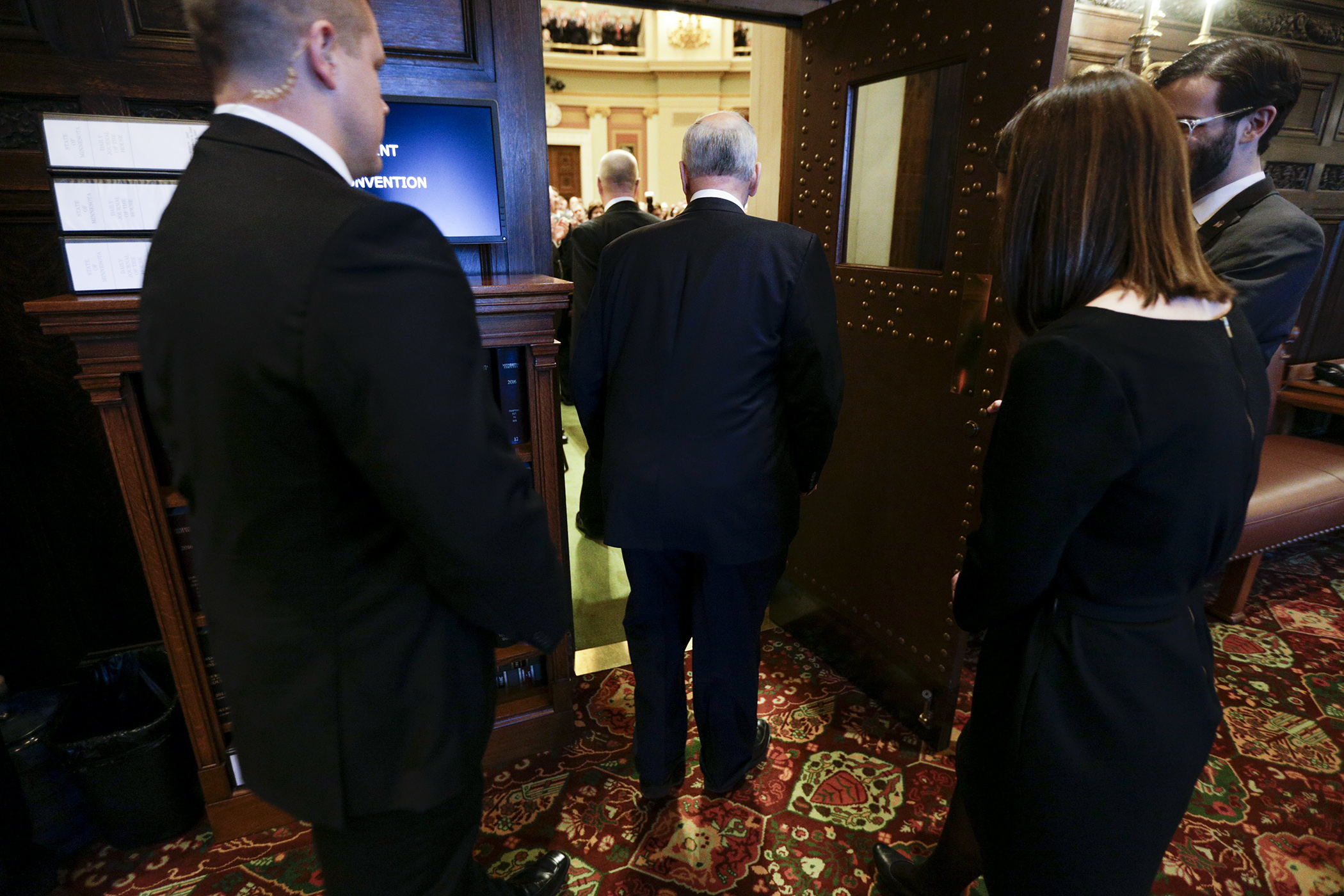 Gov. Mark Dayton heads out of the House Retiring Room to deliver his last State of the State Address. Photo by Paul Battaglia
"I know they asked for less than what they need because they thought that was all the Legislature would support," Dayton said. "Well… Surprise them!"
It surprised House Majority Leader Joyce Peppin (R-Rogers), too, who said she was surprised to hear Dayton say he'd "go above and beyond what the request even was," she told reporters following the speech.
In addition to the bonding money, Dayton previewed Friday's expected release of his supplemental budget. There would be an additional $10 million for the University of Minnesota, in order for it to keep tuition rates flat, he said. Minnesota State would also get another $10 million, Dayton said.
An awkward moment came when Republicans cheered what was apparently supposed to be a jibe at them in Dayton's speech. He was obliquely criticizing them for wanting to take money from the General Fund to pay for roads and bridges, rather than from new revenue streams.
WATCH House/Senate Republican leaders respond to the speech
Dayton had a warning for legislators present and future: Don't let tax cuts be the end-all solution to issues with the state's economy.
"Minnesota has not been a low tax state during my career," he said. "And it's fortunate because states with the lowest taxes generally rank among the lowest in per capita income, household income, educational attainment, homeownership, and public health."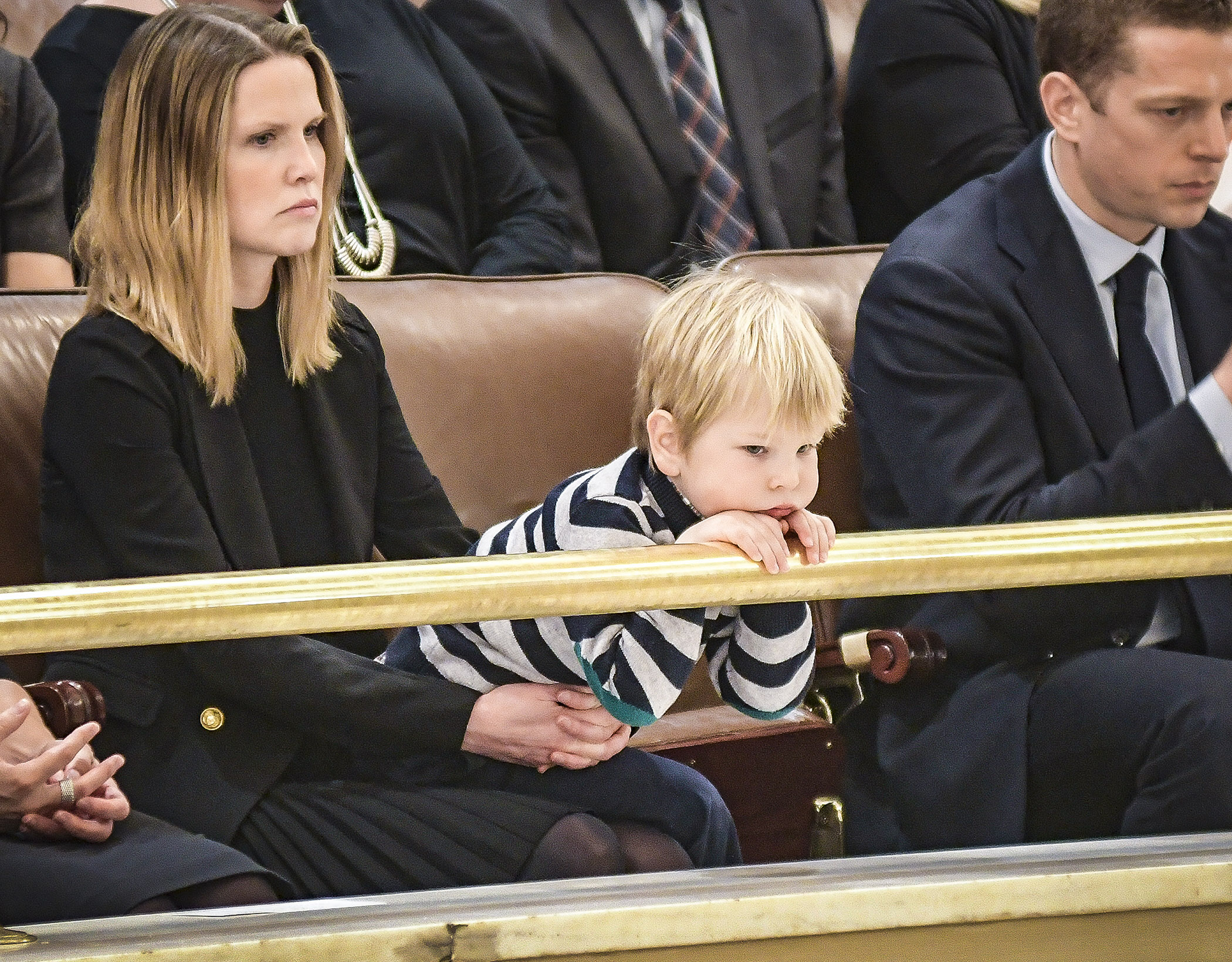 Gov. Mark Dayton's grandson, Hugo, listens from the gallery as his grandfather delivers the State of the State address. Photo by Andrew VonBank
Taxes fuel state investments, which in turn fuel a better economy, he said.
"It's not that raising taxes is, by itself, a good thing; it's that investing those revenues in education and infrastructure, produce far better returns in improving our economy's vitality and our residents' well-being," he said. "They produce more jobs and better jobs."
Republican leaders touted their tax cuts last year, which they say were a driving force in the turnaround from the budget deficit to surplus. House Speaker Kurt Daudt (R-Crown) told reporters he was "fully expecting" the governor to pitch increasing taxes, but said he is glad Dayton didn't.
"Frankly, I think it's good that he doesn't want to waste time talking about things that just aren't going to happen," Daudt said, noting they can spend that time instead talking about things that will help Minnesota families.
In light of the recent federal tax law, Dayton urged lawmakers from both sides to work toward conformity, even though it "defies a simple solution."
WATCH House/Senate DFL leaders respond to the speech
"What he said about the tax bill is that we need something that is fiscally responsible and that takes care of Minnesota's working families. And if he does not get a bill that is both fiscally responsible and takes care of Minnesota's working families, it's no deal. So I really appreciated he set down that very clear marker," said House Minority Leader Melissa Hortman (DFL-Brooklyn Park).
The address did not avoid the conversation on guns in the wake of the school shooting four weeks earlier in Parkland, Fla.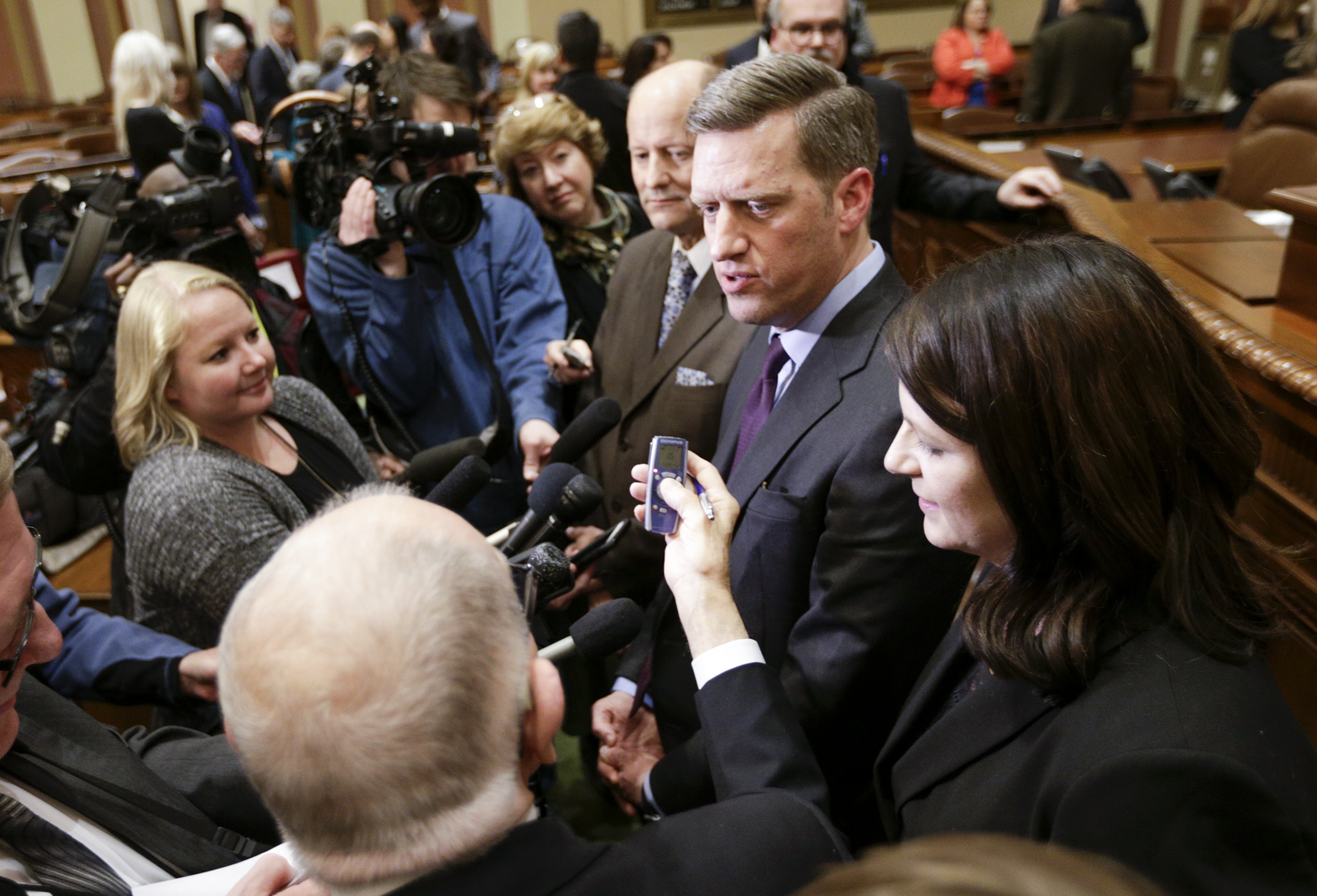 House Speaker Kurt Daudt speaks with the media after Gov. Mark Dayton's State of the State Address. Photo by Paul Battaglia
Minnesota legislators faced a clear choice on the issue of gun safety, Dayton said. 
"They can side with the NRA, who strongly opposes commonsense solutions to reduce gun violence in our schools and communities, or they can side with the schoolchildren of Minnesota who are begging us for it," he said.
The lines on gun control got a standing ovation from the DFL members.
Dayton promised to sign gun safety bills recently put forward that would extend background checks to all gun purchases in the state, and require gun owners to report lost or stolen firearms. The Republican-controlled Legislature would need to pass the bills first, however.
The last part of the speech illustrated Dayton's worldview. He closed by acknowledging the immense privilege that each Minnesotan holds, and calling on those assembled in the Capitol to improve on it for the generations to come.  
"From my experiences in places like Iraq, Afghanistan, and the poorest parts of New York City, I have come to realize how much our lives are proscribed by where we land at birth on this planet," he said. "And then by the economic and social environments in which we live."
But, Dayton said, there is nowhere else that compares to Minnesota.
Daudt said Dayton mentioning everything they can accomplish by working together "sets a great tone for the session. And we're committed to doing exactly that. I can't sign a bill into law, and the governor can't pass a bill. So we have to do this together, and I think Minnesotans expect that. And that's really the Minnesota way."  
House Public Information Services writer Melissa Turtinen contributed to this story.