Having access to high-speed broadband internet isn't just about people's ability to binge-watch the latest Netflix show. For Hannah Erickson, a student at Greenway High School in Coleraine, it's about being able to keep up in school.
"An internet connection … is as necessary to my education as a pen and paper," Erickson told the House Job Growth and Energy Affordability and Policy Finance Committee Thursday, later adding, "Every student should have an equal opportunity to pursue their education to their fullest and all students should be equipped with the tools necessary to do so."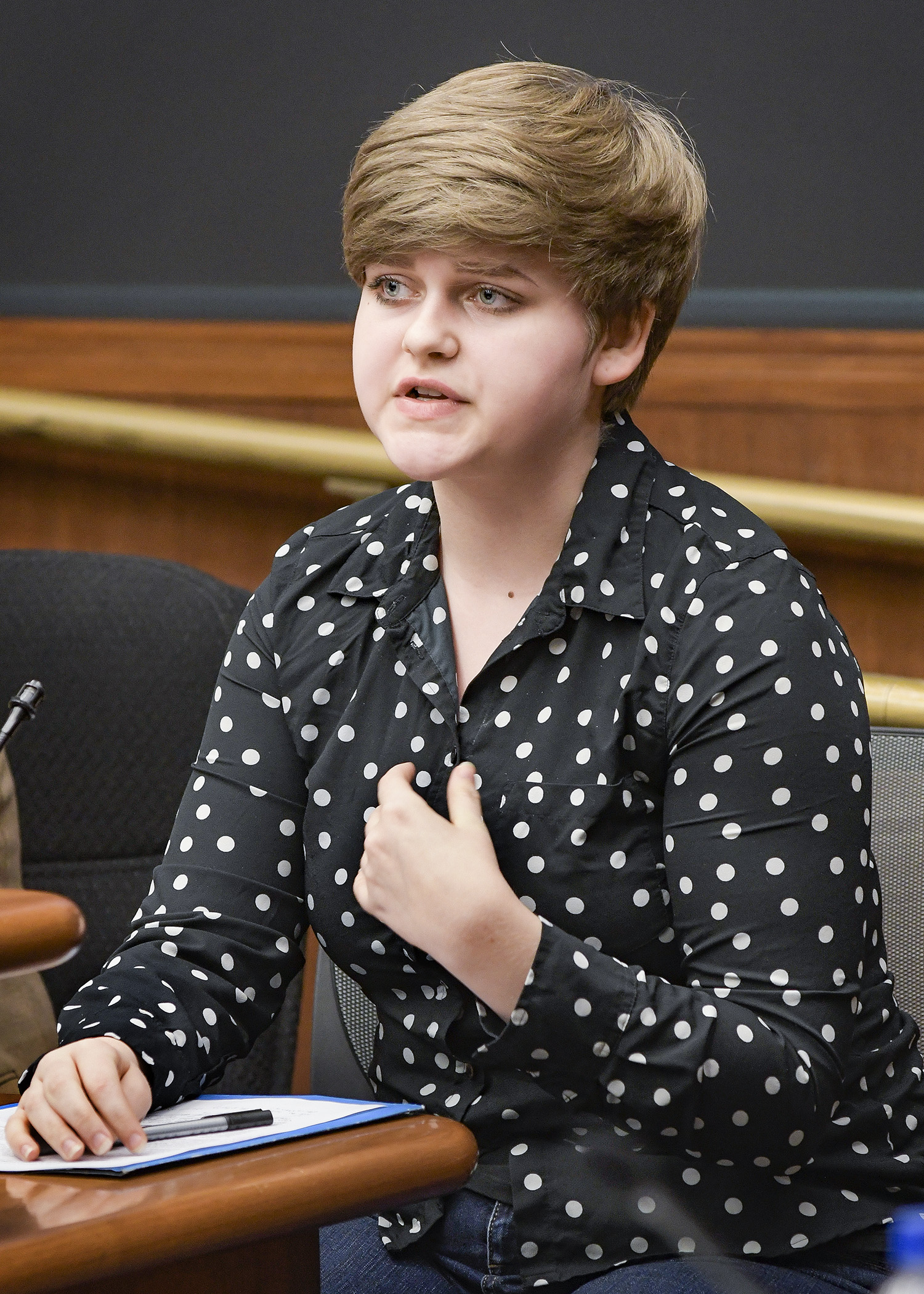 Hannah Erickson, a student at Greenway High School, testifies before the House Job Growth and Energy Affordability Policy and Finance Committee April 12 in support of a bill that would provide broadband grant program funding. Photo by Andrew VonBank
Not having reliable internet put her at a disadvantage because many classes are online or use online-only textbooks. She said the problem was quickly solved when her house got broadband.
Erickson was one of several people who testified in support of a bill that would help connect more of the roughly 256,000 Minnesota households still without access to high-speed internet, which is defined as 25 Mbps download/3 Mbps upload speeds.
HF3527, sponsored by Rep. Sandy Layman (R-Cohasset), would appropriate $51.48 million to the Border-to-Border Broadband Development Grant Program. The program helps supplement the cost to build wire-line broadband infrastructure in areas that providers may not service otherwise due to being difficult or expensive to reach.
The committee laid the bill over for possible omnibus bill inclusion. Its companion, SF2787, sponsored by Sen. Mark Koran (R-North Branch), is awaiting action by the Senate Jobs and Economic Growth Finance and Policy Committee.
"Our schools, our businesses, our health care providers, our communities – we know we'll fall behind if we don't have those connections," Layman said.
"But now, more than ever, broadband is a primary driver for economic development," said Gary Johnson, CEO of Paul Bunyan Communications. He mentioned a key factor in Delta Dental's decision to open a center in Bemidji was because the region has fiber optic broadband access.
The bill would also help the state get closer to meeting its goal of having high-speed broadband available everywhere in the state by 2022. Margaret Anderson-Kelliher, chair of the Governor's Broadband Task Force, says it will take $71.48 million in every biennium for the next four to six years to meet that goal.
Last year, the Legislature appropriated $20 million to the broadband fund, so the $51.48 million appropriation the bill calls for would meet the task force's recommendations.