A measure to formally recognize and regulate daily fantasy sports failed to pass the House on Tuesday, sputtering to a 74-48 stop two years after it received overwhelming support in the chamber and a year removed from sweeping through the committee process.
HF1415, sponsored by Rep. Tony Albright (R-Prior Lake), would authorize daily fantasy sports and establish regulations governing its use. Both Republicans and DFLers voted for and against the bill – a far cry from the 100-28 House vote in 2016, although the Senate never took action on it.
Last year, the bill never received a House Floor vote despite three committees giving it the go-ahead.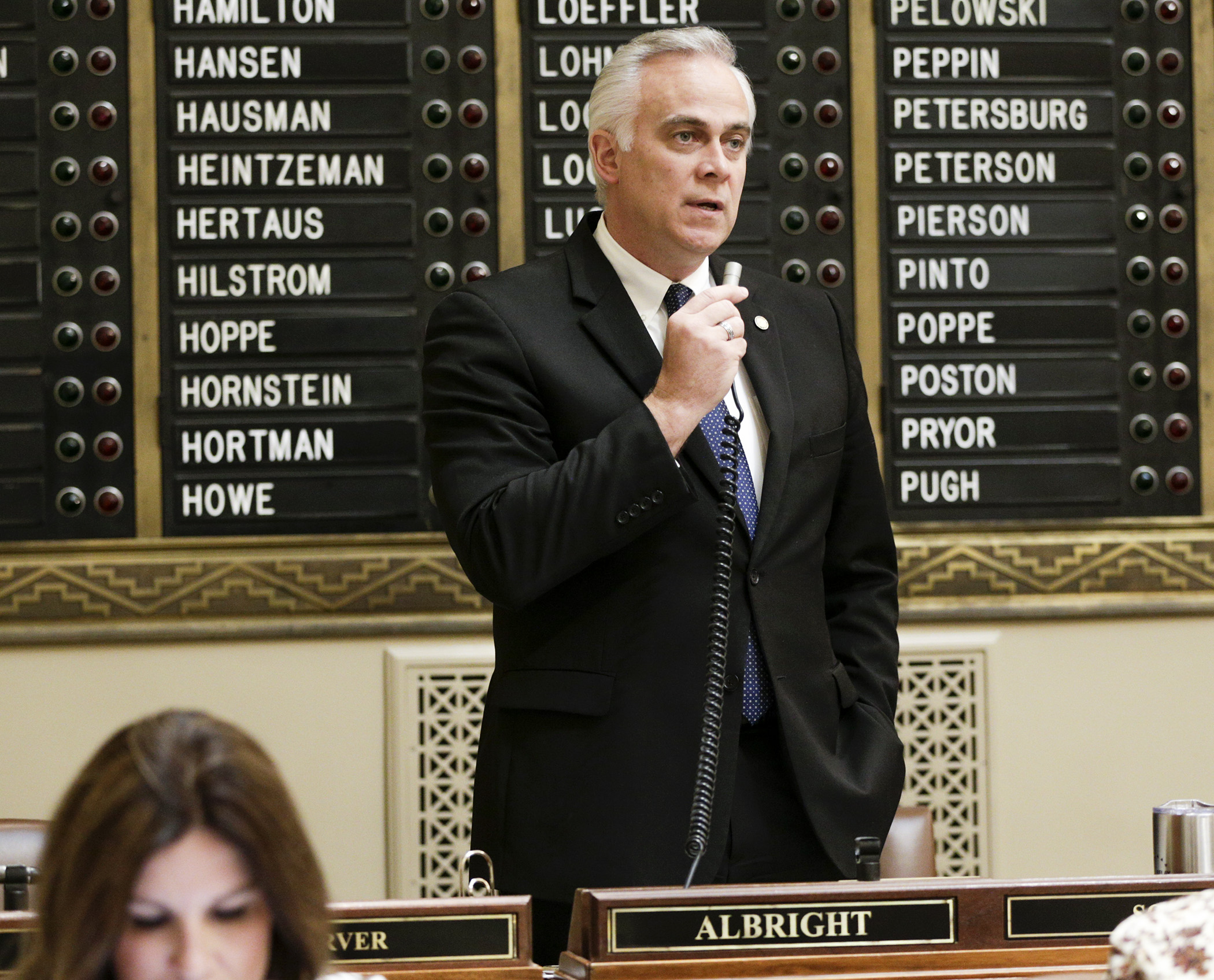 Rep. Tony Albright explains provisions of HF1415 during the House Floor session April 24. The bill to authorize and regulate daily fantasy sports games did not pass. Photo by Paul Battaglia
Minnesotans are actively using websites like DraftKings and FanDuel to play fantasy sports, but the industry is currently unrecognized in state law. There are an estimated 1 million daily fantasy sports players in the state, according to industry professionals who are pushing for its outright legalization.
WATCH House Floor debate and vote on the bill 
"This is a piece of legislation that provides guidelines," Albright said before the failed vote. "It's nothing more; it's not an expansion [of gambling]."
Sen. Carrie Ruud (R-Breezy Point) is the sponsor of HF1415's companion bill, SF1402. It awaits action by the Senate State Government Finance and Policy and Elections Committee.
Critics say daily fantasy sports is gambling, like casino betting or using the lottery, because it involves chance and wagering. The bill would clarify that fantasy sports is a contest of skill.
"My concern with this is that we have many of our constituents that have issues with compulsive gambling," Rep. Frank Hornstein (DFL-Mpls) said. "A bill like this needs to have additional resources attached to it. We need to be treating this illness."
Rep. Steve Drazkowski (R-Mazeppa) said there isn't "any groundswell from Minnesotans who want" the bill. The fantasy sports industry, he said, is "utilizing government" to make itself legitimate.
"I'm not hearing any support of this bill from any one of my constituents. Not one," he said. "This is full of swamp water."