Passed 94-29, as amended, by the House Thursday, the omnibus education finance bill would provide increased and ongoing funding for school and student safety and security.
Sponsored by Rep. Jenifer Loon (Eden Prairie), HF4328 contains a compilation of E-12 and higher education funding and policy provisions, including $35.2 million in additional investments for Fiscal Year 2019, with $28.5 million of that going to fund an array of school and student safety enhancement options.
The bill now heads to the Senate.
With the attack on Marjory Stoneman Douglas High School in Parkland, Fla. having occurred days before the 2018 session began, the topic of school safety has dominated education committee discussions and legislation.
"This wasn't exactly the plan I had coming into committee, focusing on school safety, but I think it was important," Loon said. "Whether or not those tragic events had happened, that spurred this, I think that having a discussion about our schools and how safe they are … is critically important."
A number of DFL members, including House Minority Leader Melissa Hortman (DFL-Brooklyn Park), contented that fortifying school buildings is only one element needed to ensure children's safety. 
"Mass shootings don't just happen at schools, they happen in churches, in restaurants, in military bases, in movie theatres and on college campuses," Hortman said. "We need to take steps to address gun violence and keep guns out of the hands of dangerous people so that not only are our children safe in school but so Minnesotan's are safe everywhere."
She also questioned whether allocating over 90 percent of education's overall spending target toward school safety was the most effective use of funds.
"Every Minnesotan deserves the opportunity to get a higher education without being crippled with student debt for decades," Hortman said. "Republicans are choosing to underfund higher education which will lead to program cuts and tuition increases across the state and already has."
Notable amendments
Over two dozen amendments were proposed during floor debate, many of which passed or passed as amended. These include:
setting the base budget at $2 million in Fiscal Year 2020 and beyond for additional support staff for students who attend full-service community schools;
prohibiting technology providers from selling, sharing or disseminating education data, with a few exceptions; and
modifications to the lead testing policy, requiring the Department of Education in collaboration with the Health and Human Services departments to establish an acceptable lead level. If testing reveals unacceptable levels, the district would be required to remediate the source or inform the families and supply an alternative source.
Another successfully offered amendment pertains to the ongoing debate around pre-kindergarten funding.
Rep. Jim Davnie (DFL-Mpls) proposed extending the one-time appropriation of $50 million for the expansion of preschool programs beyond the 2018-19 school year.
Previously, Loon contended the funding extension should be handled during the next budget cycle.
However, she modified her stance and offered a successful amendment to Davnie's proposal.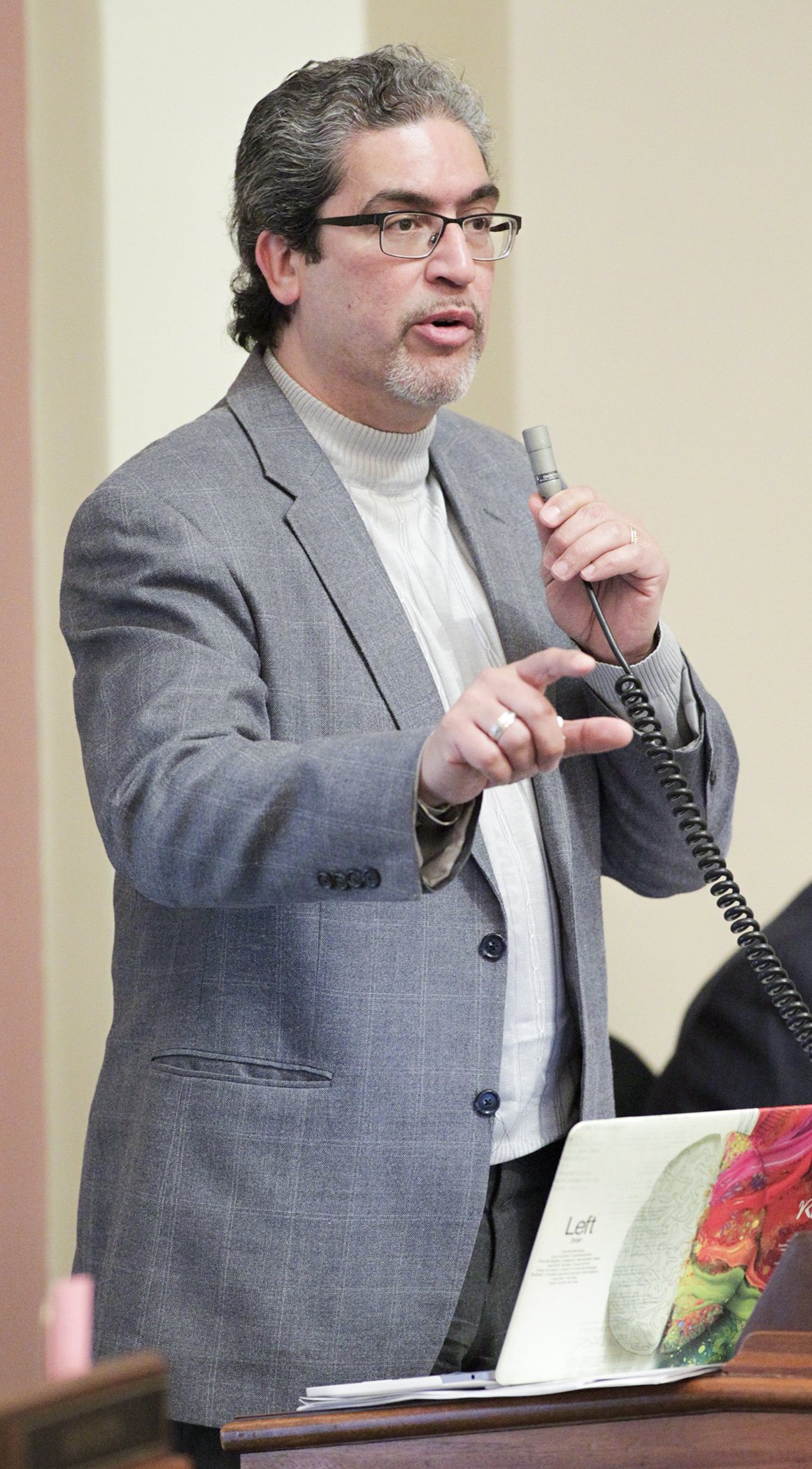 Rep. Carlos Mariani speaks during April 26 debate on HF4328, the omnibus education finance bill. Photo by Paul Battaglia
"Knowing that this is an important issue for the governor… and knowing that some of our discussions about a supplemental package will probably come down to this issue, I'm offering this amendment as something that I think would be a good compromise to get us through this," she said. 
Her proposal stipulates that the extended funding be used for scholarships. This would allow parents to take their child out of school-based voluntary prekindergarten and enroll him or her into a mixed delivery system, which are usually operated by a private or community-based organization. She reasoned that it provided parents with more flexibility.
"This preserves that parent choice, which I think is critical to what we are doing in early childhood, she said.
Davnie opposed the change citing research that indicates school-based voluntary prekindergarten is more effective.
"Dartmouth [College] just recently released a review of pre-kindergarten programs, you know what they found, the most cost-effective pre-kindergarten programs were the school-based programs and the most effective programs were the school-based programs," he said.  
Fiscal Year 2019 appropriations in the bill include:
$4 million to the Minnesota State system for campus support;
$1 million to Metropolitan State University for enhancement to the cybersecurity program;
$500,000 to the University of Minnesota for tuition relief;
$420,000 to the St. Cloud English language learner summer program;
$350,000 for a grant to For Jake's Sake Foundation to collaborate with school districts throughout Minnesota to integrate evidence-based opioid misuse prevention into their curriculum; and
$273,000 for suicide prevention training for teachers.
 
Policy provisions in the bill would do the following:
modify health curriculum standards, allowing for the inclusion of curriculum related to child sexual abuse and exploitation;
codify teacher code of conduct and strengthen background checks for teaching licensure;
require the Education Department to develop a summative rating system, assign schools a score and report the scores annually on school performance reports;
encourage school districts to adopt non-exclusionary disciplinary policies;
require higher education institutions to provide sexual assault victims with information about legal resources;
modify the University of Minnesota Board of Regents selection process; and
require Minnesota State leaders to develop a plan to increase the use of affordable textbooks and instructional materials, as well as explore methods to disclose or display the cost of all textbooks and materials required for a course prior to registration.
What's in the bill?
The following are selected bills that have been incorporated in part, or in whole, into the omnibus education finance bill: