Jake Schmaus had everything going for him. 
He was an athlete, wrote for his school paper, was well liked and loved to fish.  
"Jake could have been anything he wanted to be until he fell into this awful addiction of opiates," said his mom, Sheri Schmaus.
It all came to an end in May 2013, when at the age of 21, Jake lost his battle with addiction and died of a heroin overdose at his home in Cedar, Minn. His family and friends were left grappling with his loss.
Schmaus said that had Jake been better informed about the effects of opioids, it's possible it all could have been avoided.
"He had told me once that if he would have known how addictive and how opiates change the chemistry of your brain, that he never would've tried it, but he did not have any idea," she said.
According to Bailey Boelter, youth policy manager for the Minnesota Youth Council, the students she works with reiterated that sentiment, saying they feel uninformed about the effects of various opioids.
"Our students had no idea that just one hit could take your life and they didn't know that it was so much more potent than other drugs," she said. "Most had never talked about it in school or to the level of detail that is needed."
With that in mind, Schmaus created For Jake's Sake Foundation in 2013 with a mission to spread awareness about the dangers of opioids and to help those who are struggling with addiction find help and create a fresh start. Since then, foundation members have tirelessly advocated for legislation to advance their mission.
Jake's Bill
Introduced in March 2017 by Rep. Mary Kunesh-Podein (DFL-New Brighton) and Sen. Carolyn Laine (DFL-Columbia Heights), HF2470/SF2259, aims to stop the cycle of opioid misuse and addiction through education. Despite not receiving a hearing last session, the foundation continued the legwork to develop curriculum and Kunesh-Podein kept the so-called "Jake's Bill" on her radar.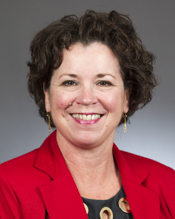 Rep. Mary Kunesh-Podein
"I started shopping it around again and reconnected with Republicans who had signed on to refresh them," she said. "I have to attribute a lot of the work to the foundation. They have been working so hard, and have made it easy for me by providing all the resources that I needed."
With their added efforts and a growing awareness of opioid addiction, the bill began getting more attention and gained widespread bipartisan support. It received hearings in both the House and Senate education committees and a $350,000 appropriation has been included in HF4328, the omnibus education finance bill, which the House passed April 26.
"I'm a teacher myself, and so one of my promises when I came to the Legislature is that I would not have unfunded mandates," Kunesh-Podein said. "Not only did we have a financial request, but the foundation is also willing to put in a bunch of their resources. It's really a good partnership, rather than a legislative mandate."
If signed into law, the funding would go to the foundation to continue to collaborate with school districts throughout Minnesota to integrate evidence-based opioid misuse prevention into their curriculum.
Once implemented, the curriculum would be taught in grades 5, 6, 8, 10 and 12. The goal is to interweave it into a variety of disciplines, such as social studies, biology and chemistry, with the intent to lighten the burden for health teachers, and also to contextualize the societal, biological, chemical and mental impacts of drug addiction. 
Student input
Possibly now more than ever students are finding their voice and using it to influence lawmakers, both through grassroots activism and formal legislative efforts.
The Minnesota Youth Council is a youth-adult partnership that works to empower and organize young people across the state. It has formally been recognized by the Legislature as the official youth voice to the government, making it the only legislatively mandated youth council of its kind in the country.
"Young people want change and are willing to let us know despite some pretty uneven power dynamics," Boelter said. "It's our job now as adults in positions of power to decide if we want to put a stop to preventable deaths that effect so many communities and ultimately our young people in the state."
She added that several council members are strong supporters of the bill, many having known someone with—or lost a loved one to—an opioid addiction.
With the bill getting plenty of buzz and support, Kunesh-Podein said she is feeling confident that it'll make the final cut and be included in the omnibus bill that's delivered to Gov. Mark Dayton.
"For me, it's really my first bill that I've taken from inception to inclusion and I'm really proud that it's this kind of bill, that it's so relevant, so timely and so important," she said.