Mysti Babineau was "flung" into foster care when she was a toddler because her birth mother went missing. When she was 9, she was raped by a man who said no one would care what he did because she's Native American.
That was just the beginning of the trauma she's experienced in her life and mirrors the heartbreaking stories that are common among other Native American women in Minnesota, regardless of whether they live on a reservation.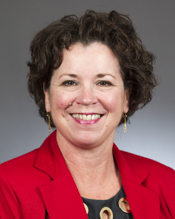 Rep. Mary Kunesh-Podein
After Babineau was adopted, she watched her grandmother get stabbed, and then the attacker came after her. She still has a scar on her hand where she grabbed the knife to prevent it from plunging into her chest.
When she was 20, she was kidnapped, beaten and raped. She got away and flagged down a St. Paul police officer, who didn't believe her story.
"My story is not rare. Many of my sisters, many of my relations go through this. This problem needs to be addressed. And often times when we do speak up, when we do speak out, we are not heard. We are dehumanized. We are devalued," said Babineau, a St. Paul resident and member of the Minnesota Red Lake band of Chippewa.
She was among several Native American women who testified during two committee hearings earlier this year in support of legislation that would create a task force to study violence against indigenous women. They each shared stories of violence their families have experienced for generations and many shared frustration at the lack of investigation by police on missing person cases.
There's no real data
"I do not know a single individual within my community who has not been impacted by violence, myself included," Patina Park, executive director of the Minnesota Indian Women's Resource Center, said during one of the hearings.
On some reservations, women are killed at a rate more than 10 times the national average and one in three Native American women will – at some point in their life – be raped, Department of Justice statistics show.
But there's no comprehensive data to show the full scope of the problem in Minnesota because there's no system in place to collect it, said Rep. Mary Kunesh-Podein (DFL-New Brighton), a descendant of the Standing Rock Lakota tribe.
House Public Safety and Security Policy and Finance Committee 4/11/18
WATCH Bill to create a Missing and Murdered Indigenous Women Task Force is heard in the public safety committee
"We don't know [how many women go missing or are killed], and there's a very systemic reason for that," said Kunesh-Podein, noting there are jurisdictional issues when it comes to what agency – local police, tribal police or the FBI – investigates an incident that occurs on a reservation. There's also a lack of consistency in how agencies collect and code that information during an investigation.
"Historically, the native community has not been taken seriously when it comes to really violent crimes and part of that is the confusion of jurisdiction," Kunesh-Podein said in an interview. "But you know, the bottom line is that ever since white men stepped on this continent, Native Americans have been throw-away population."
Rep. Jamie Becker-Finn (DFL-Roseville) said cases where Native Americans go missing or experience violence are "treated differently" by the media, which can be slow to report incidents, and by investigators, who may suggest a missing person is actually just visiting someone but will come back.
The disparities in reporting could be a combination of the distrust Native Americans have of the government, so they may be underreporting incidents, "and then when it does get reported, it feels like there's a different type of response" than if someone of another race went missing or was killed, Becker-Finn explained.
Task force is a 'first step'
A bill Kunesh-Podein is sponsoring this session would create a task force aimed at developing methods for tracking and collecting data on violence against Native American women and girls, and finding reasons why they experience a disproportionate amount of violence.
Rep. Jamie Becker-Finn
The task force would provide "important data on what happens to native women," which is needed so organizations can "work to end this epidemic of violence," Angelica Perez, public policy manager for the Minnesota Coalition for Battered Women, said during a committee meeting.
Many Native American women who testified in support of the task force said it would be a first step in addressing this issue in Minnesota and also send a message that the state cares about Native American women and recognizes what is happening to them. It would also help families get closure and heal from the violence they've endured for generations.
"The statistics show that the harm comes at the hands from someone outside of the tribe more often than not. And our federal and state laws still create barriers to justice on our sovereign lands and beyond," said Caroline Palmer, public and legal affairs manager with the Minnesota Coalition Against Sexual Assault. "This task force is a very important first step to changing the narrative."
What's in the bill?
HF3375, which has bipartisan support, is included in the conference committee report on HF4099/SF3656*, the omnibus supplemental spending bill, that was passed by the House and Senate early Sunday and awaits action by Gov. Mark Dayton.
The provision in the omnibus bill would create a Task Force on Missing and Murdered Indigenous Women, appropriating $48,000 from the General Fund in Fiscal Year 2019 and $45,000 in Fiscal Year 2020 to implement the task force.
It also includes language that details who would be on the 30-plus member task force – which includes many Native Americans – and their various duties, including advising the commissioner of public safety and reporting to the Legislature on ways to "reduce and end violence against indigenous women and girls in Minnesota."
The task force would be asked to examine several issues:
systemic causes behind violence Native American women and girls experience, including underlying historical, social, economic, institutional and cultural factors that may contribute to the violence;
appropriate methods for tracking and collecting data on violence against women and girls, including data on missing and murdered Native American women and girls;
policies and institutions, such as policing, child welfare, coroner practices and other governmental practices that impact violence against these women and girls, and the investigation and prosecution of crimes of gender violence against them;
measures necessary to address and reduce violence against Native American women and girls; and
measures to help victims, victims' families and victims' communities prevent and heal from violence that occurs against Native American women and girls.
Kunesh-Podein said with this task force they'll be "opening up a Pandora's Box. We don't know what we're going to find. We don't know all the horrors that are going to come out.
"It's not to say that it's white against natives, because there's a lot of other conditions within the native communities that might come out and not be so pretty. Pretty horrible. But then let's address those issues as well. Let's start building really strong, healthy communities."
Will it become law?
Kunesh-Podein said earlier in the session she's "really encouraged" the legislation will get passed this year "and it'll be historic" because "it'll be the first time the state of Minnesota is acknowledging this kind of situation."
Both she and Becker-Finn said the governor is supportive of the task force, however he has indicated he will veto the omnibus supplemental spending bill that includes the task force language and funding.  
"Any time there's an indigenous population, it's usually the women and the children that are most exposed to this kind of violence," Kunesh-Podein said. "But it is happening and it is continuing to happen and it's really time we focus on this and make sure that we are putting in laws and policies that are going to start to protect the women from this."