Rob Stewart is a married father of one — with another child on the way — who's busy working toward a doctorate degree at the University of Minnesota.
He's also a convicted felon who served a two-year prison sentence, and then completed probation upon his release, stemming from a conviction for drug possession.
On Wednesday, Stewart was among a widening coalition of Minnesotans pushing to automatically restore voting rights for felons once they're released from prison. It's a push that has gained momentum and high-profile supporters this legislative session, with statewide officials like Gov. Tim Walz and Secretary of State Steve Simon saying they back it. 
"I can honestly tell you that it wasn't until I finally got the right to vote back that I started to feel whole again, that I started to feel part of our community," Stewart testified before a House panel. "I know it was important to me and I know it's important to thousands of Minnesotans who still can't vote."
The House Subcommittee on Elections approved HF40, sponsored by Rep. Raymond Dehn (DFL-Mpls), that proposes to amend state statute to stipulate that a felon's voting rights are only lost during their period of incarceration.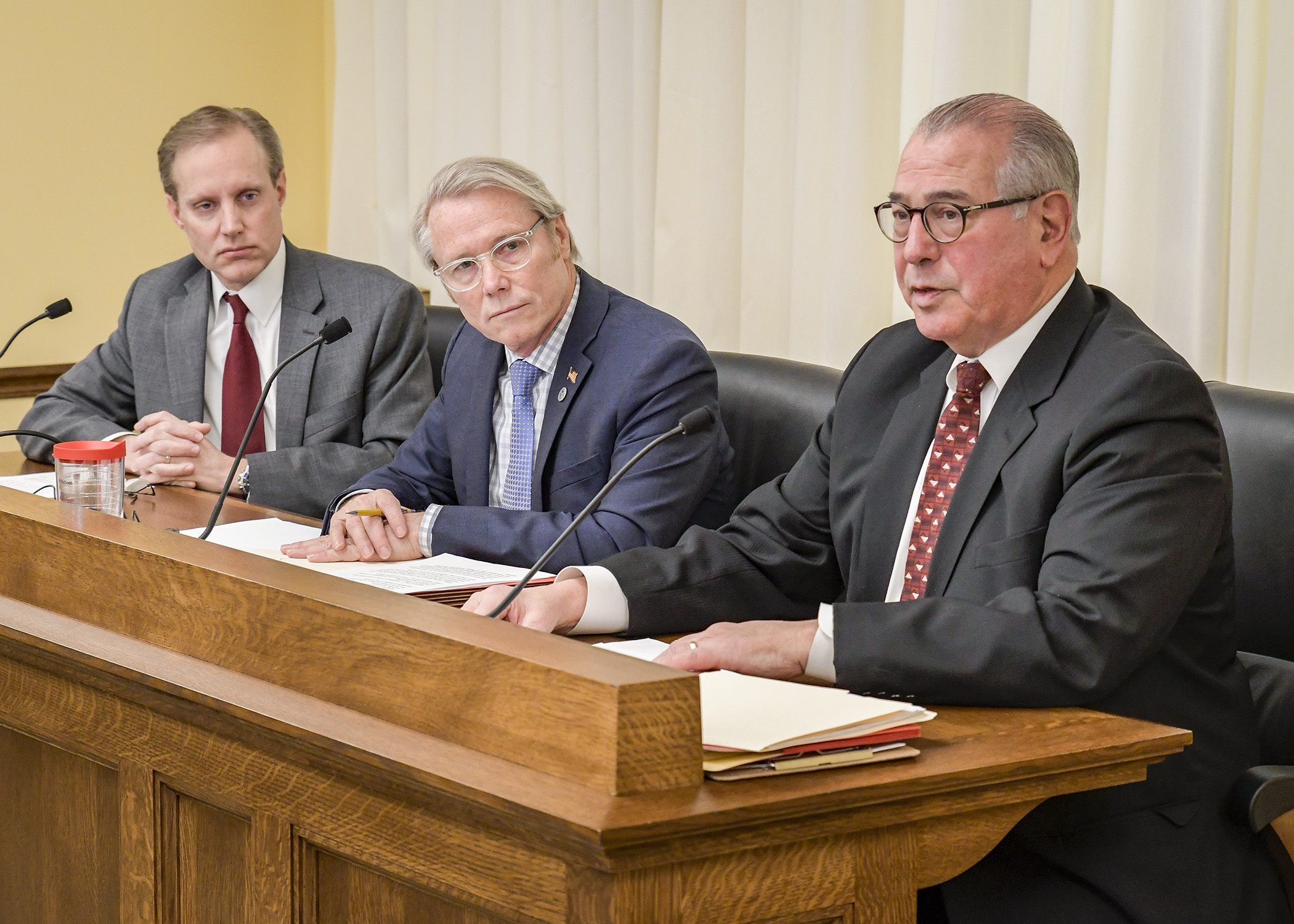 Hennepin County Attorney Mike Freeman testifies before the House Subcommittee on Elections Feb. 13 in support of a bill sponsored by Rep. Raymond Dehn, center, to restore voting rights to felons who have been released from prison. Photo by Andrew VonBank
Dehn, himself an ex-felon, said disenfranchising felons unfairly penalizes people battling addictions and communities of color, and runs counter to efforts to reduce recidivism.
The proposal, now headed to the House Government Operations Committee, is modeled, he said, on legislation originally introduced by Attorney General Keith Ellison in 2006 when he was a member of the Minnesota House.
A companion, SF856 sponsored by Sen. Bobby Joe Champion (DFL-Mpls), has been referred to the Senate Judiciary and Public Safety Finance and Policy Committee. Leaders in the Republican-controlled Senate have not expressed interest in advancing the effort.
"It's time for Minnesota to pass this bill," Dehn said.
'What good is it serving?'
Current Minnesota law states that voting eligibility is only restored once an individual has fully discharged their sentence, including any probation, parole or other supervised release.
Voter restoration advocates argued Wednesday that disenfranchisement serves no useful purpose in rehabilitating convicted felons. Rather, testifiers said, it can make it more difficult for those who have been locked up to reintegrate into society and make it more likely they again break the law.
House Subcommittee on Elections 2/13/19
Were HF40 to be signed into law, Minnesota would join a growing number of states restoring voting rights to convicted felons who have completed their terms of incarceration. It would become one of 14 states to automatically restore voting rights to felons once they complete their prison term.
Hennepin County Attorney Mike Freeman said the state's current law is confusing for those impacted by it, expensive and burdensome for agencies that are tasked with enforcing it, and does nothing to deter crime.
Hennepin County, he said, prosecutes only three or four cases of an ineligible ex-felon casting a ballot each election year.
"Voting is one of the most sacred rights of citizenship," Freeman said. "It makes no sense to exclude our neighbors from that act. It is punitive and it does not help people returning to the path of full citizenship."
Brian Herron, a pastor at Zion Baptist Church on Minneapolis' north side, said the more ex-offenders feel invested in society and their communities, the less likely they are to re-offend. Restoring their right to vote after completing their prison sentence, he said, is a path to redemption.
"To what end do we not allow people to vote?" Herron said. "What good is it serving?"