"Presenteeism" was the word of the day at the House Labor Committee Wednesday as lawmakers approved a bill that would require employers to allow employees to earn a variation of paid time off called earned sick and safe time.
Currently, workers who don't get paid time off to care for themselves when they are sick may feel pressured to come in to work anyway to avoid losing wages and perhaps losing their jobs. That so-called "presenteeism" can lead to the spread of illness and other workplace problems.
And it can cause workers to make a difficult choice between earning a living and caring for themselves or others.
Sponsored by Rep. John Lesch (DFL-St. Paul), HF11 next goes to the House Government Operations Committee following the 10-4 vote. It has no Senate companion.
Lesch said the proposal is modeled after similar paid time plans recently passed by Minneapolis, St. Paul and Duluth.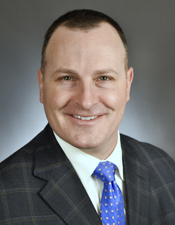 Rep. John Lesch
The bill would require employees to earn, at a minimum, one hour of paid, earned sick and safe time for every 30 hours worked, up to 48 hours per year. Accrual would begin when a qualified employee begins employment, but an employee may not begin using sick and safe time until they have worked for the employer for 90 days.
The safe time refers to time off for an employee to deal with situations "related to domestic abuse, sexual assault, or stalking of the employee."
Reye Perez, a student at St. Cloud State University, said her parents were forced into an "impossible situation" due to their lack of paid time off while having to care for their asthmatic son. As a result, Perez had to miss many days at high school to care for him.
"Earned sick and safe time means that no Minnesotan will ever have to make another impossible decision between staying home to take care of themselves or making ends meet," she said.
Lauryn Schothorst, energy and labor management policy director at the Minnesota Chamber of Commerce, testified against the bill and its "one-size-fits-all" approach that she said would be imposed on business of all different sizes and types.
She also noted the bill might penalize employers who already have similar paid leave policies in place, but that might not meet the specific requirements in the bill.
"We are concerned about another proposed new state mandate potentially disrupting existing employee benefit packages tailored to the needs of individual workplaces, industries and employees," she said.
The bill would prohibit an employer from retaliating against an employee for taking earned sick and safe time and would require an employer to reinstate an employee in the same, or a comparable, position after returning to work.