Expectations may need to be tempered by people and organizations seeking new or increased state spending in the 2020-21 biennium.
While the state's $1.05 billion projected budget surplus for the 2020-21 biennium may sound like good news, that's a $492 million decrease since November, Minnesota Management and Budget officials announced Thursday.
Commissioner Myron Frans called the 2019 February Budget and Economic Forecast "a cautionary tale" because while a positive balance is nice, state leaders must be cautious in how they proceed.
The projected surplus was $1.54 billion when the agency announced numbers three months ago.
Required by state law, the February forecast is one of two annual budget indicators released by the state after finishing a collaboration between agencies and economists who follow state and national trends. Legislators will use the forecast numbers to help shape policies for the remainder of the 2019 session, which must end by May 20.
Release of February 2019 Budget and Economic Forecast 2/28/19
The 2020-21 biennium begins July 1, 2019.
According to the report: "Slower projected economic growth and lower observed collections compared to prior estimates result in a reduced revenue forecast throughout the budget horizon. A slightly lower expenditure forecast partially offsets the overall reduction to the projected balance. The trend of slower growth continues into the planning horizon with projected spending growth outpacing forecast revenue growth into FY 2022-23."
Revenues are expected to be $157 million lower than prior estimates for the final four months of the current biennium, and 2020-21 biennial revenues are projected to be $386 million (0.8 percent) lower than forecast in November. Conversely, spending is also expected to decrease by $51 million.
The decrease mirrors the slowing of economic growth nationally, a trend scheduled to continue based, in part, on uncertainty about the impact of the federal tax code overhaul.
In Minnesota, expectations for real growth in 2019 have decreased from 2.7 percent in November to 2.4 percent in February. The forecast for next year lowers that number to 2 percent.
The individual income tax forecast for the current biennium and next calls for a $974 million reduction in revenues, largely because of a lower forecast for wage growth. General sales tax revenue is forecast to drop $184 million, but corporate franchise tax collections are expected to go up by $392 million.
What's next?
Gov. Tim Walz released his proposed two-year budget last week that would increase state spending by about 9 percent during the next biennium and would increase the state's gas tax by 20 cents per gallon.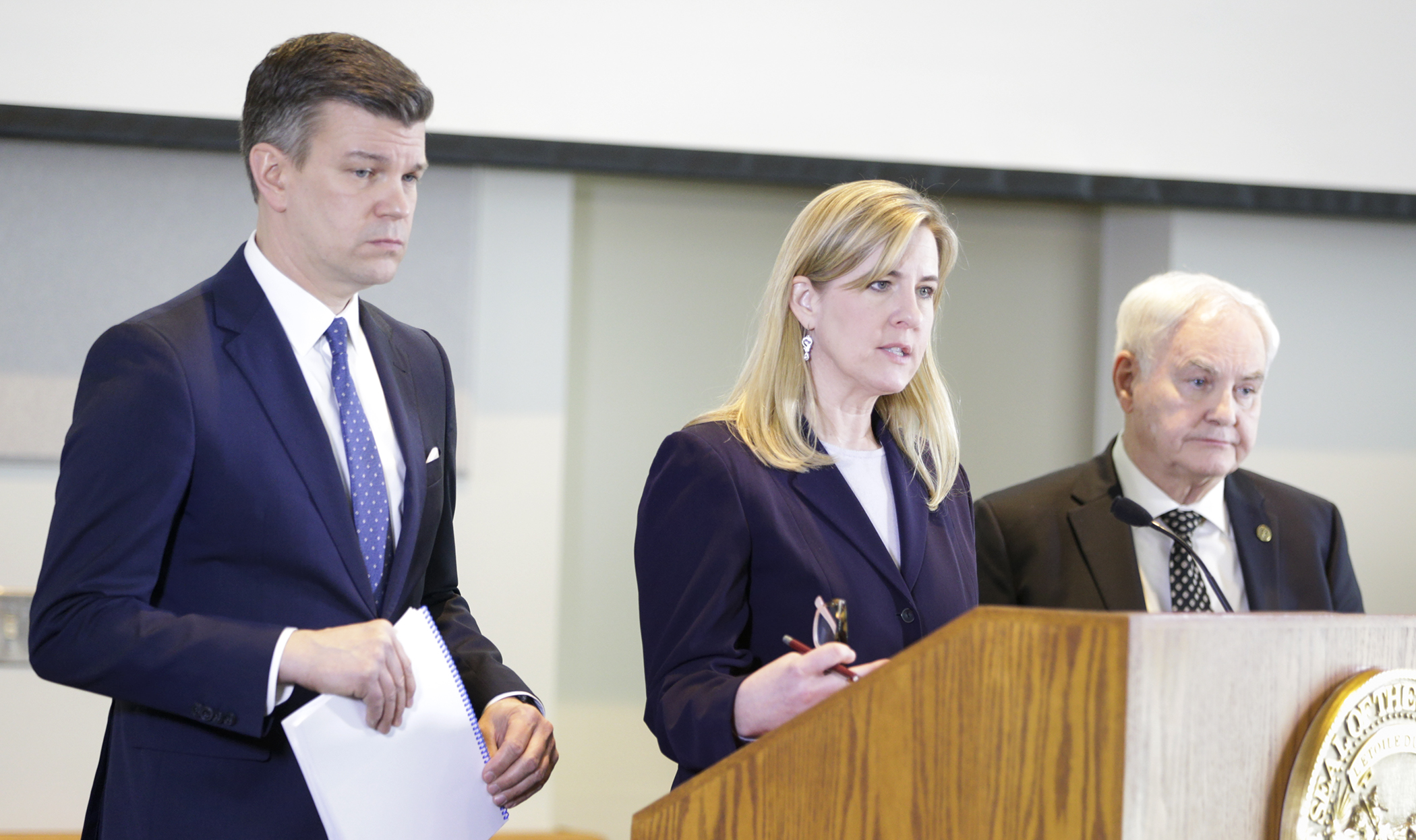 House Speaker Melissa Hortman responds to February Budget and Economic Forecast which shows the state with a $1.05 billion budget surplus. Looking on are House Majority Leader Ryan Winkler, left, and Rep. Lyndon Carlson Sr. Photo by Paul Battaglia
Walz indicated he'll reevaluate his budget proposal "line-by-line," but doesn't expect to make major changes.
"This budget forecast signals significant challenges for the future," House Speaker Melissa Hortman (DFL-Brooklyn Park) said in a statement. "We have to be cautious going forward. A workforce shortage is constraining our economic growth, making it even more important that we focus on things that help Minnesotans enter and stay in the workforce — like job training, education, child care assistance, paid family leave, and earned safe and sick time."
[WATCH: Gov. Walz, DFL, Republican reactions to forecast]
Republicans continue to insist the state live within its means.
"The last thing we should do is add permanent spending commitments to the state budget," Senate Majority Leader Paul Gazelka (R-Nisswa) said in a statement. "And, in order for the economy to grow, we need to be careful about any new tax increases foisted on the very people who will drive our economy in the future – the middle class."
In a statement of his own, House Minority Leader Kurt Daudt (R-Crown) agreed.
"Democrat proposals for huge permanent spending increases and tax hikes on gas and trips to the doctor will only make this problem worse. Our economy grows when Minnesotans have more money to spend. … With a billion dollar surplus, and hundreds of millions more in waste, fraud, and abuse, we have the money we need to fund our state's priorities."