More schools could go solar and buses become electric under an omnibus bill approved by the House Energy and Climate Finance and Policy Division Thursday evening.
On a 7-6 vote, the division sent to the House Ways and Means Committee its recommendations for $54 million in programs that would promote the use of renewable energy sources and electric vehicles.
Sponsored by the division chair, Rep. Jean Wagenius (DFL-Mpls), HF1833 has been dubbed the Policy and Renewable Development Fund Finance Bill.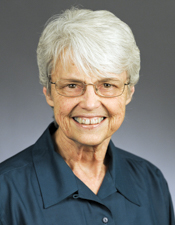 Rep. Jean Wagenius
As amended, it includes $16 million for a new "Solar in Schools" program; $6.9 million in rebates for purchasers of electric vehicles; $6 million each to the University of Minnesota and the Minnesota State system to aid in their transitions to renewable energy sources; and $5 million for the purchase of electric buses by the Metropolitan Council.
The bill, introduced to the division on Tuesday, underwent some alterations over the course of Thursday's meeting. Rep. Jamie Long (DFL-Mpls) successfully offered an oral amendment to reconfigure how $11.9 million would be spent, taking $3.8 million from the appropriation for electric buses and adding it to the amount available for rebates to electric vehicle purchasers.
Of 35 other amendments offered, four were adopted.
Rep. Zack Stephenson (DFL-Coon Rapids) added more detail to his proposal for a coordinated electric transmission study and added $1 million to fund it; an amendment from Rep. Shane Mekeland (R-Clear Lake) would aid communities in their transitions after large electric generation facilities are retired; Long added detail to language about a solar garden grant program for low-income households at the recommendation of the Department of Commerce that would oversee it; and one from Rep. Greg Boe (R-Chaska) would create an efficient lighting program.
The most contentiously debated amendments that were not adopted would prohibit the Public Utilities Commission from approving a rate hike for "ancillary services" (defeated 9-4); would alter the carbon-free standard to beyond electric utilities (defeated 8-5); and would increase the amount of a community solar garden's output reserved for residential subscribers from 10 percent to 50 percent (defeated 7-6).
Also defeated were amendments that would mandate that everything used in the "Solar for Schools" program would be American made; that community solar gardens must be owned by Minnesota-based corporations; and would take $2 million away from the funds for colleges' transitions to renewable energy and use it to assist communities affected by the closure of a biomass plant.
A companion, SF2067, sponsored by Sen. David Osmek (R-Mound), awaits action by the Senate Energy and Utilities Finance and Policy Committee.