The House on Friday passed a measure that would allow immigrants to obtain a Minnesota driver's license whether or not they are in the country legally.
HF1500, sponsored by House Majority Leader Ryan Winkler (DFL-Golden Valley), would allow a person to obtain a driver's license or state ID card without demonstrating proof of legal immigration status.
"Immigrants, whether they are documented or undocumented, are Minnesotans," Winkler said during a morning news conference before the day's floor session.
Passed 74-52, the bill now goes to the Republican-controlled Senate, whose leaders have not expressed support for advancing the issue. The language of HF1500 is also included in the omnibus transportation finance bill that the House Transportation Finance and Policy Division advanced Thursday.
Supporters of the bill say it would make Minnesota's roads safer by allowing undocumented immigrants to drive legally and obtain insurance.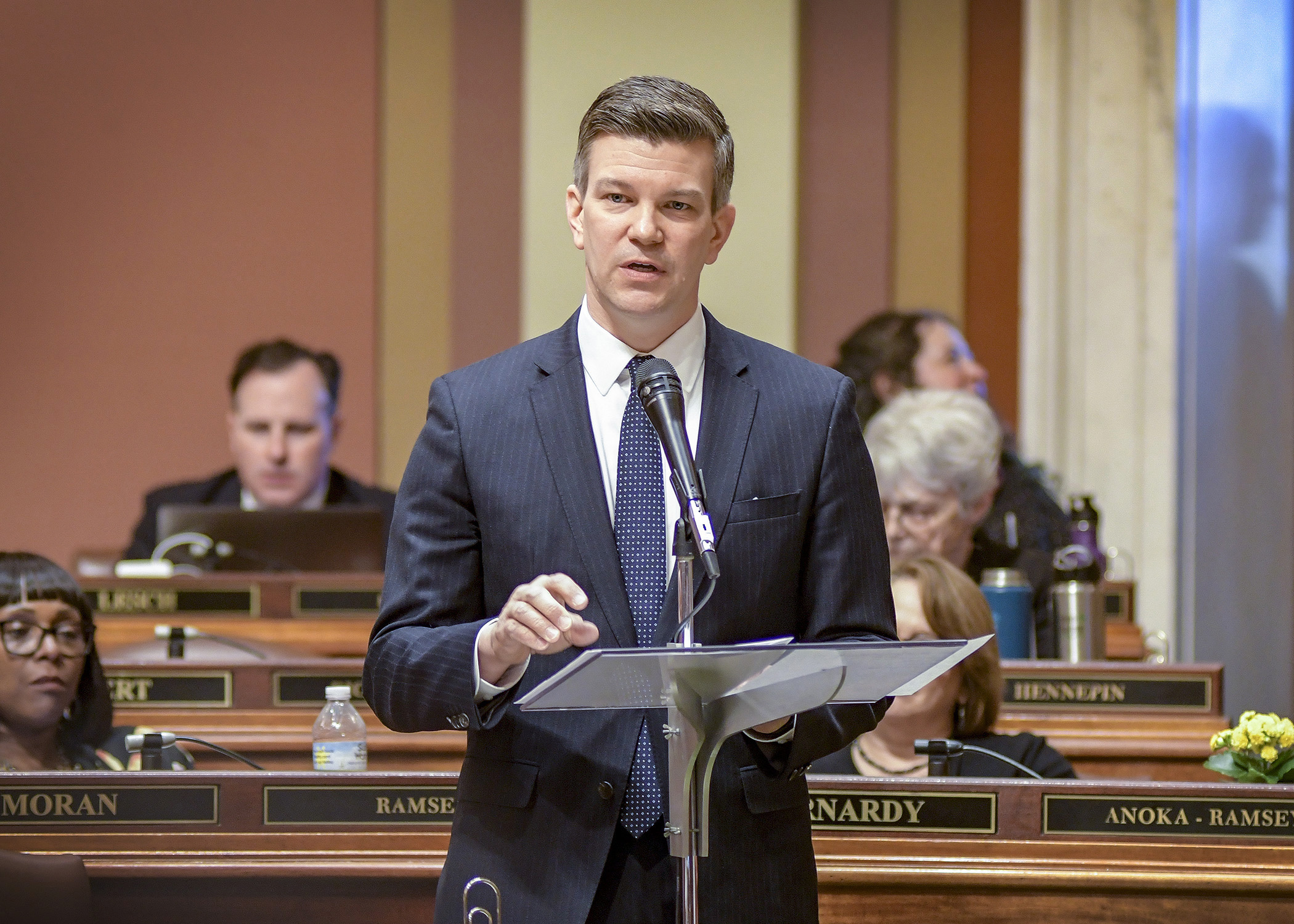 House Majority Leader Ryan Winkler presents HF1500 on the House floor April 5. Photo by Andrew VonBank
It would also lessen the fear immigrants face in getting behind the wheel, advocates have said, many of whom dread the possibility they or a loved one will face deportation as the result of a routine traffic stop.
In an effort to allay fears that the license would allow undocumented immigrants to vote ineligibly, a "not for voting" notation would be printed on the ID. Under the bill's original language, the label would be included on the back of the license; an amendment accepted on the House Floor would require that to be printed on the front.
Opponents of the proposed legislation, however, contend that it would grant undocumented immigrants in the state special privileges and would incentivize illegal immigration.
DFL press conference previewing debate on HF1500
 "There are a lot of people who have come to this country legally and there are a lot of people who are waiting to come to this country legally," said Rep. Jeremy Munson (R-Lake Crystal). "It's in everyone's best interest to encourage lawful immigration."
Driving, he said, "is not a right, it is a privilege."
Until 2003, residents of Minnesota did not have to provide proof of legal residence to get a driver's license. A rule change under the administration of former Gov. Tim Pawlenty ended that practice due to post-9/11 homeland security concerns.
If signed into law, Minnesota would join a growing list of states that allow their residents to get a license without regard to legal immigration status. The bill has drawn support from a wide swathe of agencies and organizations, including the Department of Public Safety, Minnesota Chamber of Commerce, and labor and religious groups.