Making elections safer and more accessible for all Minnesotans and enhanced cybersecurity are two of the many goals of a bill that would also fund many governmental operations. 
Sponsored by Rep. Michael Nelson (DFL-Brooklyn Park) and Sen. Mary Kiffmeyer (R-Big Lake), HF1935/SF2227*, as amended to include the House language, the omnibus state government and veterans and military affairs finance bill would spend nearly $1.2 billion from the General Fund in the 2020-21 biennium. Its proposed base increase is $14.06 million more than the budget proposed by Gov. Tim Walz.
The bill would be a $24.3 million increase over current biennial spending, but $106.86 million more than what was forecast for the ensuing two fiscal years.
Passed 73-58 in the House Tuesday evening, it next returns to the Senate for unlikely concurrence meaning a conference committee is expected to be needed to resolve the differences. The Senate passed its version 37-28 April 25.
"This bill funds many important agencies and initiatives and includes provision that will help ensure that we continue to lead the nation in voter participation and help ensure that our elections system is protected from hackers," said Mike Freiberg (DFL-Golden Valley), chair of the House Government Operations Committee. "It saves funds by removing duplicative agencies, stabilizes the funding of the Legislature, prepares us for the census and honors our veterans."
Republicans, in part, believe the package is too partisan, with Rep. Tony Albright (R-Prior Lake), saying it's "DOA as soon as it tries to get to the Senate."
Funding state government operations
Among its increases, the House bill calls for nearly $30 million for MNIT services — a $24.1 million increase — mostly for enhancements to cybersecurity across state government; $11.51 million more for the House of Representatives, largely due to member salary increases established by the Legislative Salary Council; $8.92 million more for Minnesota Management and Budget, of which $5.5 million would be for system security and risk management; $4.25 million for the Office of the Attorney General, in part for salary increases to help reduce the gap between state staff and private-sector attorneys and to help provide services to assist rural county attorneys in prosecuting crimes for which they may not have the expertise, such as white-collar cases and drug or human trafficking; $2 million for Minnesota Census 2020 mobilization; and $700,000 to create an Office of Public Engagement in the governor's office.
The bill would also:
provide a statutory appropriation for state employee salary and benefits in the event of a state government shutdown;
ratify the state's labor contract with the Minnesota Law Enforcement Association for the contract period ending June 30, 2019; and
increase the state's annual payment to the Minneapolis Employees Retirement Fund from $6 million to $16 million. Current law calls for a $6 million annual payment through Sept. 15, 2031.
[MORE - View the spreadsheet]
Policy provisions
Myriad policy changes relating to the operation of state government are included. Among those would:
create an Office of Enterprise Sustainability in the Department of Administration "to assist all state agencies in making measurable progress toward improving the sustainability of government operations by reducing the impact on the environment, controlling unnecessary waste of natural resources and public funds, and spurring innovation";
eliminate the Legislative Budget Office that was created in a 2017 law;
extend a pair of commissions set to expire this year: the Legislative Water Commission to July 1, 2025, and the Legislative Commission on Data Practices and Personal Data Privacy to June 30, 2026;
require MNIT Services to review cloud computing service options when evaluating information technology projects proposed by state agencies;
establish of a flag program to provide United States and state flags flown over the State Capitol to families of public safety or military members killed in the line of duty;
require state vendors to certify they do not engage in business with countries designated as state sponsors of terrorism or groups designated as foreign terrorist organizations;
provide that hair braiding is not subject to regulation or oversight by the Board of Cosmetologist Examiners; and
require a replacement plaque to be placed on the Capitol grounds to recognize all Minnesotans who served, at home and abroad, in World War I.
IRRRB hiring reaction
In light of the perceived partisanship in the recent fast-track hiring by the Iron Range Resources and Rehabilitation Board for a leadership role, changes could be forthcoming.
Former DFL Rep. Joe Radinovich, who unsuccessfully ran for Congress in 2018, was recently hired by as a senior-level program and policy advisor. The job was posted for just 24 hours and Radinovich doesn't have a college degree, a position requirement. Additionally an internally created document showed Radinovich in the position before he was hired. Walz denied an assertion by IRRRB Commissioner Mark Phillips that the governor OK'd the quick hire and issued a letter to reprimand.
Radinovich announced his resignation last week.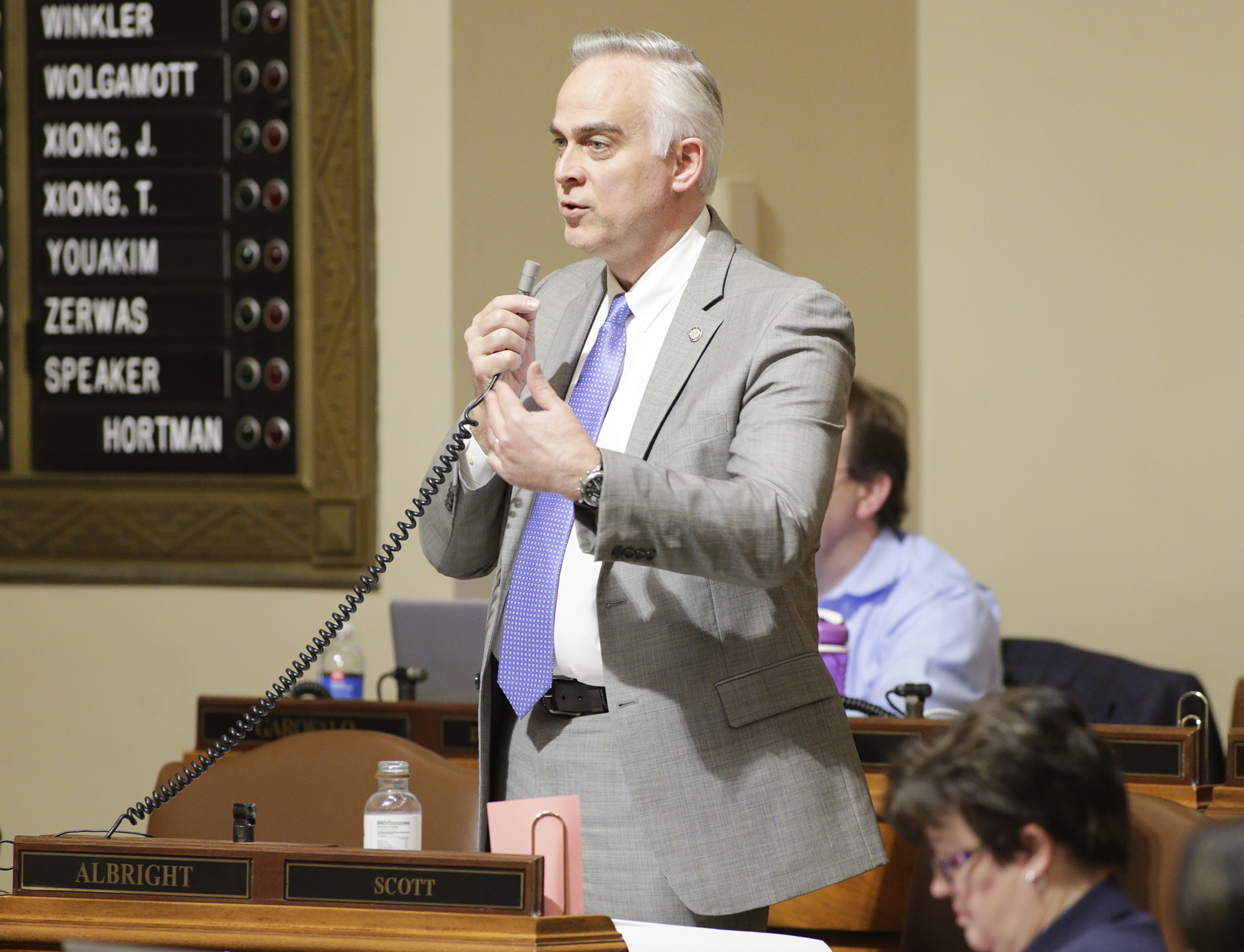 Rep. Tony Albright (R-Prior Lake) said HF1935/SF2227*, the omnibus state government and veterans and military affairs finance bill, will be "DOA as soon as it tries to get to the Senate." Photo by Paul Battaglia
An amendment from Rep. Rob Ecklund (DFL-International Falls) would ensure that all hiring for classified state management positions "is conducted through a fair and open process where all candidates who meet the minimum qualifications for the position are considered. … Under no circumstances may: (1) the job requirements be altered to fit a particular candidate prior to the posting of a position; or (2) internal documents identify a particular candidate as the future holder of a position prior to their official hiring."
Rep. Sandy Layman (R-Cohasset) called the Radinovich hiring "an isolated incident," and successfully offered an amendment to the amendment to require positions classified as managerial to be posted, and applications accepted, for at least 21 days.
Elections
With an aim of making state elections safer and more accessible to all Minnesotans, much of the omnibus elections bill has been rolled into the omnibus state government finance bill: including the restoration of voting rights to people who have been convicted of a felony once they complete their incarceration; a way for Minnesotans to be automatically registered to vote when applying for a Minnesota driver's license, state identification card, or learner's permit; requiring free regular route transit service on the day of a state general election; appropriating $6 million in federal Help America Vote Act grant funding for election system security improvements; permitting all local governments to use ranked-choice voting for local officials; and establishing a Redistricting Advisory Commission to draw and recommend new congressional and legislative district boundaries after each census.
"(These are) issues that people of Minnesota have been talking about for quite some time," said Rep. Raymond Dehn (DFL-Mpls), chair of the House Subcommittee on Elections. "They're wanting us as a Legislature to take action that impact our elections in our state, impacting people's accessibility to their right to vote, making voting easier for people regardless of disability, geographic location or possibly even those getting a new start."
Rep. Jim Nash (R-Waconia) unsuccessfully offered an amendment to remove the elections section of the omnibus bill. He noted that no matter which party is in charge, elections provisions traditionally travel as their own bill.
"We have one of the most hyper-partisan elections bills you have ever seen," Nash said.
Rep. Jamie Long (DFL-Mpls) successfully offered an amendment that would require a presidential candidate to release their five most recent federal tax returns at least 63 days before a presidential primary or they would not appear on the nomination ballot. Nash added an amendment to the amendment so a state constitutional office must do the same by at least 63 days before the primary or state general election or not appear on the ballot.
Veterans and Military Affairs
Nearly $210 million would be spent on veterans and military affairs activity, a nearly $4.7 million increase over base. Of that, $2 million would be to sustain state enlistment and retention bonus programs; $775,000 is an operating adjustment for state veterans cemeteries; $544,000 is for Department of Veterans Affairs programs and services operating adjustments; and $500,000 is to expand Minnesota Service CORE, which brings community-based services directly to veterans and their families at no cost.
Among its policy highlights, the bill would create an alternative sentencing option for veterans with service-connected trauma, substance abuse, or mental health condition who commit certain crimes.
"If we can afford to send our young folks overseas to take care of our business in wars and police action, we certainly need to take care of them when they come back," Ecklund said. He chairs the House Veterans and Military Affairs Finance and Policy Division.
An amendment from Rep. Tou Xiong (DFL-Maplewood) would make May 14 Hmong Veterans Memorial Day "in honor of Southeast Asians, Lao, Americans, and their allies who served, suffered, sacrificed, or died in the Secret War in Laos during the Vietnam War in the years 1961 to 1975 in support of the armed forces of the United States," and an amendment from Rep. Jamie Becker-Finn (DFL-Roseville) would designate the first Saturday in October as Veterans Suicide Awareness Day.
An amendment to Xiong's amendment offered by Rep. Bob Dettmer (R-Forest Lake) was withdrawn after Xiong urged voting against the proposal to designated June 30 as American Allies Day, "for the purpose of honoring foreign-born persons who fought in conflicts around the world on behalf of and alongside the United States armed forces."