Some rail carriers in Minnesota would be required to have a crew of at least two people, under a bill passed Wednesday by the House.
HF286, sponsored by Rep. Frank Hornstein (DFL-Mpls), proposes to require all Class I and Class II railroads to operate freight and passenger trains with a minimum crew size of two operators. It is a move bill supporters say would make rail operators, and the Minnesotans who live near railroad lines, safer — especially with an increased number of oil trains crisscrossing the state.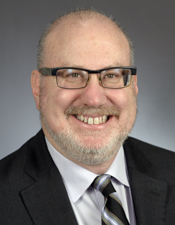 Rep. Frank Hornstein
Passed on a 78-52 vote, the bill now goes to the Senate where Sen. Scott Dibble (DFL-Mpls) is the sponsor.
Hornstein, citing the support of a number of public safety agencies, called the bill "a basic safety issue."
Opponents, though, say the industry has already invested billions to make their railroads safer, and that the legislation would only serve to support a union initiative and make it more expensive to move goods over Minnesota's railways.
"Folks, this is going to add cost to people who choose to ship via rail," said Rep. Jim Nash (R-Waconia).
Under the bill, railroads guilty of violating the requirement would be forced to pay a fine of at least $250, and $1,000 for each subsequent violation.