UPDATED 10:35 p.m. — The first final-day conference committee report going to the governor's desk is one conferees believe will be one of the most impactful in terms of lives saved.
Sponsored by Rep. Liz Olson (DFL-Duluth) and Sen. Julie Rosen (R-Vernon Center), HF400, the omnibus opioids bill, was passed 109-25 by the House and 60-3 by the Senate.
The bill would require drug makers and distributors to pay $20.9 million in annual fees and allocate that money to combat opioid use disorders and fund the public safety response from county governments.
Key provisions in the bill would:
expand access to treatment services and allow flexibility at the local and tribal level;
provide funding to address the impact of the crisis on social service agencies, including increased out-of-home placements for children;
create grants to support local and targeted prevention and treatment efforts;
improve public awareness and education for medical providers;
expand the variety of people who can administer opioid antagonists, which can prevent overdose deaths; and
establish an Opioid Advisory Council to make funding recommendations.
About 90 percent of the Opiate Epidemic Response Account would go to the Department of Human Services for a variety of purposes. In Fiscal Year 2020, the department would distribute $7.8 million in grants recommended by the new council, and another $7.8 million to reimburse counties and tribes for significant child protection costs that are a result of families being impacted by the opioid crisis. Studies have shown that the number of affected households in the state has almost doubled since 2013.
The Department of Human Services would also distribute $2 million per year in "traditional healing grants."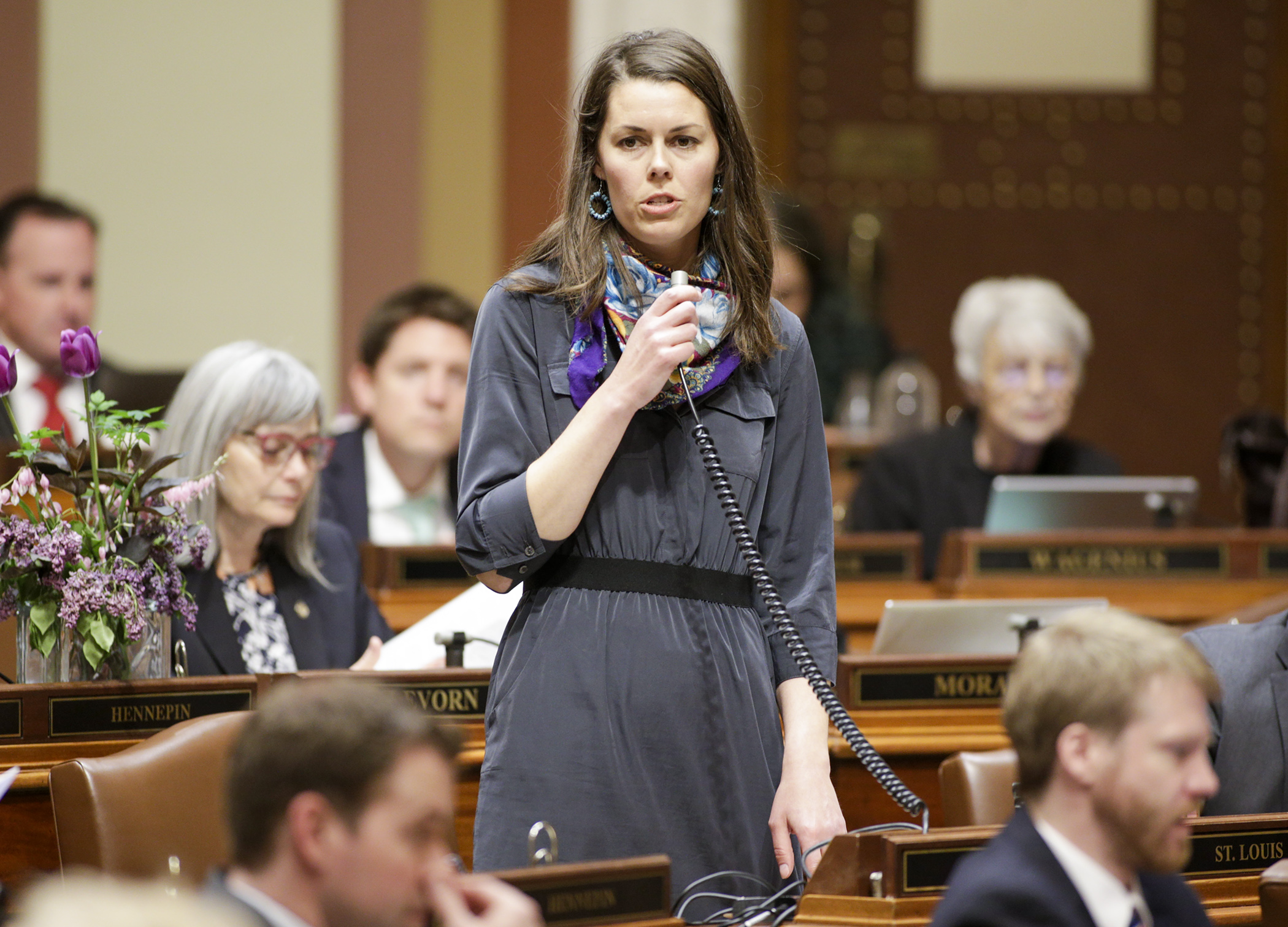 Rep. Liz Olson describes provisions of the conference committee report on HF400, which would, in part, establish the Opioid Addiction Advisory Council, opioid stewardship fund and opiate product registration fee. Photo by Paul Battaglia
Under the bill, the Department of Health would receive $1.3 million for non-narcotic pain management, while the Bureau of Criminal Apprehension would get $672,000 annually for drug scientists, labs and enforcement.
The bill also includes reforms to drug prescribing practices and increases supplies of Naloxone (a potential antidote in the event of overdoses) for first responders.
Registration fees would sunset once the state recovers at least $250 million from settlements with pharmaceutical companies after a minimum of five years. Any revenue from settlements would be earmarked for opioid response efforts.
In 2016, 395 Minnesotans died of opioid overdoses.
Rep. Dave Baker (R-Willmar), who lost a son to opioid addiction, praised the legislation. "We're one of the first states to do this. When you look at the overall picture of what the cost has been to our communities and what the profits have been for certain companies, $20 million is a good start. I am so proud to be a legislator today. We're going to save a bunch of lives with some money that we didn't have yesterday."
"This is a transformative piece of legislation," Olson said. "It's not perfect, but it's a really good start."