Minnesota's return to a presidential primary — just around the corner on March 3 — has already generated privacy concerns among some.
A bill heard Thursday by the House Elections Subcommittee could give voters more peace of mind when they head to the polls on Super Tuesday.
Current law provides that a list of every voter and their party ballot choice in a presidential primary must be made available to chairs of each of the major political parties in the state.
HF3068, sponsored by Rep. Raymond Dehn (DFL-Mpls), would place restrictions on that data, with the aim of making it less likely that which party primary voters choose to cast their ballot in will become public.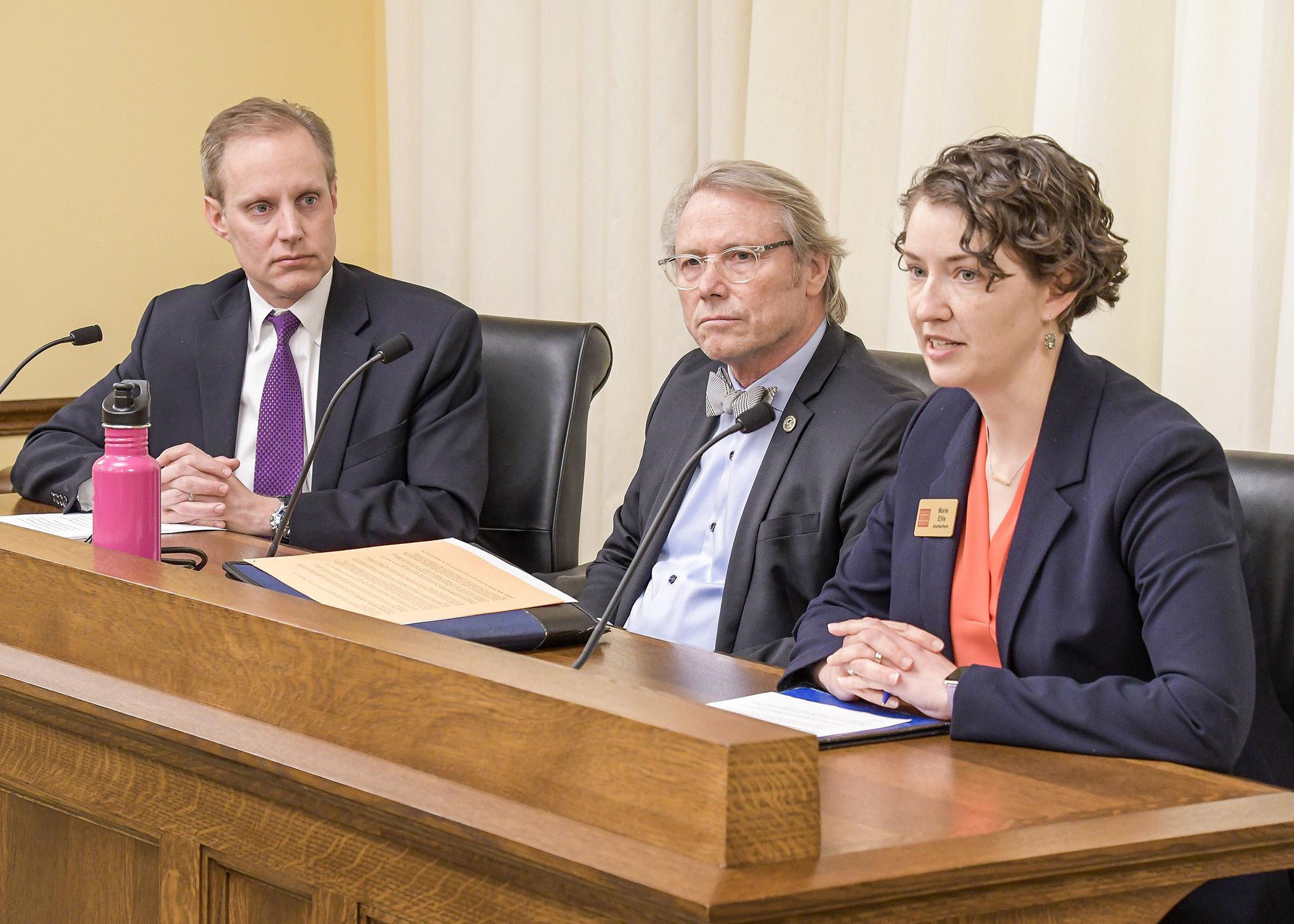 Marie Ellis, right, of the Minnesota Council of Nonprofits, and Secretary of State Steve Simon, left, testify before the House Subcommittee on Elections Feb. 13 in support of a bill sponsored by Rep. Ray Dehn, center. Photo by Andrew VonBank
The bill would restrict the list to a designated representative of a party's national committee, and require that person to submit a written request for the list.
Second, HF3068 would restrict use of the list to only those activities that are necessary to verify compliance with national party rules. It would also prohibit distribution of the list to any other person for any reason.
Third, the legislation would give voters an opt-out from inclusion on the list.
"The issue is voter confidence," Secretary of State Steve Simon said, that political parties won't post publicly the list of which ballot they took at the primary. "It's as much about voter perception as anything else."
The bill was re-referred to the House Government Operations Committee on a split-voice vote. Sen. Ann Rest (DFL-New Hope) sponsors a companion, SF2986. It awaits action by the Senate State Government Finance and Policy and Elections Committee.
This year marks Minnesota's first presidential primary since 1992. In intervening years, state parties used caucuses to establish presidential preference.
Simon said the deadline isn't March 3 to protect primary voter privacy in 2020. Rather, it is 10 weeks after the primary, when the secretary of state's office is required to turn over voter lists to the national parties.