Hiring someone to help with makeup or hairstyling at weddings, proms or other special occasions is an option many Minnesotans choose, and an important source of revenue for the people who offer those services.
But a statement by the Board of Cosmetology in late-2018 put that work in a legal limbo.
The board, which regulates the industry, said the makeup artists and hairstylists hired must have licenses to do those jobs.
That decision threatens many business owners such as Cristina Ziemer who has done freelance and special event makeup for 12 years, never thinking it was illegal or that she would need to pay for hundreds of hours of schooling.
Ziemer told the House Government Operations Committee on Thursday that she started her own business four years ago and is in full support of HF3202, a bill sponsored by Rep. Shelley Christensen (DFL-Stillwater), that the committee approved, as amended.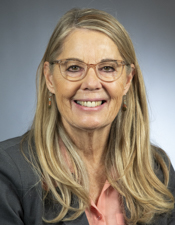 Rep. Shelly Christensen
It would exempt hairstyling and makeup services from licensing by the board and eliminate a requirement that practitioners obtain a permit to provide those services.
The companion, SF2898, is sponsored by Sen. Karin Housley (R-St. Marys Point). It awaits action by the Senate State Government Finance and Policy and Elections Committee.
"Bridal makeup is my bread and butter," Ziemer said. "If the law is not changed, I will have to shut down my business and so will over a thousand other women across the state. This is urgent and needs to be addressed now."
HF3202 would add language to state statute that says "cosmetology does not include hairstyling or makeup services." It would also include a definition for hairstyling that reads, in part: "the practice of cleaning, drying, arranging, or styling hair." It goes on to say hairstyling "does not include cutting or the application of dyes, bleach, reactive chemicals, keratin, or other preparations to color or alter the structure of hair."  
Makeup services would be defined as "the application of a cosmetic to enhance the face or skin, including powder, foundation, rouge, eyeshadow, eyeliner, mascara, and lipstick … Makeup services does not include the application of permanent makeup, tattooing, or facial services."
Debbie Carlson, who founded a career school to offer makeup education, which she said is treated as an afterthought in more formal beauty schools, also testified in support of the bill.
She told committee members the cosmetology board's actions have disrupted a "flourishing bridal and makeup industry in Minnesota" and that there are nearly 40,000 licensed beauty professionals in the state as of 2018.
"Shockingly, of that number there are only 37 licensed professionals holding [the permit] that the beauty industry requires for them to operate legally," she said, noting that there are more than 10,000 bridal events that happen each year in the state.
Several testifiers said they believe the board wants to make money off what has become a lucrative business.
But Jim Hirst, a representative of the Salon and Spa Professional Association, said his trade group has "deep concerns and reservations" about the bill.
"State policy is anything pertaining to cosmetology is best served by licensing the practice for the health and safety of the people," he said.
The association submitted a letter to the committee listing several categories it says practitioners must be aware of to operate safely. They include knowledge of how certain skin and eye conditions, allergies and other issues will be impacted by the products used. Ensuring proper hygiene to guard against contaminations and infections and good liability insurance.
Rep. Nolan West (R-Blaine) asked if there has been "an epidemic of people being harmed" as the work has gone unregulated for many years.
A representative with the Institute for Justice, which advocates for legislative reform, said there is no evidence of harm being done.
Hirst said compromise legislation was discussed in 2018 that would make licensing much less difficult, but those talks stopped when a lawsuit on the issue was filed against the Board of Cosmetology.