Violent crime, opioid and methamphetamine addiction, domestic abuse, and other public safety challenges are growing statewide and need addressing now.
That's the impetus for HF3360, sponsored by Rep. Julie Sandstede (DFL-Hibbing), which would appropriate $10.1 million in Fiscal Year 2021 for extra law enforcement, plus intervention, prevention, and treatment programs.
"Through the robust investments in this bill, we have the opportunity to tackle some persistent challenges facing communities not just here in the metro area, but also in Greater Minnesota," she told the House Public Safety and Criminal Justice Reform Finance and Policy Division Tuesday.
"As we work to tackle these problems, we need to be thoughtful and comprehensive in our approach, not just with enforcement, but also with intervention, prevention, and treatment," she said.
The division laid the bill over, as amended, for future consideration. Sen. Julie Rosen (R-Vernon Center) sponsors the companion, SF3144, which awaits action by the Senate Judiciary and Public Safety Finance and Policy Committee.
Testimony on prevention and intervention successes
Maya Elizondo described how, after finally ending an abusive relationship in high school, attending the Youth Leadership Institute program at the Alexander House in Anoka gave her the skills she needed to never return to her abusive boyfriend.
"We learned extensive information about relationship abuse, how to be an advocate for your peers, victim shaming, and more. Some of which got pretty intense," she said.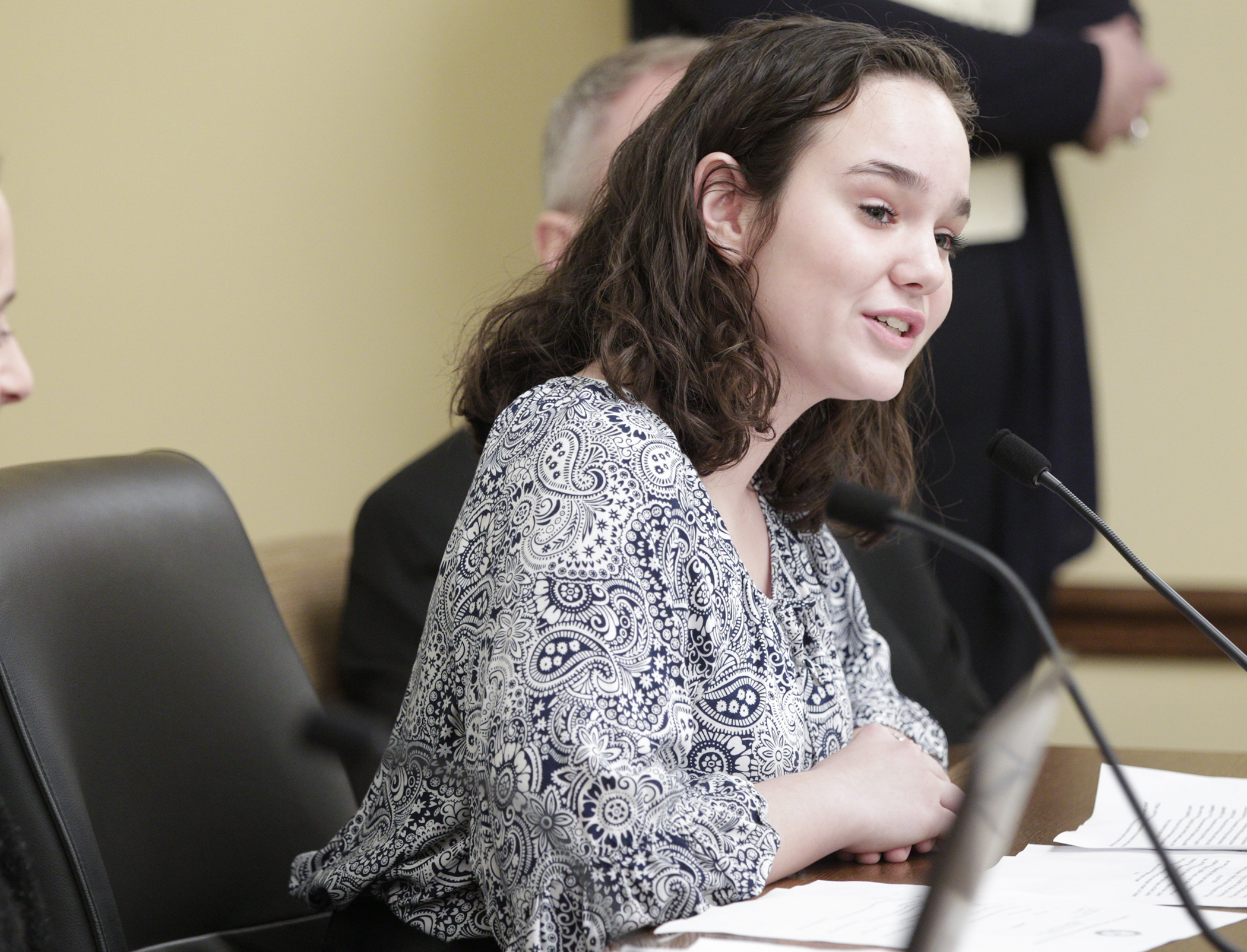 Maya Elizondo with the Youth Intervention Program, and a domestic violence survivor, testifies March 3 before the House Public Safety and Criminal Justice Reform Finance and Policy Division on HF3360. Photo by Paul Battaglia
Elizondo, a senior at Champlin Park High School, said she used the skills she learned at the Alexander House just a week after the program ended to stand up to her abusive ex-boyfriend and deny him the control "he was so desperate for."
"I was determined to no longer be the textbook victim," she said.
The Alexander House program Elizondo completed is one of more than 250 serving youth in Minnesota funded through the Youth Intervention Programs Association, which would receive $1 million.
"One million dollars would positively impact approximately 5,000 young people … who are under toxic stress, trauma, and/or abuse," said Executive Director Paul Meunier.
These youth intervention and prevention programs have been proven to keep both victims and perpetrators of violence out of the criminal justice system, said Meunier. "It's a huge value for taxpayers."
Money appropriated
The bill would appropriate $7.1 million from the General Fund in Fiscal Year 2021 to the Office of Justice Programs in the Department of Public Safety:
Three other state agencies would also get money in Fiscal Year 2021:
$1.5 million to the Department of Health to fund substance abuse disorder services;
$1 million to the Peace Officers Standards and Training Board to fund additional peace officer training in Hennepin and Ramsey counties; and
$500,000 to the Supreme Court to fund drug treatment courts in district courts.