You may have noticed more and more restaurants don't automatically give you a straw with your drink.
A bill approved by a House committee Wednesday would not allow a food and beverage establishment to give customers plastic straws, unless the customer requests one.
"When you go out to eat, a pile of straws would no longer be dropped on your table," Rep. Alice Mann (DFL-Lakeville) told the House Environment and Natural Resources Policy Committee Wednesday.
The committee approved HF3388 on an 8-7 roll-call vote and referred the bill to the House Commerce Committee. A companion, SF3595, is sponsored by Sen. Jim Abeler (R-Anoka), and awaits action by the Senate Commerce and Consumer Protection Finance and Policy Committee.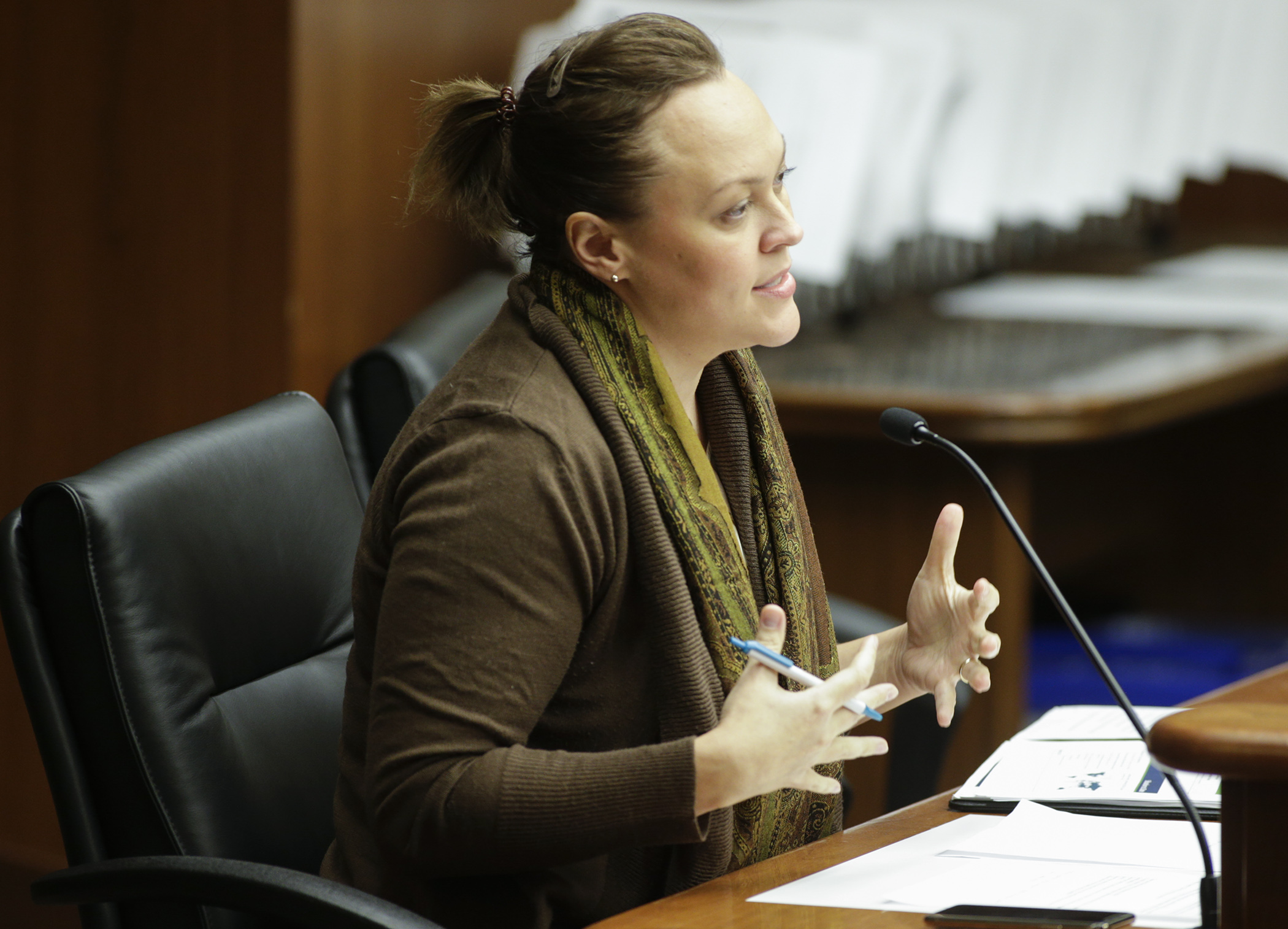 Rep. Alice Mann testifies on her bill, HF3338, Wednesday in the House Environment and Natural Resources Policy Committee. It would prohibit restaurants from providing plastic straws to customers unless requested. Photo by Paul Battaglia
St. Louis Park implemented an ordinance similar to Mann's proposal on Jan. 1, and many cities, states and businesses are also phasing out plastic straws.
The point is to get people thinking about their plastic use, whether a straw is needed, and to use fewer single-use plastics that pollute the environment, Mann said.
"Environmentalists and behavioral scientists have noted that letting go of a single piece of plastic could be the first step to a much-needed, longer behavioral change," Mann said.
Rep. Josh Heintzeman (R-Nisswa) asked Mann whether she's been able to find paper straws that don't contain PFAS, man-made chemicals that don't break down, can accumulate over time and lead to health problems ranging from thyroid disease to high cholesterol to cancer.
"It may be that this bill is a little bit ahead of the actual product available," he said, saying recycled straws end up in compost facilities, which are struggling to deal with PFAS.
But Mann said the bill doesn't ban plastic straws.
Rep. Dale Lueck (R-Aitkin) questioned who would enforce such a law.
Bill proposes no plastic straws unless requested 3/11/20
"Are we gonna somehow guess as to whether the attorney general is gonna be the straw police or whether you're gonna put this mandate on another department or down at the county level? I'm not gonna beat up all the small establishments down in rural Minnesota where I live with something like this or take a chance that this is gonna be another brutal mandate on counties."
Mann said the Health Department likely would enforce the law, reiterating that "all the bill is saying is if you want a straw you ask for one."
Rep. Steve Green (R-Fosston) said the bill does more than require people to ask for straws.
"It imposes a pretty stiff penalty if, out of sheer repetition, a server drops a straw on the table, somebody could say, 'I didn't ask for that straw and I'm turning you in.'"
There would be no fine for the first violation, but subsequent violations would bring a $50 civil penalty up to a maximum of $500.
Paying for plastic bags
The committee also voted 8-7 to send to the commerce committee another Mann-sponsored bill. HF3847 would require retailers to charge at least 5 cents per single-use plastic bag provided to customers. The companion, SF4000, is sponsored by Sen. John Marty (DFL-Roseville) and awaits action by the Senate Environment and Natural Resources Finance Committee.