In the early hours of Tuesday, the House passed a bill to provide $200 million for health care providers in need of support to fight the COVID-19 pandemic.
HF3980/SF4334* was passed 108-0 at about 3:10 a.m. after the Senate passed it 55-0 less than an hour earlier. It now goes to Gov. Tim Walz for an expected signature.
"This bill is ... truly urgent," said Rep. Tina Liebling (DFL-Rochester), who sponsors the bill with Sen. Michelle Benson (R-Ham Lake). "We are potentially in a very dire situation."
The bill would provide two funding pools:
$50 million under the state's public health response contingency account, which has rules built in that would allow the money to get where it's needed quickly; and
$150 million to create a health care response fund in the state treasury, which would be used to make grants and take a little longer to reach the beneficiaries. Any money left over on Feb. 1, 2021 would be returned to the General Fund and the section would sunset on June 30, 2022.
Both would be accessible by care providers including hospitals, clinics, pharmacies, nursing facilities, health care facilities, ambulance services, and settings in which assisted living services or health care services are provided.
The funds could be used to help plan, prepare for, and respond to COVID-19 in a range of ways, including:
the establishment and operation of temporary sites to provide testing services, treatment beds, or to isolate or quarantine affected people;
staff overtime, the hiring of additional staff, and training or orientation;
consumable protective or treatment supplies and equipment;
patient outreach;
specialty cleaning supplies;
the purchase of replacement parts and filters for equipment; and
expenses related to the isolation or quarantine of staff.
In general, the expenses cannot "reasonably be expected" to generate income after the end of the outbreak, meaning that durable medical equipment would be excluded, Benson said.
"We don't want to just go and buy stuff for hospital systems with taxpayer money," Liebling said.
Earlier versions of the House bill included loans that could be used to purchase equipment that would remain with hospitals after the end of the crisis. But the loan fund was removed during negotiations with the Senate, Liebling said.
Some representatives, including Rep. Tony Albright (R-Prior Lake), expressed concern about access to ventilators and questioned whether the funding could be used to acquire them.
Liebling said that she didn't think ventilators were necessarily excluded in the bill, and that the larger concern regarding ventilators was more likely to be their availability, given worldwide demand.
House, Senate leaders news conference on legislative operations in response to COVID-19 pandemic.
Money from the $150 million fund would also be used by the Department of Health to administer the grant program, and could be used to establish temporary testing sites, if no eligible health care providers are capable of doing so.
"This is more money than I ever thought I'd be okay with," Benson told the Senate Finance Committee Monday, but she was convinced of the need by hearing from hospitals and health care providers.
Still, it is unclear if the funding will be sufficient to meet the needs, at least until mid-April, at which point the Legislature could assess whether additional resources are needed, Benson said.
"Nobody can predict what is going to happen and where it's going to happen," Liebling said. "We don't know if that's enough. It could be way too little, it could be more than enough."
Grants could only be accepted under the condition that providers agree not to bill uninsured patients for the cost of screening, testing, or treatment of COVID-19. They would also be required to accept the median network rate as payment in full, and not bill patients any amount in excess of the in-network cost-sharing provider rate.
These conditions would remain in effect until Feb. 1, 2021.
Providers who receive funding from non-state sources would be required to report that funding and could be required to pay some, or all of the state funding back to the General Fund.
It would also temporarily allow patients' homes to count as an "originating site" for telemedicine services, which are currently limited to clinics, Liebling said.
Ongoing work, strict "social distancing"
Monday morning, legislative leaders announced their plans to continue working with each other and the public, even as the House and Senate take increased precautionary measures to limit the spread of the COVID-19 virus.
"This is unchartered territory," Senate Majority Leader Paul Gazelka (R-East Gull Lake) said in a news conference, while he and other leaders expressed their dedication to keeping the public informed and engaged.
House and Senate leaders announced plans to pass a second COVID-19-related bill later that day, to provide some sort of support for Minnesota's hospitals. At the time, an agreement had yet to be reached on whether the bill would provide grant funding as well as loans, he said.
House Speaker Melissa Hortman (DFL-Brooklyn Park) said that the respective health committee chairs — Liebling and Benson — worked through the weekend and she was hopeful an agreement could be reached early in the day, allowing the House to pass the bill by early evening.
The Legislature's Passover/Easter recess will be extended an additional two weeks to help "flatten the curve," and make sure that the health care system isn't overwhelmed, Gazelka said
The latest the Legislature will return is April 14, though he and Hortman can call back legislators earlier, if needed.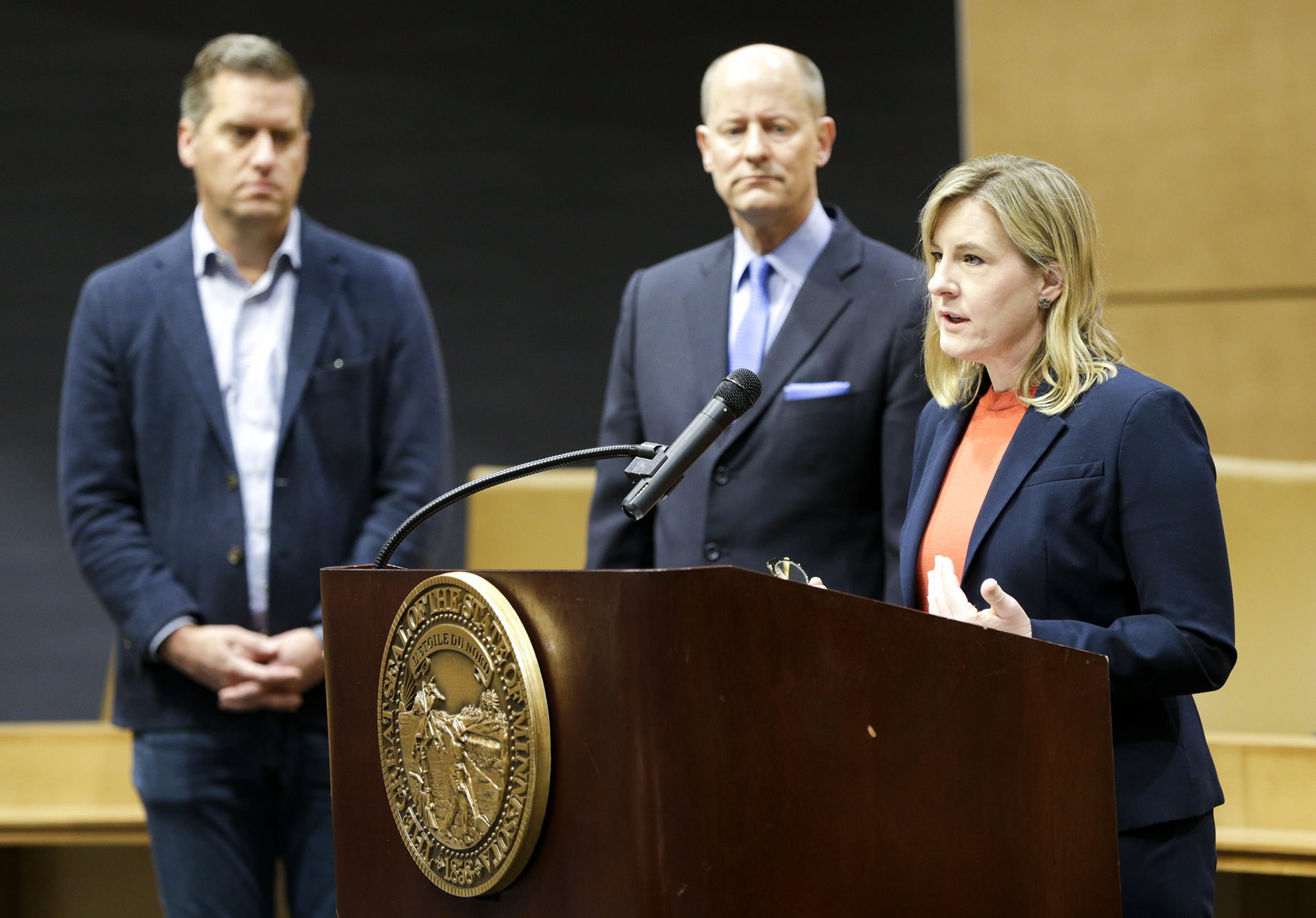 House Speaker Melissa Hortman and other legislative leaders hold a Monday morning news conference before the House and Senate went into session to work toward providing assistance to hospitals dealing with the COVID-19 pandemic. Photo by Paul Battaglia
This time will be less of a "recess" than a break in regular operations to accommodate strict compliance with Department of Health recommendations for social distancing, which includes maintaining 6 feet of open space between people, Hortman said.
This has resulted in the dramatic reorganization of hearing rooms and arrangements on the House Floor to maintain enough space between members. This includes seating legislators in the alcoves and gallery as well as in rooms used for caucus meetings.
If someone in one of these areas wants to engage in a floor debate, they can exchange spaces with someone seated at a desk, after that person wipes it down and leaves the chamber.
"In some ways this will be a more intensive period of work for us," Hortman said. "It is possible to continue our work and to do it safely."
On Sunday, House leaders announced that how the House does business will change, for about the next month, with on-call committee meetings and floor sessions as well as a streamlined list of priorities.
The Legislature will focus on legislation related to the state's response to COVID-19; "critical" bills, including a bonding bill; and issues with bipartisan agreement, Hortman said.
"This is what we need to do to make sure that we keep each other safe," House Minority Leader Kurt Daudt (R-Crown) said.
On Friday, Gov. Tim Walz issued an executive order declaring a peacetime emergency and urged the House and Senate to quickly put together a response package to the COVID-19 pandemic. Another executive order was issued Sunday authorizing a March 18-27 shutdown of K-12 schools so school officials can make long-term plans for the "continuity of education and essential services."
For the latest House schedule, check out www.house.leg.state.mn.us/schedules.
More information about COVID-19 is available on the Department of Health website. A hotline is available at 651-201-3920 or 800-657-3903.