If a deer or elk escapes from a breeding farm, licensed hunters may be allowed to shoot it rather than give the breeder a day to try to recapture those animals.
During a remote hearing Friday, the House Environment and Natural Resources Finance Division approved a smorgasbord of tweaks to natural resource statutes.
Sponsored by Rep. Rick Hansen (DFL-South St. Paul), HF3657 contains provision and policy changes put forth by the Department of Natural Resources along with policies contained in a handful of other bills.
The bill, as amended, was referred to House Ways and Means Committee by a party-line 11-7 vote. The companion, SF3842, is sponsored by Sen. Carrie Ruud (R-Breezy Point), and awaits action by the full Senate.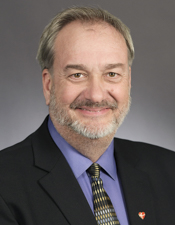 Rep. Rick Hansen
The item generating the most discussion was an amendment by Rep. Jamie Becker-Finn (DFL-Roseville) regarding escaped deer or elk from farms or hunting preserves.
Under the change, the farm owner would have to immediately notify the DNR when a deer escapes, allow the DNR or a licensed hunter to destroy the escapee, and require that it be tested for chronic wasting disease at the owner's expense.
Becker-Finn said hunters have questioned whether they could legally take such deer, and deer owners sometimes get upset when they do. She said about 100 deer escape from deer farms annually.
Rep. Dale Lueck (R-Aitkin) questioned whether the change could create a vigilante "Let's do away with them" approach where hunters would take advantage of the law to shoot animals from deer or elk farms.
Assistant DNR Commissioner Bob Meier said current law allows hunters to harvest an escaped deer after it's been loose for 24 hours. But he said the amendment would clarify for hunters that deer are fair game, help producers avoid such escapes and help fight chronic wasting disease.
Lueck questioned the need for such legislation during the COVID-19 pandemic that has lawmakers holding virtual hearings and voting from home.
"We're in the middle of a pretty serious emergency; we're trying to legislate stuff that really, frankly, is unnecessary," Lueck said. "I'm a little frustrated that we're even dealing with this amendment."
Rep. Josh Heintzeman (R-Nisswa) said vandals could break into a deer farm and let them escape. "We have people's livelihoods at stake."
Tony Kwilas, a lobbyist for the Minnesota Elk Breeders Association, said under current law, the DNR has to allow the farm owner to try to capture the deer. Elk owners would like the animal back, too, he said.
"This really is not workable from start to finish," said Rep. Steve Green (R-Fosston).
The amendment passed 11-7 along party lines.
The bill would also:
ban food packaging, beginning in 2022, that contains added perfluoroalkyl and polyfluoroalkyl substances, or PFAS, often referred to as "forever chemicals" because they don't break down;
require the DNR to hold a public meeting and ensure it doesn't use groundwater with a certain tritium concentration before issuing certain drinking water permits;
remove the sunset to a pilot program allowing bear hunters in a Wildlife Management Area near the Red River in northern Minnesota to leave a portable hunting stand overnight;
eliminate the requirement that snowmobiles be registered in order to transport them;
require the DNR to issue permits to breed, propagate and sell snakes, lizards, and salamanders, and allow people to keep them as pets; and
allow the use of crossbows during the deer hunting season, and during all firearm seasons except the muzzleloader season.