Dubbed the "Prescription Drug Price Transparency Act," the bill would require drug makers to report the reasons for price increases and provide other detailed information about the cost of manufacturing, marketing and distributing drugs, beginning Oct. 1, 2021. It would require price transparency for existing drugs, new drugs and newly acquired drugs.
The bill would apply to prescription drugs that cost $100 or more for a 30-day supply; brand name drugs with a price increase of 10% or more over the prior year or 16% in the prior two years, and generic drugs whose price increases 50% or more over the prior year.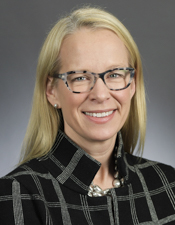 Rep. Kelly Morrison
Drug makers whose drugs meet those thresholds would have to report sales revenue for the drug in the past year; their net profit thanks to the drug; the amount of financial assistance they provided through patient prescription assistance programs; and any agreement between the drug maker and another entity to delay a generic version and other information.
Those large drug price increases would be posted on the Department of Health website. Drug makers that failed to follow the law would be subject to fines of up to $10,000 per day, and other civil penalties.
Every January, the Health Department would report to the Legislature a summary of the drug price increases.
Morrison said the proposal brings much-needed transparency to prescription drug pricing.
"The cost of prescription drugs is high and growing higher, including older drugs and new drugs entering the market," she said. "While drug manufacturers create life-changing and life-sustaining medication, these medications are useless if people can't afford them."
Currently, 23 cents of every dollar spent on health care goes to prescription drugs, more than in-patient hospital costs, she said. Among the "egregious" price increases she cited:
insulin prices have tripled since 2002, with an average price increase of 64% since 2014;
one manufacturer increased the price of Naloxone, which reverses the effects of opioid overdose, 600% over the last four years;
the price of Copaxone, used to treat multiple sclerosis, started out at $10,000 annually when it came to market in 1997, but now it costs over $90,000;
the price of Daraprim, used to treat AIDS, went from $13.50 per pill to $750 per pill; and,
the cost of EpiPens, which reverse severe allergic reactions, increasing from $100 to $600.