Driving change is the focus of a public safety bill receiving division approval Monday.
Rep. Carlos Mariani (DFL-St. Paul), who sponsors SSHF93, being dubbed the "Reclaiming Community Oversight Act," is part of push for criminal justice reforms in wake of the Memorial Day death of George Floyd at the knee of a former Minneapolis police officer.
"We need to respond, not only for obvious, simple if you will, policy responses to the event that happened, the regulating of chokeholds for instance, but also responding in systemic ways, understanding our systems in all walks of life have a direct impact on the outcomes that result from the exercise of our duties," he said.
"This is a moment to respond to righteous outrage and anger … and maybe come up with some new solutions," said Rep. Aisha Gomez (DFL-Mpls).
Approved, as amended, by the House Public Safety and Criminal Justice Reform Finance and Policy Division, the bill is next to be heard by the House Ways and Means Committee. The vote was 11-6 with Rep. Tim Miller (R-Prinsburg) the lone member to cross party lines. It has no Senate companion.
Rep. Dave Pinto (DFL-St. Paul) said the proposed reforms are long overdue. "We have this opportunity to make sure that every person in our state can feel safe and protected and receive equal treatment under the law. We've got make sure we take advantage of this moment and that it leads to action."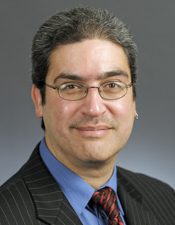 Rep. Carlos Mariani
Republicans said there are many things they like in the bill, but too many things they cannot support.
Miller voted for the bill, but urged House DFLers to work with the Senate Republicans for reform. Without that, he warned he may not support this bill in the future.
"Make it so we can support this … and recognize folks want to see change," said Rep. Jim Nash (R-Waconia).
Rep. Brian Johnson (R-Cambridge) doesn't agree with making changes throughout the state because of problems with the Minneapolis Police Department. "We're dealing with an issue where 99.999% of law enforcement officers are great. … It's unfortunate we have to go after everybody when there's one bad apple."
The bill would require a peace officer to intercede when another officer is using excessive force and report the incident to supervisors. An amendment successfully offered by Pinto, and part of one from Rep. Eric Lucero (R-Dayton), would clarify an officer is to intercede regardless of tenure or rank. It also would require a report to "the chief law enforcement officer of the agency that employs the reporting peace officer" to be done in writing.
Warrior-style training would be banned, under the bill. An amendment successfully offered by Pinto aims to clarify such training. "This is to confirm that what is prohibited is training that is intended to increase a peace officer's likelihood or willingness to use deadly force in encounters with community members," he said.
Among other provisions, the bill would ban any kind of action by a peace officer that purposely restricts an airway or blood flow, such as a chokehold; and require the Peace Officer Standards and Training Board to establish a 15-member Police Community Relations Council, whose duties would include making disciplinary and policy recommendations on civilian-initiated police misconduct complaints filed with the board.
Among the council's duties would be to "make disciplinary and policy recommendations to the board on civilian initiated police misconduct complaints filed with the board; and monitor and make recommendations on peace officer community policing excellence data."
For example, the council could recommend disciplinary and policy changes if an officer has "a pattern of excessive use of force or a pattern of use of force incidents." Council recommendations to the board would be implemented unless two-thirds of the board votes to reject a recommendation within three months of receiving it.
Information for the council to base its decisions would come from a designated community-based research organization that would collect information from law enforcement agencies, including complaints and the final disposition, and perform an analysis and offer recommendations to the POST Board.
Mariani successfully offered an amendment to clarify that the organization must be one "contracted with the Department of Public Safety to monitor the data, compile the report, and provide the notifications required."
Under the bill, "The governing body of each local unit of government that oversees a law enforcement agency shall establish a citizen oversight council." An amendment from Rep. Jamie Long (DFL-Mpls), approved on a nearly party-line vote, would change the requirement to agencies that employ at least 50 peace officers. It would also allow a council to recommend appropriate discipline against peace officers employed by the agency, or, it could impose discipline if that power is granted the council by the governing body.
The bill calls for the governor to appoint a roster of at least 25 persons "specifically suited and qualified by training and experience to act as arbitrators for peace officer grievance arbitrations." An amendment successfully offered by Rep. Michael Howard (DFL-Richfield) would lower the number to six and ensure these arbitrators would only hear grievance arbitrations for peace officers.
Another Howard-offered amendment that was approved would require a chief law enforcement officer to report to the POST Board "when a peace officer is discharged or resigns from employment due to misconduct or when a peace officer is suspended or resigns while a misconduct investigation is pending."
Clone bills also approved
A pair of other bills with the similar language — SSHF73 and SSHF76 — are also heading to the House Ways and Means Committee. They were amended and approved earlier in the day by the House Government Operations Committee and House Judiciary Finance and Civil Law Division, respectively.