Owners of commercial and residential properties eligible for, or receiving, state funding as a result of the damage incurred during civil unrest in Minneapolis and St. Paul could be limited in rent they can charge.
Approved Tuesday by the House Judiciary Finance and Civil Law Division on a party-line vote and sent to the House Ways and Means Committee, SSHF83 would limit rent for such properties to no more than the average rent charged in the first three months of this year or, if rent is paid annually, the last annual rent payment prior to March 1, 2020.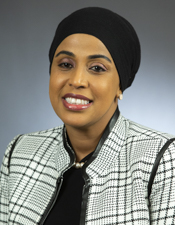 Rep. Hodan Hassan
The restriction would be in place for leases that take effect beginning July 1, 2020 and it would last through April 1, 2024. Rent could be increased in April of each year based on inflation.
"There has been a lot of concern about gentrification and displacement. Everyone is worried about newer buildings, which means lots of higher rents," said Rep. Hodan Hassan (DFL-Mpls), who sponsors the bill that has no Senate companion.
"People are worried there are going to be newer buildings, which means Starbucks, Trader Joe's and other expensive stores that many in my community will not be able to shop."
Ron Elwood, supervising attorney for Mid-Minnesota Legal Aid, wrote a letter supporting the bill. "We appreciate HF 83's intent is to ensure that the community's fundamental character remains intact and the affordability of residential housing and commercial rent remains affordable as the community rebuilds."
However, Rep. Eric Lucero (R-Dayton) and Rep. Tony Albright (R-Prior Lake) said the change could be a disincentive, for example if builders simply want to recover rebuilding costs.
"What you're suggesting is they cannot transfer or obligate their leases to help finance that new mortgage," Albright said. "… You are imposing on an existing incumbent property owner who needs to rebuild or someone that would come in and purchase the property with every intention of keeping the flavor and character of Lake Street. You are making them face an impossible economic decision that they cannot overcome."
In a letter to the committee, Paul Eger, vice president of governmental affairs for Minnesota Realtors, expressed concern the bill could lead to unintended consequences including "a decreased ability for them to meet routine expenses associated with maintenance, particularly during a time when many are struggling due to COVID-19."
The Minnesota Multi Housing Association also submitted a letter against the bill, in part, saying it "opposes any legislation that would force rent control on Minnesota."