A new organization that supporters believe could help bridge wealth and opportunity gaps while helping rebuild areas damaged in the unrest that followed the Memorial Day killing of George Floyd took a step toward its creation Tuesday.
The House Government Operations Committee approved SSHF85, sponsored by Rep. Fue Lee (DFL-Mpls), on a party-line vote. It would establish the Metropolitan Area Redevelopment Corporation, a nine-member board that would oversee planning and award millions of dollars in grants to the impacted areas.
Grants would go to nonprofit organizations led by people of color and indigenous people working to rebuild areas damaged in the unrest. Lee said the bill would direct money to cities listed in Gov. Tim Walz's Executive Order 20-64 – Minneapolis, St. Paul, Roseville, Brooklyn Center, West St. Paul and Blaine – until the end of 2025, and then any city in the metropolitan area thereafter. 
He said the bill would create a "long-term framework" to address systemic problems.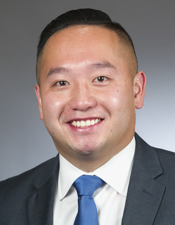 Rep. Fue Lee
"We are not just looking at how we will rebuild the affected areas, we are addressing the long and historical exclusion of black, brown and indigenous people from owning assets, generating wealth and passing it down so that these communities can have generational wealth," Lee said.
The bill was referred, as amended, to the House Ways and Means Committee. There is no Senate companion.
One amendment removed language that would have established how the grants would be funded. The original language sought to divert a portion of the proceeds from existing county transportation sales and use taxes imposed by metropolitan counties, which it was estimated would raise as much as $60 million each year.
Lee said the section removed from the bill would be taken up by the House Taxes Committee on Wednesday morning when it debates SSHF87, sponsored by Rep. Kaohly Her (DFL-St. Paul).
Members approved two other amendments, one that would allow the corporation to hire its own executive director and the other that would add a new definition for its purpose and also require that it is "led by a person of color or an indigenous person, and has a staff and board of which at least 51 percent are people of color or indigenous people."
Rep. Duane Quam (R-Byron) was one of several Republicans to vote against the bill, saying that he supported its aims but was concerned the board would be appointed by a small group of people, which could lead to a repeat of past problems.
"Part of the reason why we're in a bad situation is a repetition over decades by an entity or entities that have neglected these neighborhoods, these communities and caused some of the issues," he said, adding that a lot of local government aid that should have gone for urban renewal over the years has been used for other things.