Many House DFL members, especially those of the People of Color and Indigenous Caucus, spoke emotionally late Thursday and into Friday of how voices like theirs across Minnesota want to see systemic change, especially when it comes to police reform.
"Our communities are sick and tired of being sick and tired," said Rep. Ruth Richardson (DFL-Mendota Heights). "We are tired of the inaction, we are tired of the excuses and we're tired of being ignored. And most of we are tired of burying our family members. This bill is the product of listening to people who are closest to the pain of this issue."
She and others enthusiastically and solemnly spoke in support of SSHF93/SSSF104* that was passed 71-59 by the body after more than seven hours of discussion. The vote came after an amendment successfully wrapped the three public safety bills — Reclaiming Community Oversight Act, Reimagining Public Safety Act and the Reforming Accountability Act — into one.
"A number of these provisions we have seen before in this body; we've passed them in this body; we've constructed them over periods of time only to have the other body not entertain and act on these provisions," said Rep. Carlos Mariani (DFL-St. Paul), the bill sponsor.
The Senate will get another chance because that is the bill's next stop.
However, the reform package is likely to get a chilly reception.
The Senate passed five police reform bills Tuesday, including the original SSSF104 that is sponsored by Sen. Warren Limmer (R-Maple Grove). They would require law enforcement agencies to update their use-of-force policies, require peace officers to intervene when observing excessive use of force and report those instances, and ban neck restraints and chokeholds that restrict an airway.
But five is a far cry from the approximately two-dozen House DFLers have incorporated into the final bill.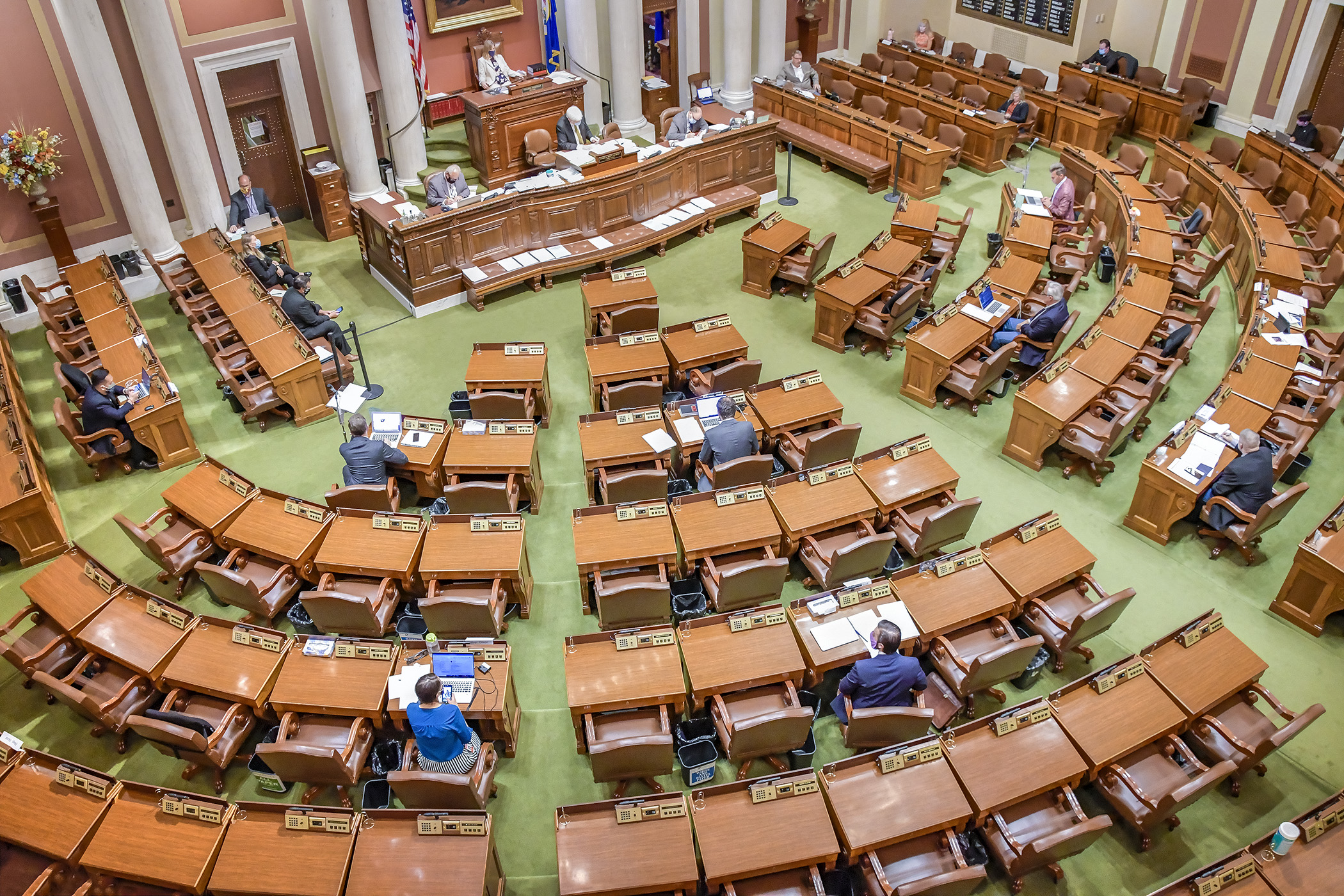 Adhering to physical distancing, the House of Representatives meets in special session Thursday evening to debate a package of policing reform bills. Photo by Andrew VonBank
"This is not a lot to ask for, this is not much that we are asking for," said Rep. Mohamud Noor (DFL-Mpls). "If you look at the bill, it's a very simple request. Let us exist. Let us breathe. Let us go back home."
"We're not going to quit until we achieve racial justice, systemic change and accountability," House Speaker Melissa Hortman (DFL-Brooklyn Park) said at a morning news conference. At the same gathering, Gov. Tim Walz said this special session would be "a total failure" if police reform measures are not passed.
At a midday news conference, Senate Majority Leader Paul Gazelka (R-East Gull Lake) said the five public safety bills approved by the Senate are items House DFLers seek. He rhetorically asked why those can't be approved now and have work continue on other issues and come back when they are resolved.   
An amendment successfully offered by Rep. Paul Novotny (R-Elk River) during Thursday's debate would require officers to take annual training on conflict de-escalation and the duty to intercede when another peace officer uses excessive or unreasonable force.
"A person needs to have that experience, recognize your reaction to that and be able to not have to analyze," said Novotny, who spent 33 years in law enforcement. "You know that too much force is being used (and) react right then. You know what to do."
Like many Republicans, Rep. Peggy Scott (R-Andover) said there's many things in the bill she likes, including no chokeholds and the duty to intercede. However, she doesn't like that it's a "one-size-fits-all" approach.
"We're going to take the entire state of Minnesota and we're going to thrust on local units of law enforcement everything that we think should really apply to Minneapolis and the systemic problems there. And that's just wrong-headed," she said.
The Reforming Accountability Act contains five main provisions that would:
more clearly define when police may use deadly force by clarifying it is only justified when an officer reasonably believes it is necessary to protect the officer from "imminent" rather than "apparent" death. It would also add a provision that in order for deadly force to be used an officer must reasonably believe a person will cause death or great bodily harm to another person unless immediately apprehended;
give the attorney general's office jurisdiction to prosecute cases when peace officers are alleged to have caused an officer-involved death;
eliminate the need for cash bail for those charged with misdemeanor offenses, other than domestic assault and some driving while intoxicated violations;
establish an Independent Use of Force Investigations Unit within the Bureau of Criminal Apprehension to investigate officer-involved deaths; and
require an officer who takes a child into custody to communicate with, or take the child to, a juvenile secure detention facility to determine whether the child should be released or detained using a risk assessment.
Among its major provisions, the Reclaiming Community Oversight Act would:
ban any kind of action by a peace officer that purposely restricts an airway, such as a chokehold;
require a peace officer to intercede when another officer is using excessive force and report the incident to the chief law enforcement officer of the agency in writing;
ban "warrior-style training," more specifically, training that is intended to increase a peace officer's likelihood or willingness to use deadly force in encounters with community members;
require the Peace Officer Standards and Training Board to establish a 15-member Police Community Relations Council, whose duties would include making disciplinary and policy recommendations on civilian-initiated police misconduct complaints filed with the board;
require each local unit of government's governing body that oversees a law enforcement agency to establish a citizen oversight council; and
allow cities or counties to impose a residency requirement as a condition of employment for peace officers.
Elements of the Reimagining Public Safety Act would:
restore voting rights to convicted felons immediately upon their release from prison;
establish an "Officer-Involved Death Review Board" in the Department of Public Safety;
create critical incident stress management teams for emergency service providers to consult;
establish the position of "community-led public safety coordinator" in the Department of Public Safety's Office of Justice Programs;
establish standards for crisis intervention and mental illness crisis training for peace officers;
require the development and implementation of autism training for peace officers; and
require officers whose use of force results in injury or death to file a report to the Bureau of Criminal Apprehension.