The House passed a bundle of provisions that focus on rebuilding areas of the Twin Cities damaged by recent civil unrest and calls for $300 million during the 2020-21 biennium to help accomplish this work.
"Many people are depending on us. They're waiting on us." said the bill's sponsor, Rep. Mohamud Noor (DFL-Mpls). "This comprehensive package sends the right message. Creates that opportunity. Builds an equitable economic system that we can all rely on."
SSHF132 was approved, as amended, 74-53 Friday. It now goes to the Senate, where there is no companion.
The combined legislation has been collectively referred to as "The PROMISE Act" – standing for "Providing Resources, Opportunity and Maximizing Investments in Striving Entrepreneurs."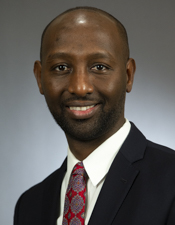 Rep. Mohamud Noor
The bill was amended to include language offered by Rep. Aisha Gomez (DFL-Mpls) that would establish a "Civil Unrest Investigatory Commission," by July 1, and require a report by Dec. 15, 2020.
The commission would "examine and create a public record of all actions, choices, orders, and responses … crucial to the government's response to the civil unrest." Its 10 members would be appointed by the chief justice of the Minnesota Supreme Court.
It would also be "tasked with coming up with some recommendation on policy and practice changes moving forward, should we ever find ourselves in this position again," Gomez said.
House Minority Leader Kurt Daudt (R-Crown) and Rep. Steve Drazkowski (R-Mazeppa) both spoke in favor of the provision.
"We all have concerns about what happened and how it happened and what's the appropriate response from us," Daudt said. "I think this is wise … this is an important thing to add in."
In general, Republicans expressed enthusiastic support for the goals of the bill and the ideas behind it, but concern with the specifics.
"I think the parts that are challenging and complicated are challenging and complicated because that reflects the nature of the situation that we are trying to fix," Gomez said. "We did this in a week … it's not perfect."
She also expressed her appreciation for the genuine response of her fellow representatives, on both sides of the aisle, and dedication to working with them to, "come together and do what we do when Minnesotans are suffering – which is to care for one another and be there for one another."
The bill includes provisions that would:
create a special master panel to make awards to compensate for damages suffered by certain persons resulting from the civil unrest during May and June of 2020;
appropriate $167.57 million from the General Fund to establish and fund a "civil unrest immediate relief program," focused on preserving existing businesses and encouraging economic growth;
establish the Metropolitan Area Redevelopment Corporation, a nine-member board that would oversee planning and award millions of dollars in grants to the impacted areas;
direct the Department of Commerce to help impacted business owners deal with property, casualty or liability insurance claims;
limit rent for certain commercial and residential properties to no more than the average rent charged in the first three months of this year or, if rent is paid annually, the last annual rent payment prior to March 1, 2020;
allow Minneapolis, St. Paul and surrounding cities affected by civil unrest to acquire property by eminent domain, to sell for redevelopment that would benefit the neighborhood;
provide property tax relief and a tax exemption for the materials that small-business owners would need to get their businesses up and running again; and
provide the funding mechanism for the Metropolitan Area Redevelopment Corporation by creating a 0.125% sales tax to be imposed by the seven metropolitan counties.
Proceeds of this sales tax would fund grants to nonprofit organizations led by people of color and indigenous people that are engaged in rebuilding the areas damaged by the civil unrest.
Some Republicans objected to limiting the funding to only organizations led by people of color and Indigenous people, while others objected to the sales tax.
Other concerns included the bill's eminent domain provisions and proposed rent control measures.
"There are other vehicles that are out there, other financing mechanisms," Rep. Kristin Robbins (R-Maple Grove) said. "But rent control will hurt the … community in ways that have long-term consequences."
—House Public Information Services' Rob Hubbard contributed to this report