Lee Ulferts returned from serving in the Vietnam War with a lot of anger.
Alcohol became his friend.
Numerous DWIs followed, including in 2012 when his blood-alcohol content was 0.21 percent.
At that time, Ulferts, past state commander for the Minnesota Veterans of Foreign Wars, got assistance that helped him deal with his underlying problems rather than a judge sending him to prison. He's now eight years sober.
"I knew I needed help, but I didn't know how to get it. Veterans court showed me the way," he told the House Veterans and Military Affairs Finance and Policy Division Thursday.
Sponsored by Rep. Rob Ecklund (DFL-International Falls), the division chair, SSHF31 would allow any county or city to establish alternative sentencing options for veterans with service-connected trauma — including PTSD, substance abuse or mental health conditions — who commit certain crimes as a result of a service-related condition.
"It is not a free ride," Ecklund said during an informational hearing. "The language was developed through an 18-month collaboration of key Minnesota veteran's criminal justice stakeholders. It adapts and improves on best practices from Minnesota's and other state veterans courts and veteran sentencing statutes."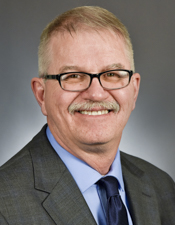 Rep. Rob Ecklund
State Public Defender Bill Ward said the bill does not require creation of veterans treatment courts — they now exist in 26 of Minnesota's 87 counties — rather it provides guidelines for the judicial system to offer a second chance and help understand why a person is in the system in the first place vs. getting a criminal conviction.
"It allows a veteran in Roseau to be treated the same as a veteran in Roseville," said Ben Johnson, legislative director for the Veterans Affairs Department.
Washington County Attorney Pete Orput said he could provide "a number of anecdotes" of how a veterans treatment court has worked well in his jurisdiction.
"Folks we put through our program we literally never see them again, except we ask them to come back and volunteer as mentors," he said.
Provisions in the bill were approved on party-line vote by the House Public Safety and Criminal Justice Reform Finance and Policy Division in April 2020, but the proposal did not advance further.
The current bill was not heard during the July special session, and its companion, SSSF33, was not acted upon by the Senate Rules and Administration Committee. Sen. Steve Cwodzinski (DFL-Eden Prairie) was the Senate sponsor.
Rep. Matt Grossell (R-Clearbrook) expressed concern about putting more on the plate, and added costs, in counties where a county attorney's office could be just a handful of people, unlike Hennepin or Ramsey counties.
"The use of existing current money, resources, in all counties would be better accessed by the use and implementation of this bill," Ward said, adding that whether a person is sentenced under this proposal or current law, they would be part of the caseload of probation or corrections personnel.
A 2019 fiscal note shows the change would save the Department of Corrections more than $1 million annually beginning in fiscal year 2022.
Generally, once eligibility for veterans treatment court is established, the process works like this:
a guilty plea is entered, but not accepted by the court;
the defendant is placed on probation for no longer that the maximum sentence for the committed crime;
during probation, the veteran attends treatment, education and/or a rehabilitation program that specializes in working with veterans;
upon completion, a pair of hearings are held to determine if conditions of probation were met and to assess the veteran's rehabilitation against the harm of the offense; and
charges are dismissed if a court determines the veteran has benefitted from treatment, is no longer a danger and probation terms have been met.
A letter indicates support from the Minnesota County Attorneys Association, Minnesota Board of Public Defense, Department of Veterans Affairs, American Legion, Minnesota Social Services Association and others.