The House on Wednesday passed a $1.87 billion bonding bill meant to pay for hundreds of infrastructure improvement projects around the state ranging from roads and bridges to wastewater facilities and higher education asset preservation.
The bill, which includes $1.36 billion in general obligation bonding, would also provide tax relief for farmers and small businesses, funding for low-income housing and $31 million in supplemental General Fund budget spending.
After two attempts to pass similar legislation failed earlier this year when no GOP support was given, 25 Republicans joined all 75 House DFL members to provide the three-fifths majority needed to pass the bill, doing so by a vote of 100-34 after nearly 10 hours of debate.
SSHF1, as amended, now travels to the Senate where Sen. David Senjem (R-Rochester) is the sponsor and a vote is scheduled Thursday.
The House adjourned its fifth special session of 2020 about 30 minutes after the vote.
During a media availability before the day's session began, House Speaker Melissa Hortman (DFL-Brooklyn Park) said the House would send the Senate a bill she believed represents the agreement reached with the leaders in that body and that the Senate would pass that bill and send it on to Gov. Tim Walz.
Hortman also said she'd received no assurances the bill would have enough votes to pass in the House, but had been optimistic it would.
"My friends in the Republican caucus have said it may be a painful process, but it's likely to be successful in the end," Hortman said.
She said the most important benefit in passing the bill would be the jobs it creates, but that "every portion of this bill is essential to economic recovery in COVID-19."
Rep. Mary Murphy (DFL-Hermantown), who sponsors SSHF1 and chairs the House Capital Investment Division, said members heard from over 250 communities or agencies asking for assistance. Of the more than $5 billion in requests, about one-third are met in the bill.
"We listened to the people of Minnesota as they told us their needs and how we could help," Murphy said. "[SS]HF1 is the answer."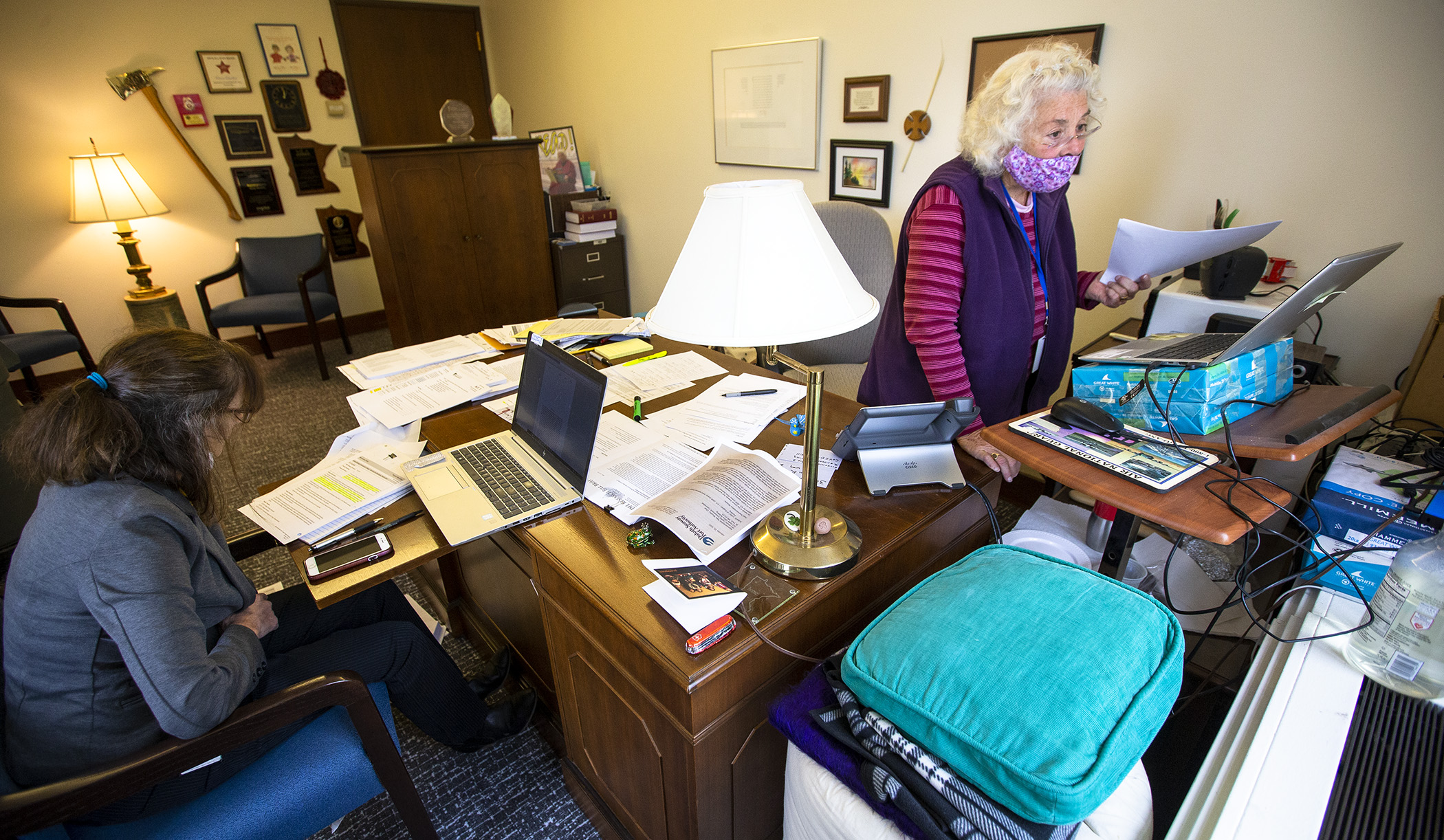 Rep. Mary Murphy, chair of the House Capital Investment Division, presents SSHF1, the omnibus capital investment bill, from her office during special session Oct. 14. Committee administrator Jenny Nash looks on. Photo by Paul Battaglia
Rep. Dan Fabian (R-Roseau) was one of several Republicans who expressed concern about the bill's cost and how much it would add to the state's budget deficit. Fabian said he supports some portions of the bill, including the tax relief it provides, but that for the first time in his 10-year legislative tenure, which will end this year, he would not be voting for a bonding bill in its final form.
"When we take the bill in its entirety, I'm just really struggling with how we're going to pay for it," Fabian said. "… We know there's a budget deficit coming, let's start doing things now and let's get our house in fiscal order."
Rep. Dean Urdahl (R-Grove City) voiced support for the bill saying the Legislature has a history of passing bonding bills in good times and in bad, during surpluses and deficits, because lawmakers have a responsibility to meet the state's needs.
"The people of Minnesota are looking to us," Urdahl said. "They want us to do what they sent us here to do. And that was to take care of this state, and that is what a bonding bill does."
The first attempt to pass a bonding package came in May at the end of the regular legislative session. It gained no Republican support and failed on a 75-58 vote. The House made a second attempt to pass a bill during the second special session in July. But that bill, which contained several of the tax provisions in the current legislation, again did not receive a single GOP vote and fell 75-57.
In addition to the public works projects funded by general obligation bonding, SSHF1 would also provide $300 million in trunk highway bonds to be used for rail grade separation projects ($110 million), state highway construction ($84 million) and flood mitigation efforts ($23 million) among other purposes. And the bill includes $100 million in housing infrastructure bonds to help buy or build housing for low-income residents.
Major appropriations in the bonding articles of SSHF1 include:
$327.6 million – Department of Transportation
$269.1 million – Public Facilities Authority
$161.8 million – Department of Employment and Economic Development
$104.4 million – Department of Natural Resources *
$90.1 million – Minnesota State University *
$88.4 million – Metropolitan Council
$75.4 million – University of Minnesota
$50.3 million – Department of Public Safety
$44.5 million – Department of Corrections
$27.4 million – Department of Human Services
$27.1 million – Pollution Control Agency
$24.5 million – Military Affairs
$24 million – Board of Water and Soil Resources
$20.8 million – Department of Health/Department of Agriculture
$16 million – Housing Finance Authority
$13 million – Minnesota Zoo
$8.9 million – Minnesota State Academies 
$6.7 million – Department of Veterans Affairs
$6.1 million – Amateur Sports Commission
$4.7 million – Department of Administration
$3.9 million – Department of Education
$3.1 million – Minnesota Historical Society
$750,000 – Perpich Center for Arts Education
* Note: These totals do not include the trunk highway ($300 million) or housing infrastructure ($100 million) bonding appropriations.
Some of the largest single-project expenditures in the bill include:
$55 million to the Met Council to increase bus rapid transit;
$52 million to replace the Third Street Kellogg Bridge in St. Paul;
$29.5 million for a new state emergency operations center;
$29.2 million to replace a child development building at the University of Minnesota;
$24 million for wastewater infrastructure in Oronoco;
$20.5 million to build infrastructure for a business park in Becker;
$18 million for the Lake Bronson Dam in Kittson County;
$13.5 million for seawall and surface improvements in Duluth;
$13 million for wastewater treatment in Randolph; and
$12.5 million for an outdoor performance venue in Minneapolis.
 
[MORE: See the full list of projects]
Tax relief
Several tax provisions are part of the package, including a tax break meant to help farmers and small business owners. It would increase the deduction on like-kind exchanges (trade-ins) from 20 percent to 100 percent and make the change retroactive for tax years 2018 and 2019.
This would allow small businesses and farmers to deduct the full expense during the first year after buying a piece of equipment and putting it into operation. Changes at the federal level have in the last couple of years required such purchases to be counted as income, which meant a higher tax bill for some.
But the federal government allows a full deduction, and the so-called "full section 179 expensing" proposed in the bill would bring the Minnesota tax code into alignment.
2020 Fifth Special Session: House Floor Session - Day 3 10/14/20
Rep. Paul Marquart (DFL-Dilworth) said that change has been the top priority for the House Taxes Committee, which he chairs, in 2020.
"Let's not miss this opportunity. There may not be another one," Marquart said. "… We can fix a retroactive tax increase that hit our businesses and farmers."
There are five other tax provisions in the bill, including one that would allow the Minnesota State High School League to use some of the revenue it generates from sales at sectional and state tournaments, which are tax exempt, for operating costs over the next couple of years. The MSHSL said this would help make up for revenue lost due to the COVID-19 pandemic.
Supplemental state government spending
The bill calls for an additional $31.37 million in General Fund spending for fiscal year 2021. Another $13.75 million in funding from the Trunk Highway Fund is called for.  
[MORE: View the spreadsheet] 
Funds are from agency savings and a 2021 General Fund appropriation change to the Department of Human Services for Medical Assistance which results in a nearly $25.06 million savings. That comes from the federal government's increased reimbursement rate for Medical Assistance. 
The General Fund spending would be: 
almost $16.03 million to support Department of Human Services' direct care and treatment services; 
$7.5 million to the Department of Corrections to, as amended, for employee compensation costs and to continue operating the Challenge Incarceration Program at the Togo and Willow Rover facilities through June 30, 2021; 
$3.58 million for Department of Public Safety "costs related to the civil unrest in the Minneapolis-St. Paul area"; 
$3.1 million to the Bureau of Criminal Apprehension, as amended to contain clarifying language, for testing of unrestricted sexual assault examination kits, storage of restricted kits, and development of a website for sexual assault survivors to learn the status of the testing of their sexual assault examination kit; 
$2.11 million for Department of Natural Resources' costs associated with response to civil unrest; 
almost $1.39 million for the BCA to enhance its capacity for forensic testing to combat violent crime; and 
$1.28 million for Capitol Security costs.
Trunk Highway Fund spending would provide: 
$7.17 million for patrolling highways; 
$5.07 million to cover state patrol deployment costs during the resulting civil unrest; 
$865,000 to the Transportation Department for its civil unrest response costs; and 
$648,000 for state patrol commercial vehicle enforcement staff and operating costs. 
Amendments
Several amendments were adopted, including a temporary pay increase for state troopers and personal care assistants, and transfer $10 million of federal coronavirus relief funds to help pay for some of the spending in SSHF1.
House Majority Leader Ryan Winkler (DFL-Golden Valley), the amendment sponsor, said it was the DFL's "best attempt" to create a bill members on both sides of the aisle could support and meet House Minority Leader Kurt Daudt (R-Crown) halfway.
An earlier amendment, unsuccessfully offered by Daudt, would have transferred $50 million of those federal funds to "replace appropriations that had previously been made from the general fund, the health care response fund, or the COVID-19 Minnesota fund that are eligible for federal coronavirus relief fund spending."
"While we know there are many important things in the bill … it is also important that we pay for the bill and know where the money is coming from." Daudt said.
An amendment successfully offered by Rep. Kelly Moller (DFL-Shoreview) aims to clarify an appropriation to pay for the storage and testing of untested rape kits.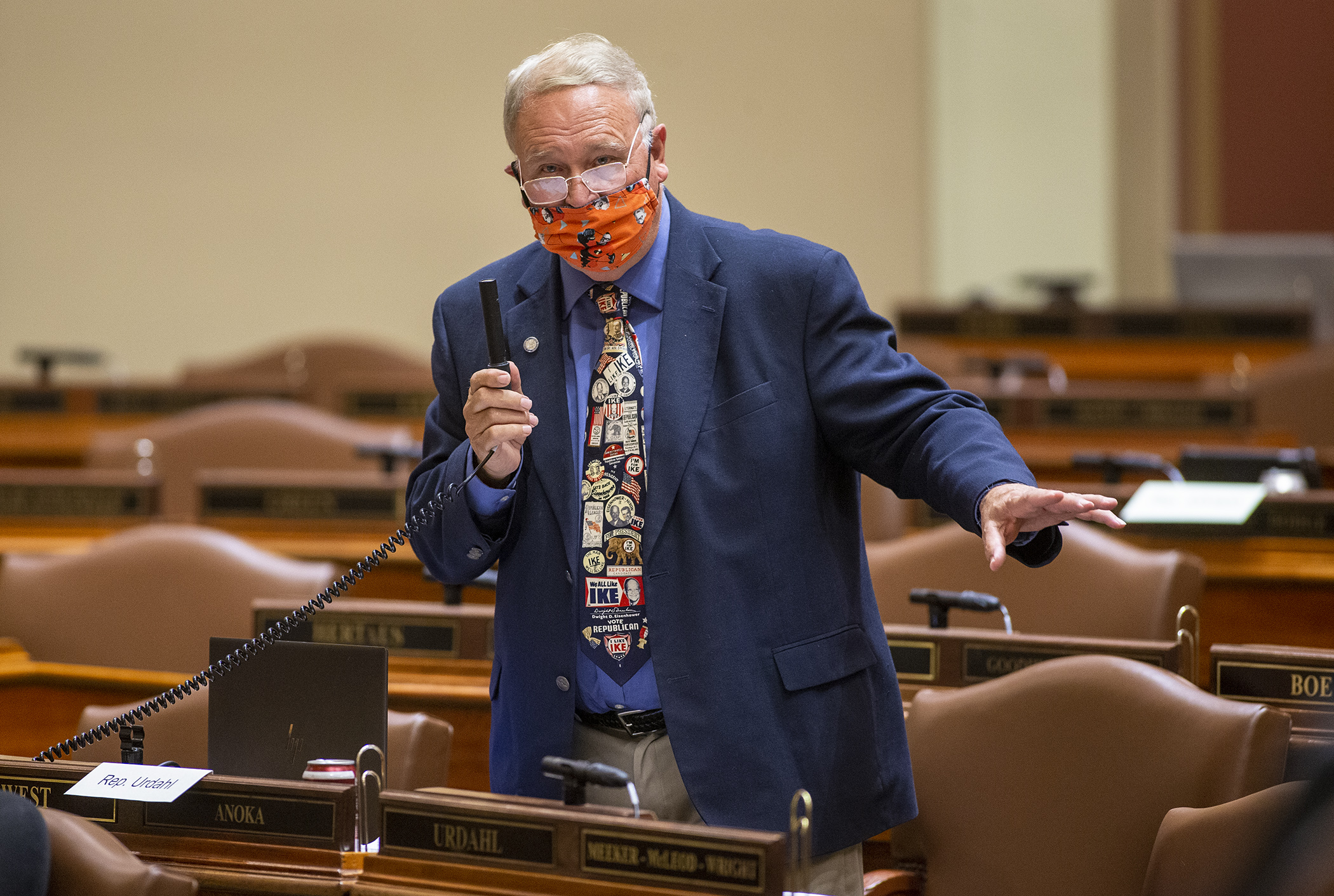 Rep. Dean Urdahl, one of 25 Republicans to vote in support of the bill, speaks in favor of SSHF1, the omnibus capital investment bill during floor debate Oct. 14. The bill passed 100-34. Photo by Paul Battaglia
"It makes clear that all unrestricted kits are to be tested," Moller said, adding that it also has consent form language for victims to help them understand the difference between restricted and unrestricted kits and information regarding a website update to allow victims to check the status of their kits.