With a looming state budget deficit and increased wants from many, the 2021 legislative session won't be easy.
Coronavirus isn't helping either — both with dollars and operations.
But the work must be done.
"We need to have a strong pandemic response and we need to have a very strong economic security approach to providing the basics in families' financial lives in Minnesota coming out of this pandemic," said House Majority Leader Ryan Winkler (DFL-Golden Valley).
House Minority Leader Kurt Daudt (R-Crown) agrees Minnesota's pandemic response and economic recovery are amongst key issues legislators must address.
2021 Session preview with House Majority Leader Ryan Winkler (DFL-Golden Valley)
"I'd like to see the Legislature rise to the level of performance that this pandemic and the response to this pandemic call for, and really match the governor and show him that we're here, we're ready to lead, we've got the right ideas to get Minnesota through this," he said.
The state's fiscal year ends on June 30, meaning a balanced budget must be completed to maintain operations. Unlike what politicians in our nation's capital are wont to do, the state cannot simply add to its credit card debt.
Released Dec. 1, the state's latest budget and economic forecast shows a projected $641 million surplus for the current biennium that ends June 30, 2021. However, a $1.27 billion budget shortfall is forecast for the ensuing two fiscal years.
So how will the DFL-controlled House and Republican-controlled Senate craft a nearly $50 billion state budget for that two-year period, while also rectifying the projected budget deficit?
That should be the crux of the 2021 legislative session.
Leaders say everything is on the table. Spending cuts? Tax increases? Fund shifting? Delayed school payments? Use state reserves?
Winkler said more federal stimulus dollars could "dramatically" affect such decisions.
2021 Session preview with House Minority Leader Kurt Daudt (R-Crown)
"It's too early to decide we're ready for a certain set of cuts, a certain set of tax increases or a certain set of budget shifts. All of that is still way up in the air," he said. "I will say that our caucus is absolutely committed to providing high-quality public services for Minnesotans. We have the resources in Minnesota to do it, and we can't afford to cut back on education or health access or child care access or all of the things that Minnesota families depend on and use to create more opportunities, more economic growth, more security for their family and communities."
"Raising taxes in an economic recovery will simply turn us around backwards and set us back and cause more harm to our economy, more job losses," Daudt said.
Status quo spending could be victory for many entities for whom the state's checkbook funds some — or much — of their activity.
"People should be measured with their expectations of what can and will happen," Daudt said.
Will those decisions be made by May 17, the constitutionally mandated date for adjournment? 
In four of the last five budget-setting years, a special session was required to complete the passage of budget bills. Members took part in seven special sessions in 2020; however, that was mainly due to the governor expanding his executive orders to battle COVID-19.
Mixed government continues
The DFL continues to control the House, although results of the November election tightened the gap from 75-59 to 70-64. Meanwhile, the Senate continues to be controlled by Republicans, 34-31-2. Sen. Tom Bakk (I-Cook) and Sen. David Tomassoni (I-Chisholm) have left the blue side of the aisle to form an independent caucus.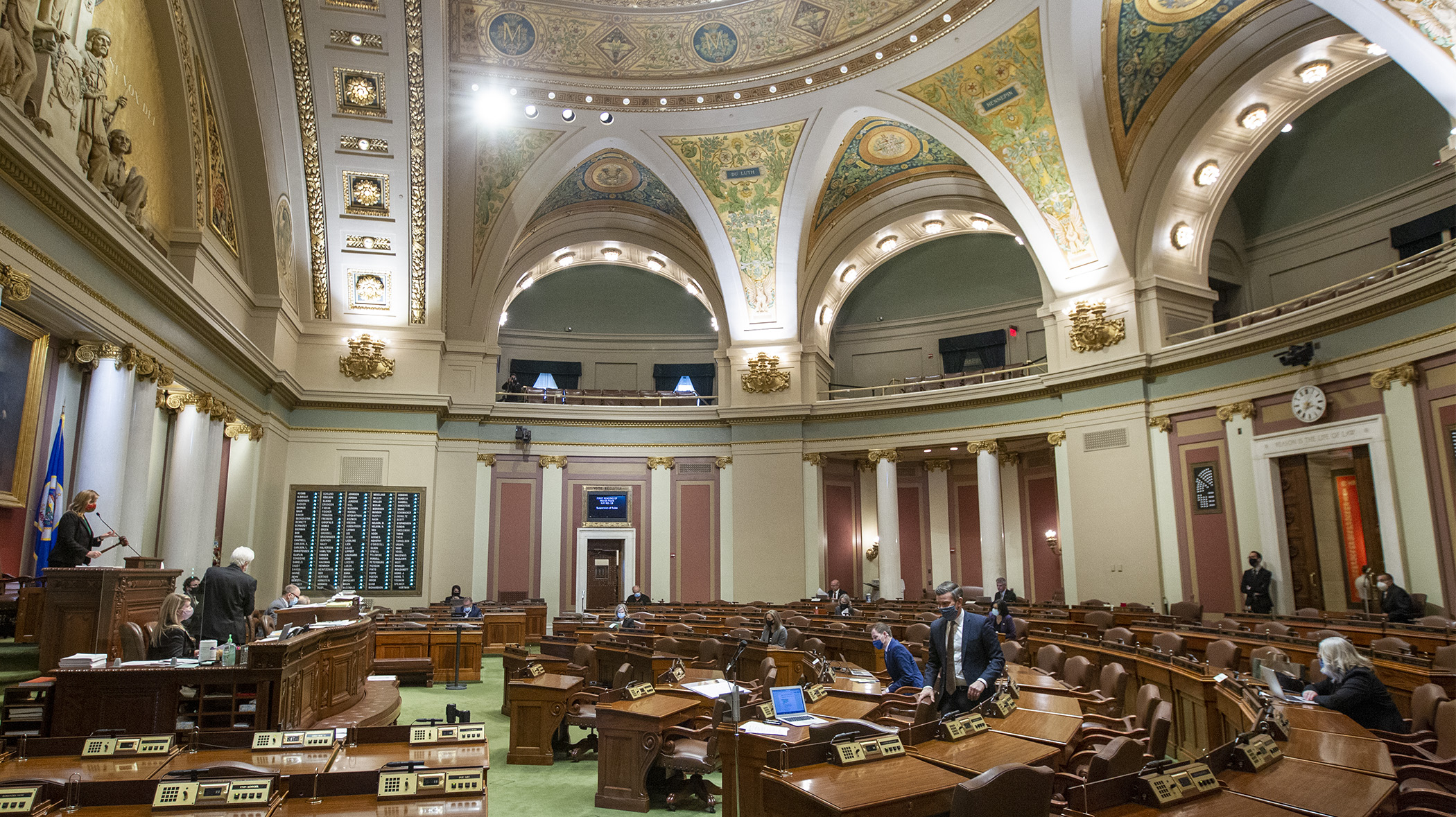 Members finish a roll-call vote during the seventh special session of the year Dec. 14. Most representatives participated remotely. Photo by Paul Battaglia
Twenty-one House members will be freshmen, with a dozen of those being DFLers. In addition to nine first-term Republicans, Rep. Matt Bliss (R-Pennington) and Rep. Keith Franke (R-St. Paul Park) also return after winning back seats both lost in 2018.
November's election featured partisan rancor that showcased a political divide across the state and country with accusations aplenty that each side has moved further from the center of the political spectrum. In 2021, can Minnesota legislators on each side prove bipartisanship is possible?
They have many opportunities.
In addition to the budget, myriad issues could come into play, including: further helping small-business owners financially hurting from COVID-19, stripping the governor's executive powers, election updates, additional law enforcement changes, race relations, climate change, school funding and tax adjustments for the state's poorest and wealthiest residents.
Redistricting is also up for discussion. Based on the new census numbers, the once-a-decade activity involves redrawing legislative and congressional boundaries to create districts that are nearly equal by population. This is expected to create larger geographic districts outside — and small geographic ones within — the population-heavy Twin Cities metropolitan area.
In recent decades, the Legislature has failed to reach agreement, and a bipartisan panel within the court system has completed the task.
Openness and transparency
Although vaccines have begun to be administered in Minnesota, the continuing battle against COVID-19 is altering House and Senate operations.
In an era where Zoom-type meetings have replaced much physical interaction, House hearing rooms are expected to remain dark with members meeting remotely through the 2021 session. The Senate plans for a more hybrid model.
"We've been operating this way, remotely for eight or nine months. I think we have figured out how to handle committee hearings, how to handle floor sessions, how to make sure we're giving the public notice and provide an opportunity for input," Winkler said. "… We may make mistakes along the way in a virtual, pandemic environment and we want to hear from people if they feel like we need to do a better job or be more open or be more transparent in some ways. We really want feedback on that."
To help with access, the House has expanded the number of simultaneous committees or divisions it can webcast live from a maximum of two to five.
"I'm hoping the last month we can actually be here in person, but I think that might be a little optimistic," Daudt said.