A last-minute push by a state agency and its partners ensured that the state spent down a fund dedicated to helping renters and homeowners during the COVID-19 pandemic.
On Tuesday, Housing Finance Agency Commissioner Jennifer Ho updated the House Housing Finance and Policy Committee on its pandemic response, among other efforts.
Last summer, the state established the COVID-19 Housing Assistance Program with $100 million it received from federal coronavirus relief funds. The program was open to applicants from Aug. 24 through Dec. 7, at which point the agency closed it to ensure a federal deadline for distributing funds was met.
The agency received 28,011 applications requesting $67.2 million between Aug. 24 and Nov. 30. In the last seven days of the program, it received approximately 14,000 applications for $35 million, Ho said.
She said that the most recent federal COVID-19 stimulus package extended the deadline for processing claims into 2021.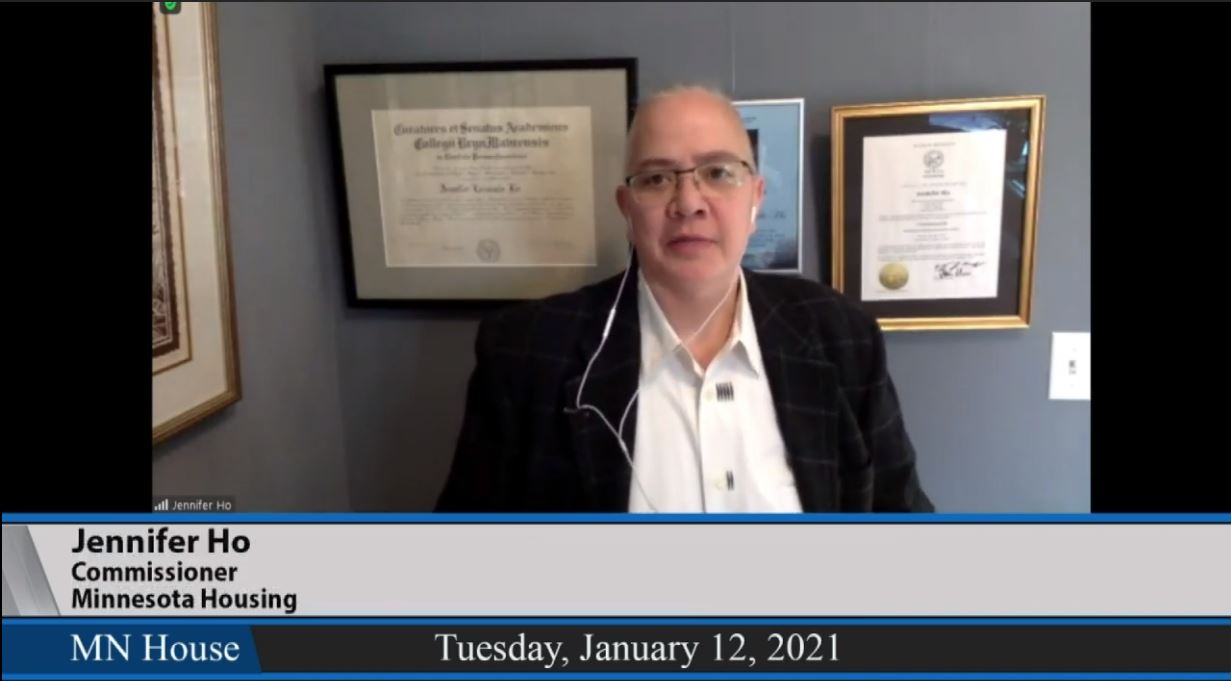 Housing Finance Agency Commissioner Jennifer Ho testifies remotely during Tuesday's hearing. Screenshot
"We are doing that fast and furious as we speak," she said.
Minnesota will receive nearly $400 million in emergency rental assistance from the recently passed stimulus package, Ho said. The money is only available to renters and can cover rent, utilities and home-energy costs. Renters must have an income less than 80% of the area median — $103,400 for a family of four in the Twin Cities — and must be able to demonstrate a "risk of experiencing homelessness or housing instability."
The legislation requires the state to prioritize assistance to households that have incomes below 50% of the area median and households where individuals have been unemployed for 90 days.
Ho said the pandemic came as state leaders continue dealing with a housing shortage that dates back to the Great Recession.
About 200,000 renter households in the state do not have confidence in their ability to make their housing payments, she said. Additionally, there's a wide disparity in homeownership rates between white and Black Minnesotans, and barriers such as eviction filings can make it harder for people to get housing.
The Housing Finance Agency, which spent over $1.4 billion on housing assistance in fiscal year 2019, draws about 7% to 10% of its funding from the state. The agency is seeking $115.6 million in state funding this biennium.