Tuesday was an opportunity for the Department of Human Rights commissioner to tout the work her agency does fighting discrimination in the state.
But it was also a day when Commissioner Rebecca Lucero responded to a February 2020 report finding that her department has failed to conduct timely investigations of discrimination cases.
In a presentation to the House Judiciary Finance and Civil Law Committee, Lucero said the department is charged with enforcing the Minnesota Human Rights Act, which prohibits discrimination in employment, housing, public accommodations, public services, education, credit, and business based on protected class, such as race, religion, disability, national origin, sex, marital status, familial status, age, sexual orientation, and gender identity.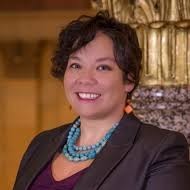 Department of Human Rights Commissioner Rebecca Lucero
"We are a small, but mighty team," Lucero said of the department, which has 45 full-time employees, a $10 million biennial budget, and a presence in all 87 Minnesota counties.
"Minnesota has some of the highest rates of racial discrimination in the country," Lucero said, adding that anti-Semitism, xenophobia, misogyny, racism, and ableism remain pervasive countrywide.
"This is an important time to be deeply dedicated to ending discrimination and creating a more equitable and inclusive state," she said.
Lucero outlined the three main duties her department has in enforcing and implementing the Minnesota Human Rights Act:
investigating charges of discrimination;
ensuring equity and inclusion for state contracting; and
educating to reduce discrimination and disparate outcomes.
The bulk of her department's workload is investigating charges of discrimination, Lucero said, and that by far the most common place for discrimination to occur is the workplace.
A 'large backlog of unprocessed cases'
A February 2020 Office of the Legislative Auditor report found the department "has not conducted timely investigations of alleged discrimination cases as required by law."
Among its findings: the department took more than one year to complete investigations for a majority of cases, and it has adopted few strategies "to effectively manage a large backlog of unprocessed cases and other problems."
In response to questions from Rep. Cedrick Frazier (DFL-New Hope), the commissioner said the report "rightly confirmed" a department problem in resolving cases in a timely manner.
"These are complicated cases," Lucero said, and they can take a long time to be resolved.
All steps recommended in the auditor's report have been implemented, which has led to a more efficient intake process, where a decision is made more quickly on whether an alleged discrimination can be pursued by the department.
Other steps taken, according to Lucero, have led to a quicker and more forceful mediation process, and a more streamlined investigation process.
Still, with only 14 investigators to pursue alleged cases of discrimination statewide, there will continue to be "capacity problems" for a while, said Lucero. But she expects that over time, the changes implemented by her department will lead to further reductions in the backlog of cases.