The pandemic has taken a toll on the state's education system, leading to learning losses and widening opportunity gaps.
To help mitigate these impacts, HF4, as amended, would assist students and schools adversely affected by COVID-19 through added investments, a modification for general education revenue calculations and temporary policy provisions.
The bill, sponsored by Rep. Hodan Hassan (DFL-Mpls), was approved 17-1 on a roll-call vote Wednesday by the House Education Policy Committee and now heads to the House Education Finance Committee. The companion, SF64, awaits action by the Senate Education Finance and Policy Committee. Sen. Chuck Wiger (DFL-Maplewood) is the sponsor.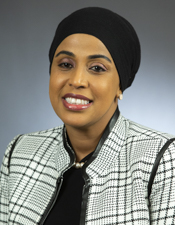 Rep. Hodan Hassan
"We know and understand how critical education is to the future of our state and our economy, so investing in education and figuring out a way to minimize opportunity gaps widened by this pandemic is an economic strategy for all of us," Hassan said.
The impacts of the pandemic led to an unforeseen dip in student enrollment for the 2020-2021 school year, which educational leaders believe will be temporary. Given this possible fluctuation, and its impacts on school district budgets, the proposal would allow districts to calculate their general education revenue for the 2021-2022 school year based on the greater number of pupil units for fiscal year 2020 or fiscal year 2021.
"Districts do not want to lay off good staff, and your help in stabilizing their budgets could spare many people otherwise unnecessary layoff notices. We're hopeful the loss of pupils is temporary and that they will return next year," said Bob Indihar, executive director of the Minnesota Rural Education Association.
The bill also contains several provisions geared toward supporting students with special needs, including measures that require school districts and charters to prioritize on-site instruction for students with disabilities.
House Education Policy Committee 01/20/21
Additionally, it could expand learning opportunities outside of the regular school day by authorizing school districts to offer extended time programming, including summer school. It also would modify funding formulas to cover costs associated with these additional instructional hours.  
While supportive of the measure, Rep. Heather Keeler (DFL-Moorhead), asked what plans are in place to provide additional transportation and food services for children that would utilize these afterschool and summer programs.
"If we're going to keep kids longer, if we're going to keep kids throughout the summer, there's no indication in policy that we're actually going to expand our transportation," she said. "In my community we already struggle finding bus drivers for the current days and schedules."
Rep. Sondra Erickson (R-Princeton) supports the proposal but offered a variety of policy ideas and items for consideration as the bill moves forward through the committee process, including ways to best pinpoint which students will need the most help.
HF4 includes the following appropriations:
$6 million for trauma-informed and systemic staff development to support students with adverse childhood experiences;
$5 million to Ignite Afterschool for grants;
$3 million to ServeMinnesota for additional math corps activities;
$2 million to ServeMinnesota for additional reading corps activities;
$2 million in fiscal year 2021 for full-service community school planning grants to expedite the implementation of full-service community school programs during the 2021-2022 school year;
an unspecified amount of money for summer school programs for students with disabilities; and
an unspecified amount of money for expanded extended time programs during fiscal year 2021 and the summer of 2021.