To protect Minnesota's deer herd from a fatal brain disease, a House committee for a second straight year has approved a provision that would allow licensed hunters to shoot and keep escaped farm-raised deer.
HF219, a six-part natural resources bill that includes the provision, was approved 14-5 by the House Environment and Natural Resources Finance and Policy Committee Tuesday and now heads to the House floor. There is no Senate companion.
Bill sponsor Rep. Rob Ecklund (DFL-International Falls) said the aim is to protect Minnesota's wild deer from chronic wasting disease, which is always fatal, has no cure and can survive for years in the environment.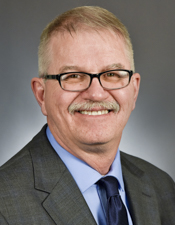 Rep. Rob Ecklund
Since 2002, CWD-positive deer and elk have occasionally been found on farms throughout the state, which raise animals for meat and to be killed by hunters who enjoy specific characteristics, such as large antlers.
Authorities worry about escaped deer and elk spreading the disease to wild animals and potentially endangering the state's prominent deer-hunting industry.
About 100 animals escape farms each year. Current law requires deer and elk farmers to try their best to capture escaped animals as soon as possible. But it doesn't address rare situations in which hunters, who might not be able to distinguish them from wild animals, accidentally shoot and kill a farm-raised deer.
Under the bill, hunters who do so would not be required to pay the deer farmer for the animal. The bill also would require the deer farmers to pay to test the animal for CWD.
Rep. Josh Heintzeman (R-Nisswa), voted to approve the bill, but took issue with the escaped deer provision. He said a lot of the escapes are no fault of deer farmers.
Advocates said it would alleviate worries hunters could have over potentially killing a farm-raised animal by accident. They said the provision would only apply to licensed hunters who kill deer during hunting seasons, meaning that it wouldn't apply to hunters who violated property rights to take a farmed animal.
Representing the Minnesota Deer Farmers Association, Tim Spreck said he worries about such situations.
Animals raised by deer farmers can be worth thousands of dollars, given preferred characteristics such as large antlers.
The bill would also require the tags on farm-raised whitetail deer include contact information for the owner, and it would bar the importation of all deer and elk carcasses, not just ones killed by hunters. Other provisions address muzzleloaders and the use of deer stands in certain wildlife management areas.
Rep. Dale Lueck (R-Aitkin) said he thinks that existing tagging provisions are sufficient for connecting the owners of escaped animals with people who encounter them. His motion to refer the bill to the House Agriculture Finance and Policy Committee was defeated 11-8 on a party-line vote.