More people could use telehealth technology to continue meeting with their psychologists — even across state lines — under proposed legislation that would make Minnesota a part of the Psychology Interjurisdictional Compact.
The House Health Finance and Policy Committee unanimously approved HF269, sponsored by Rep. Kelly Morrison (DFL-Deephaven), Wednesday and referred it to the House Judiciary Finance and Civil Law Committee.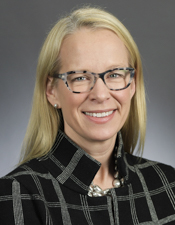 Rep. Kelly Morrison
A companion, SF193, is sponsored by Sen. Michelle Benson (R-Ham Lake) and awaits action by the Senate Civil Law and Data Practices Policy Committee.
Fourteen states have joined the compact — also called PSYPACT — and a dozen more, including Minnesota, have pending legislation, Morrison said.
In addition to allowing licensed psychologists to provide telepsychology services, the bill would allow them to provide temporary, in-person, face-to-face services without having to become licensed in additional states.
In addition to providing continuity of care for people who travel or relocate, the bill aims to:
improve access to care in underserved or geographically isolated communities;
promote cooperation between states regarding regulation and licensure;
improve consumer protection across state lines; and
decrease the logistical burden for psychologists.
"It enables continuity of care and access to care with good public oversight," said Dr. Trisha Stark, chair of the Minnesota Psychological Association's legislative committee.
Anyone practicing as part of the compact would be required to maintain an awareness of local resources, should an emergency arise, and must be culturally competent to serve within a community, she said.
The bill would also improve the Board of Psychology's ability to expel or discipline people practicing in Minnesota without a license and to cooperate with other states on disciplinary issues, said Samuel Sands, the board's executive director.
The board would absorb costs associated with the bill — $26,000 in fiscal year 2021 and about $36,000 annually moving forward — he said.
Federal COVID-19 relief funds are currently available to help psychologists cover the $400 licensing fee, but only until Jan. 31, 2021, so there is an advantage to getting the bill vetted as quickly as possible, Stark said.