The arm of the law is long, but not yet long enough to reach across the Canadian border.
That would change under HF113, which would permit Minnesota to enforce protection orders issued in Canada while the person under protection is in the state.
The House Judiciary Finance and Civil Law Committee approved the bill 17-0 Thursday and sent it to the House Floor. The companion, SF395, sponsored by Sen. Mark Johnson (R-East Grand Forks), awaits action by the Senate Civil Law and Data Practices Policy Committee.
"We believe this legislation will help ensure survivor safety and offender accountability on either side of the border," said Katie Kramer, policy director of Violence Free Minnesota.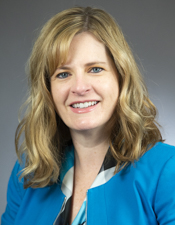 Rep. Kelly Moller, the bill's sponsor
Kramer and other testifiers said women who have suffered domestic abuse comprise the majority of victims having protective orders, and their male abusers will often follow them, even across international borders.
A Canadian woman in the state for whatever reason, but especially one trying to evade her abuser, "should be able to call law enforcement directly without a concern that Minnesota won't recognize her Canadian order of protection," said Kramer.
Under current law, Minnesota enforces orders issued by other states along with the federal and tribal governments that would be an order for protection if issued in this state, said Michele Timmons, a Uniform Law Commissioner.
In her presentation, Timmons said Canadian provinces of Manitoba, Saskatchewan, British Columbia, and Quebec already recognize and enforce Minnesota orders for protection.
Rep. Brian Johnson (R-Cambridge) supports the legislation, but noted Minnesota law enforcement officers may have difficulty verifying a Canadian order for protection if the person under protection does not have certified paperwork in hand.
Johnson said he's worried about false arrest scenarios that could open up officers to legal liability.
Rep. Kelly Moller (DFL-Shoreview), the bill sponsor, replied there would be several safeguards in place to prevent those problems.
The bill would permit victims, under current state law, to register their Canadian orders of protection with the Bureau of Criminal Apprehension, she said. Those records would then be available electronically to law enforcement officers and agencies 24 hours a day.
Plus, Moller said law enforcement officers asked to enforce a Canadian order without having certified proof of the order's validity would do so under a probable cause assessment, a core principle of police practice used all the time.
They would therefore have legal immunity if they made an error, but acted in good faith, she said.