For several years, advocates have pushed for legislation to increase diversity in the state's teacher workforce. Their work has culminated in the Increase Teachers of Color Act 2021.
The House Education Finance Committee gave the proposal its second hearing Wednesday and held it over for possible omnibus bill inclusion.
"We know that students having teachers who look like them is a crucial element to our school climate and that Minnesota has a lot of work to do in this area," said Rep. Jim Davnie (DFL-Mpls), the committee chair.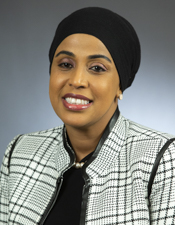 Rep. Hodan Hassan
Rep. Hodan Hassan (DFL-Mpls) sponsors HF217, which — in addition to including several policy provisions — would appropriate $44.9 million for mentorship, retention and grant programs.
Rep. Lisa Demuth (R-Cold Spring) unsuccessfully offered three amendments that would have expanded the professional license designation to include Tier 1 and Tier 2 licenses; repealed the requirement for schools to try to hire a Tier 2, Tier 3 or Tier 4 licensed teachers before a Tier 1 licensed teacher; and would have prohibited the use of seniority in the hiring or dismissal of a teacher.
"Advocates from communities of color highlighted that policies commonly referred to as 'last in, and first out' have a negative effect and impact on educators of color," Demuth said. "Ending this outdated, quality-blind practice for teacher retention will have a positive impact plugging the holes in our system that push too many teachers of color out of our classroom"
Hassan indicated that she is working with stakeholders to reform last-in, first-out policies, but did not support the amendment. All three failed on 9-7 party-line votes.
The Senate companion, SF446, awaits action by the Senate Education Finance and Policy Committee. Sen. Jim Abeler (R-Anoka) is the sponsor.