In Minnesota, black women are 2.3 times more likely to die of pregnancy- or childbirth-related causes than their white counterparts, and the Native American maternal mortality rate is about four times higher. And almost half of maternal deaths occur in Greater Minnesota.
These statistics were only a few of those – pointing to racial disparities impacting mothers and infants – presented to the House Health Finance and Policy Committee Wednesday by Dr. Rachel Hardeman, associate professor and Blue Cross Endowed Professor of Health and Racial Equity at the University of Minnesota School of Public Health.
"A majority of these deaths, over 60% of them, are preventable," but disparate outcomes still persist, even when factors like socio-economic status, education, general health, marital status, and lifestyle are taken into account, Rep. Ruth Richardson (DFL-Mendota Heights) said.
She sponsors HF660, also known as the "Dignity in Pregnancy and Childbirth Act," which includes a few provisions intended to address and better understand disparities in maternal and infant morbidity and mortality.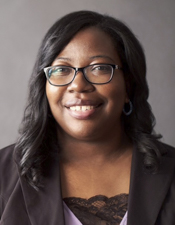 Rep. Ruth Richardson
It was approved, as amended, and referred to the House Judiciary Finance and Civil Law Committee, with the expectation that it will return to the health committee for further consideration once a fiscal note is available, said Rep. Tina Liebling (DFL-Rochester), the committee chair.
A companion, SF877, is sponsored by Sen. Patricia Torres Ray (DFL-Mpls) and awaits action by the Senate Health and Human Services Finance and Policy Committee.
"Black women cannot educate their way out of this problem by earning advanced degrees. We cannot health-care-access our way out of this problem, nor can women's income buy their way out of this problem," Richardson said. "It tells us something is inherently wrong with the system: that it's not valuing black women's lives equally to white women's lives."
Infant mortality rates are also unequal, with a gap persisting between black and white babies, even as the mortality rate has declined over time, Hardeman said.
As amended, the bill would require hospitals that provide obstetric care and birth centers to supply continuing education on implicit bias and anti-racism training..
This includes not only the initial training – to be completed by Dec. 31, 2022 – but also annual refresher courses, and the provision of continuing education materials to direct care employees and contractors who routinely care for pregnant or postpartum patients.
The bill would also require the Department of Health to improve the availability of doulas and midwives to communities impacted by the most significant disparities, including through changes to licensure and the promotion of racial, ethnic, and language diversity in the workforce.
Roots Community Birth Center in North Minneapolis is one example of a highly successful, midwife-founded model with a community-focused, "culturally centered model of care," Hardeman said.
They are currently working to identify elements of the model that can transfer effectively to other settings where people give birth, she said.
"It's one piece of a bigger system we need to be thinking about," Hardeman said.
The bill would further provide authorization for the Department of Health to study maternal morbidity – injuries and incidents related to pregnancy or childbirth that did not result in death – as well as mortality.
"Maternal mortality, thankfully, is a rare event, despite the disproportionate impacts … but we have many who are harmed," said Rep. Kelly Morrison (DFL-Deephaven). "It's important that we study those near misses."
Even if a woman survives an adverse medical event related to pregnancy or childbirth, the entire course of her life – and her children's lives – could be changed, she said.
Brittany L. Wright, a maternal health advocate, said she is still dealing with complications from the birth of her 2-year-old daughter, during which she contracted a fever, suffered from convulsions, and struggled to get immediate assistance from medical professionals.
"It's terrifying to be a Black woman bringing a child into the world right now," she said.