A one-time, pandemic-related funding boost to a program that enables Second Harvest Heartland and five other Minnesota food banks to purchase in-state dairy, produce and protein products could be extended.
HF790, sponsored by Rep. Jessica Hanson (DFL-Burnsville), would increase funding for the Farm to Foodshelf program from $1.7 million to $2.95 million in fiscal year 2021.
It would increase the proposed base funding for the program during the 2022-23 and 2024-25 bienniums by the same amount.
The bill, laid over Monday for possible omnibus bill inclusion by the House Agriculture Finance and Policy Committee, would allow the food banks to continue purchasing Minnesota-produced protein products.
The food banks would still be required to spend at least $600,000 on milk each year.
The bill has no Senate companion.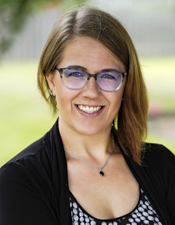 Rep. Jessica Hanson
In April 2020, amid concerns about increasing hunger during the pandemic, the Legislature increased funding for the Farm to Foodshelf program from $1.7 million to $2.95 million for the 2020 fiscal year.
The program, created in 2015, gives the food banks funding to buy Minnesota-produced milk and reimburse farmers who harvest surplus fruits and vegetables that might otherwise be wasted.
Second Harvest Heartland officials say 37 million pounds of surplus produce and over 1 million of gallons of milk have been distributed because of the program.
As part of the April 2020 action, the Legislature also allowed the food banks to purchase in-state protein products, such as eggs, cheese and meat, in addition to surplus produce and milk.
One in nine Minnesotans is facing hunger, up from one in 11 two years ago, according to Second Harvest Heartland, which is based in Brooklyn Park.
CEO Allison O'Toole said the agency has distributed 30% more food since the pandemic began, adding that its partner food shelfs have reported a 60% increase in visitors.
She said the $1.25 million funding boost in 2020 allowed food banks to distribute 400,000 pounds of protein products and an additional 260,000 gallons of milk.
The six food banks in the Farm to Foodshelf program are all affiliated with the national organization Feeding America. They are Second Harvest Heartland, Duluth-based Second Harvest Northern Lakes Food Bank and Grand Rapids-based Second Harvest North Central Food Bank, East Grand Forks-based North Country Food Bank, Inc., Rochester-based Channel One Food Bank and Fargo-based Great Plains Food Bank.