Between May 24 and June 16 of 2020, more than 1,500 businesses in Minneapolis and St. Paul were damaged or destroyed by vandals and arsonists. The most destructive paths were along five miles of Lake Street in Minneapolis and a 3.5-mile stretch of University Avenue in St. Paul's Midway area.
"We responded to over 250 calls," said St. Paul Fire Chief Barton "Butch" Inks speaking of the night of May 28-29. "Almost 50 of them were confirmed structure fires. We dealt with what would normally be six months of work in a 12-hour period."
The rebuilding continues, but everyone involved in the redevelopment process says more money is needed for affected businesses.
A bill sponsored by Rep. Fue Lee (DFL-Mpls) looks to bonding as a potential source of funding.
HF728, as amended, would authorize the sale and issuance of $300 million in redevelopment appropriation bonds for areas of Minneapolis and St. Paul adversely affected by last summer's civil unrest.
House Capital Investment Committee 02/16/21
Approved by the House Capital Investment Committee on an 11-8 party-line vote Tuesday, it was referred to the House Workforce and Business Development Finance and Policy Committee. The companion, SF1008, is sponsored by Sen. Bobby Joe Champion (DFL-Mpls) and awaits action by the Senate Capital Investment Committee.
Bond proceeds would go to the Department of Employment and Economic Development for grants to the two cities: $200 million to Minneapolis and $100 million to St. Paul. Minnesota Management and Budget may also use the bond proceeds for debt service on the bonds, which is estimated to be $20.7 million annually, beginning in fiscal year 2022.
The bill emphasizes the dollars be used to rebuild and retain existing small businesses and enhance economic opportunities for long-term residents.
Among the 12 testifiers speaking in favor of the bill, some told emotional tales of being present as their businesses were vandalized. 
"I was no more than 15 feet from the entrance where I normally would greet customers when total strangers looted my American dream," said Rob Yang, owner of footwear and clothing store Phenom, who had stores damaged in both cities. "Let us see how we can help rise from the ashes of this destruction."
St. Paul's director of planning and economic development, Nicolle Goodman, said 261 businesses were damaged in St. Paul, while Erik Hansen, director of economic policy and development for Minneapolis, said damage exceeded $350 million across the city, with 22 million square feet of commercial space impacted.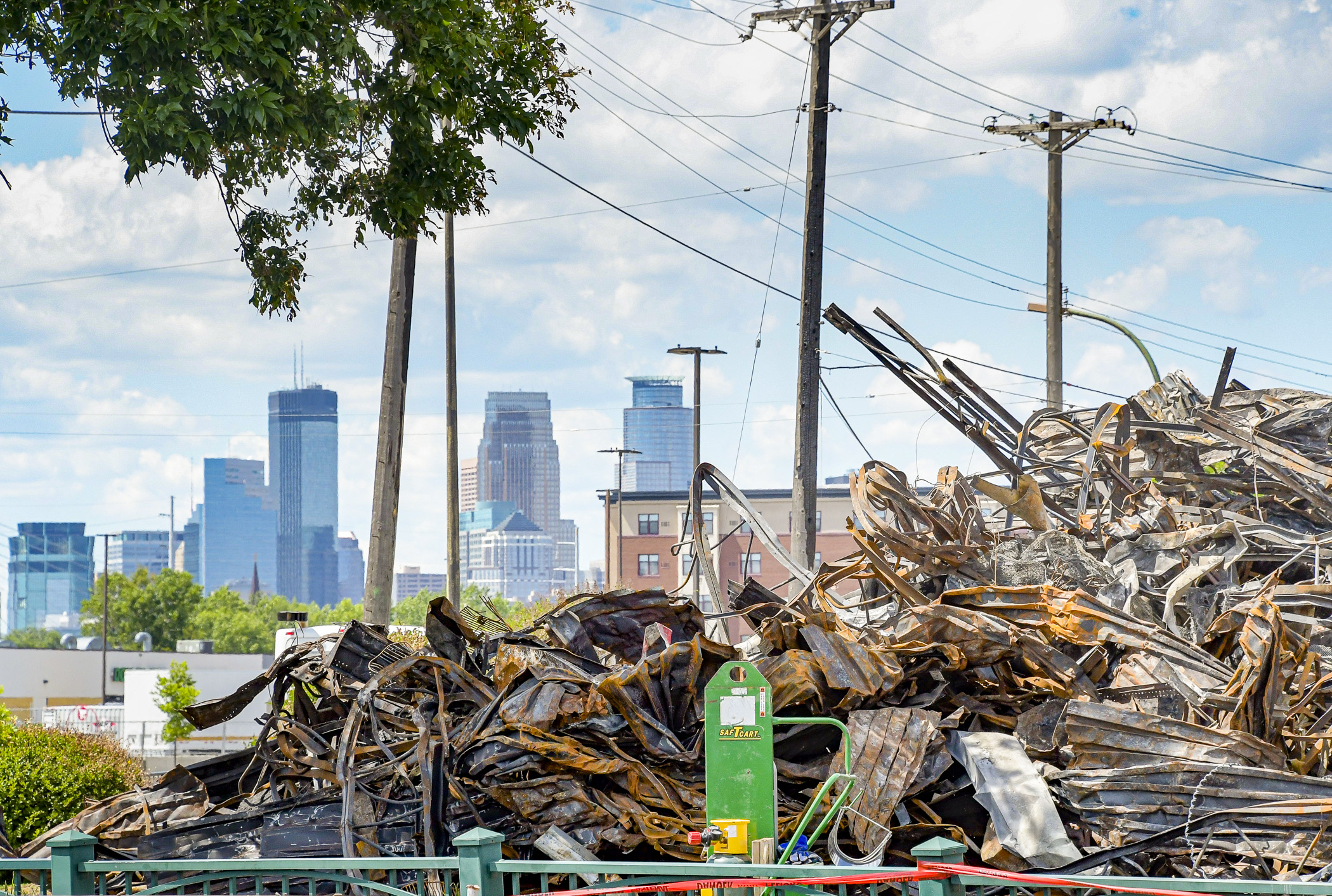 Destroyed businesses on East Lake Street in Minneapolis, pictured as cleanup was underway in June 2020. Photo by Andrew VonBank
Allison Sharkey, executive director of the Lake Street Council, talked about the financial challenges of rebuilding.
"Our business community wants to invest," she said. "They want to buy the properties, but they're finding there's a big financing gap. Insurance covers about 25% usually, so there's a gap of $200 million for rebuilding small businesses on Lake Street. … We could ignore this gap and the properties would falter."
"The best investment is in businesses with a proven track record," said Henry Jimenez, executive director of the Latino Economic Development Center. "Many of these businesses have been tenants of these buildings for years. With these investments, many would be able to own and rehabilitate their buildings."
Response to the legislation among committee members was mixed.
"Make no mistake that we want to give help where help is needed," said Rep. Dean Urdahl (R-Grove City). "But we are essentially being asked to use a high-interest credit card."
How high that interest rate is depends upon the timing of the bond sale. The nonpartisan House Fiscal Analysis office indicated some recent general obligation bonds have held an interest rate of 1.49%, while some trunk highway bonds were sold at 0.45%.
Rep. Jordan Rasmusson (R-Fergus Falls) said that he used to live off Lake Street and was heartbroken by the devastation.
"We want you to rebuild," he said. "I wish I could support the bill, but first Minneapolis and St. Paul need to deal with public safety. … And I think that using appropriation bonds sets a bad precedent."
Rep. Rick Hansen (DFL-South St. Paul) said he believes precedent for using appropriation bonds has been set with past rebuilding of damaged infrastructure after floods.
"Don't be fooled into thinking that we stand alone," said Rep. Leon Lillie (DFL-North St. Paul). "When a tornado comes through, I'm here to help you. This is a little different, but I love the hope here of helping those who need it. … We have a capacity to help each other, and it's a sad day when we don't do that."