Three people with life-threatening illnesses told a House panel Tuesday the cost of the medications keeping them alive: $56,000 per year, $103,000 per year, and $250,000 per year.
One of them, Bob Miller, who has multiple sclerosis, said his costs would be double if he hadn't been forced to "roll the dice" by taking only half the amount of the medication he was prescribed.
"As a doctor, I regularly see patients struggle to afford the drugs they need," said Rep. Kelly Morrison (DFL-Deephaven), a physician and sponsor of HF801 that would put a cap on some drug prices.
"Drugs don't work if people can't access them because they can't afford them."
The House Commerce Finance and Policy Committee approved the bill, as amended, on an 11-7 party-line vote and sent it to the House Health Policy and Finance Committee. There is no Senate companion.
The bill would establish a Prescription Drug Affordability Board and a related advisory council to review the cost of prescription drugs and set upper payment limits for drugs whose cost creates an affordability challenge to the state health care system or patients.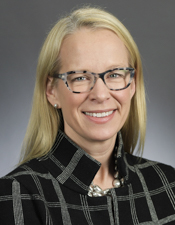 Rep. Kelly Morrison
It would incorporate many of the recommendations in the February 2020 report of the Advisory Task Force on Lowering Pharmaceutical Drug Prices, established in 2019 by the Office of the Minnesota Attorney General.
"People are having trouble affording their lives, and the cost of prescription drugs is a major factor in that," said Attorney General Keith Ellison.
The bill would give the attorney general the power to pursue criminal charges if there is evidence of intentional profiteering by drug manufacturers or others.
Ramae Hamrin, a Bemidji school teacher who went on leave when she was diagnosed with multiple myeloma, said the high cost of her medication will very soon cause her to "deplete my life savings, cash out my 401k, and sell my house."
"When those funds run out, I'm not sure what I will do," she said. "Usually, I'm a planner, but I cannot plan for this."
Peter Fjelstad, senior director of state policy of the Pharmaceutical Research & Manufacturers of America, said his organization opposes the legislation because the price caps could limit the availability of prescription drug options to Minnesotans.
He is also concerned that a provision to establish the drug affordability board to examine how pharmaceutical manufacturers price their drugs may result in unlawful disclosure of trade secrets and sensitive commercial information.
Rep. Eric Lucero (R-Dayton) and Rep. Barb Haley (R-Red Wing) spoke against the bill, saying the price caps would stifle any market competition that could lower drug prices.
Lucero added that the price caps, by lowering profits for drug makers, would reduce innovation and the development of new drugs.
Rep. Jim Davnie (DFL-Mpls) argued that the real limiters of competition and innovation are the large, multinational pharmaceutical companies themselves, which can monopolize markets, squeeze out new innovators, and manipulate patents to prevent or delay the creation of generic alternatives.
Other proposals now in the House would expand the attorney general's authority to address price-gouging of prescription drugs (HF844) and to negotiate the price of purchased prescription drugs for Medical Assistance and MinnesotaCare enrollees (HF8).