Arjun Maheshwari told the House Preventive Health Policy Division Wednesday that he's seen the dangers of vaping firsthand, watching as years of advertising have drawn his friends and loved ones to flavored tobacco causing dire health consequences.
That's why the Edina High School senior said he is "thrilled" by a bill to prohibit the sale of flavored tobacco and related products that was approved by members after hearing from a number of testifiers on each side of the issue.
Sponsored by Rep. Cedrick Frazier (DFL-New Hope), HF904 was endorsed on a 7-4 party-line vote and referred to the House Health Policy and Finance Committee. There is no Senate companion.
The bill seeks to ban flavored tobacco and related products, defining them, in part, "as nicotine or a delivery product that imparts a taste or smell other than the flavor of tobacco." The ban would include menthol cigarettes.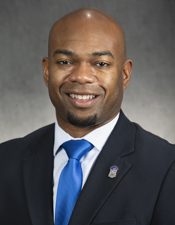 Rep. Cedrick Frazier
"The plain and simple truth is this: The vaping industry is appealing for one reason, and it's because of its flavors," Maheshwari said.
Frazier said the bill would subject tobacco retailers to the same fines they now pay for other tobacco violations. However, users would not be fined because the legislative intent is not to penalize addiction, he said.
"Clearing the market of flavored tobacco products would have wide-ranging health benefits," Frazier said, adding that ending the sale of menthol products would help address "the health crisis of racism" by addressing the threat they pose to Black communities, who have historically been targeted by tobacco companies.
Other provisions in the bill would:
allow local governments to impose stiffer penalties;
include a presumption that if makers or sellers of tobacco products claim the product imparts a taste or smell other than tobacco, it can be considered a flavored product; and
specify that administrative penalties shall be calculated per item and per transaction, and would allow them to be assessed cumulatively.
In written testimony, the American Heart Association said there has been an increase in youth tobacco use for the first time in nearly two decades, and e-cigarettes along with "kid friendly flavors" are to blame.
"Flavored tobacco products are a key reason Minnesota is facing a youth nicotine epidemic," the organization wrote, adding that 67% of high school tobacco users say they use a flavored product.
Blue Cross and Blue Shield of Minnesota also submitted testimony, writing that one in four 11th grade students in Minnesota has reported using e-cigarettes, a 54% increase in the last five years, and said smoking kills 6,000 Minnesotans each year and costs the state $7.5 billion annually.
House Preventive Health Policy Division 02/17/21
"The staggering costs of tobacco in both health care costs and loss of life cannot be compared to the loss of profits for those who want to continue to sell these lethal products," the organization wrote.
Thomas Briant, executive director of the Minnesota Wholesale Marketers Association, which represents wholesalers that sell grocery, snack and tobacco products to retail stores, was one of several people who spoke in opposition to the bill.
Briant said the bill would have "serious unintended consequences" for the state and public heath, including: the emergence of an illicit, unregulated market selling the products to anyone; a loss of tax revenue; and the harm to public health by losing those tax dollars, some of which the state uses to fund its stop-smoking programs.
The owners of Sam's Tobacco in South St. Paul also wrote in opposition to the legislation, saying the bill is "happening in total and complete disregard to businesses and their employees." They highlighted some of the same points and specifically addressed the proposed ban on menthol cigarettes, writing that sales would move out of state or move to non-menthol brands, retailer revenue will diminish and "smoking rates will NOT drop."
Republicans also tried to draw a parallel between HF904 and HF600, sponsored by House Majority Leader Ryan Winkler (DFL-Golden Valley), which would legalize the use of recreational marijuana by adults.
"If we're really working on the issue of a smoke-free Minnesota, how does this fit?" asked Rep. Josh Heintzeman (R-Nisswa). Support for both bills, he said, seems "incredibly inconsistent."
Rep. Mike Freiberg (DFL-Golden Valley), the division chair, said the cannabis bill includes a number of protections and safeguards against underage use, whereas the proposed flavored tobacco ban "targets a product that's been shown to be addictive, particularly to youth" and places the emphasis where it should be, on retail sales.